Biden reaffirms U.S. commitment to Taiwan's self-defense: White House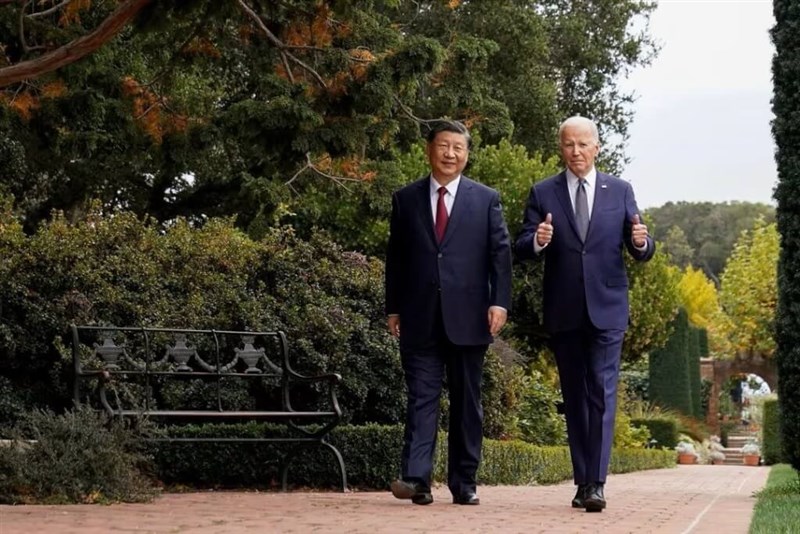 San Francisco, Nov. 16 (CNA) In his meeting with Chinese President Xi Jinping (習近平) on Wednesday, United States President Joe Biden reaffirmed the U.S.' policy not to support Taiwan independence but said it would still help Taiwan build its self-defense capabilities.
White House National Security Council spokesman John Kirby said Thursday that Biden clearly conveyed to Xi a day earlier that the U.S. does not seek any conflict with Beijing over Taiwan or a change in the status quo.
"He [Biden] made it clear to President Xi that we don't seek conflict," Kirby said, indicating that the U.S. pursues peace and stability across the Taiwan Strait.
"That's what we wanted and still want," Kirby said.
Biden told Xi that there has been no change to Washington's one China policy, which means that "we don't support independence for Taiwan, but that we will, in accordance with the Taiwan Relations Act, continue to provide self-defense capabilities to Taiwan," Kirby said.
During the meeting with Xi, Biden also made it clear that the U.S. does not want to see the status quo changed in any unilateral way and "certainly not by force," according to Kirby.
According to a Chinese state-run Xinhua News Agency report, Xi told Biden during the meeting that the U.S. should take real actions to honor its commitment of not supporting "Taiwan independence," stop arming Taiwan, and support China's peaceful reunification.
The discussions marked the two leaders' first face-to-face meeting since an encounter in Indonesia in November 2022.
Based on a readout released by the White House of the meeting, Biden said "the world has an interest in peace and stability in the Taiwan Strait," and called on Beijing to exercise restraint with its military activities in and around the Taiwan Strait.
There was no mention of Taiwan's elections, however.
On Thursday, National Security Council coordinator for the Indo-Pacific Kurt Campbell told Taiwanese media that Biden did speak about Taiwan's elections during his discussions with Xi.
"It was very clear with President Xi that our determination to maintain peace and stability across the Taiwan Strait remains strong," Campbell said, adding that Biden warned the Chinese not to interfere in Taiwan's elections and expressed his belief in the value of Taiwan's democracy and elections.
Campbell noted that Biden made it clear that past agreements on Taiwan between the two parties remained unchanged and that the U.S. will take all necessary steps to maintain peace and stability.
Related News
Nov. 17: Taiwan APEC envoy Morris Chang meets with U.S. vice president
Nov. 17: TSMC founder meets with White House adviser at APEC summit
Nov. 16: NDC chief meets with U.S. undersecretary to discuss bilateral cooperation
Nov. 16: Taiwan thanks Biden for supporting status quo in meeting with Xi
Nov. 15: Taiwan's APEC envoy, TSMC founder Chang, arrives in San Francisco
Nov. 15: Republican senators urge Biden not to give in on Taiwan in Xi meeting
Nov. 14: Biden to call for cross-strait peace, stability in meeting with Xi
Nov. 10: TSMC founder Chang vows to enhance Taiwan's visibility as APEC envoy