ELECTION 2024
/
Poll selection disputes could disrupt joint opposition ticket: Expert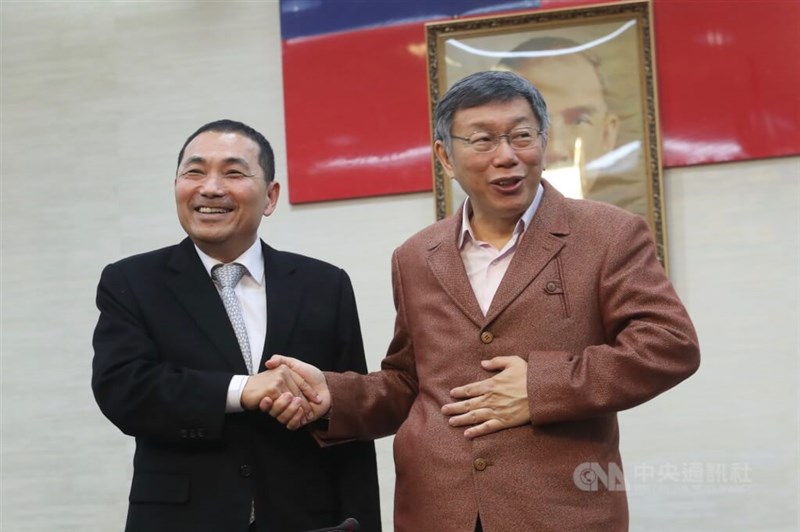 Taipei, Nov. 16 (CNA) The opposition Kuomintang (KMT) and Taiwan People's Party (TPP) will likely clash over poll selection as they attempt to negotiate a joint presidential ticket in the coming days, an expert said Wednesday.
On Wednesday, the KMT and TPP announced that a panel of three experts -- one each from the KMT and TPP and one selected by former President Ma Ying-jeou (馬英九) -- would assess public polls from Nov. 7-17.
For each poll where TPP nominee Ko Wen-je's (柯文哲) favorability exceeds KMT candidate Hou Yu-ih (侯友宜) by a margin beyond the margin of error, Ko will be given one point. However, if the difference falls within the margin of error, Hou will receive the point, according to a statement released Wednesday.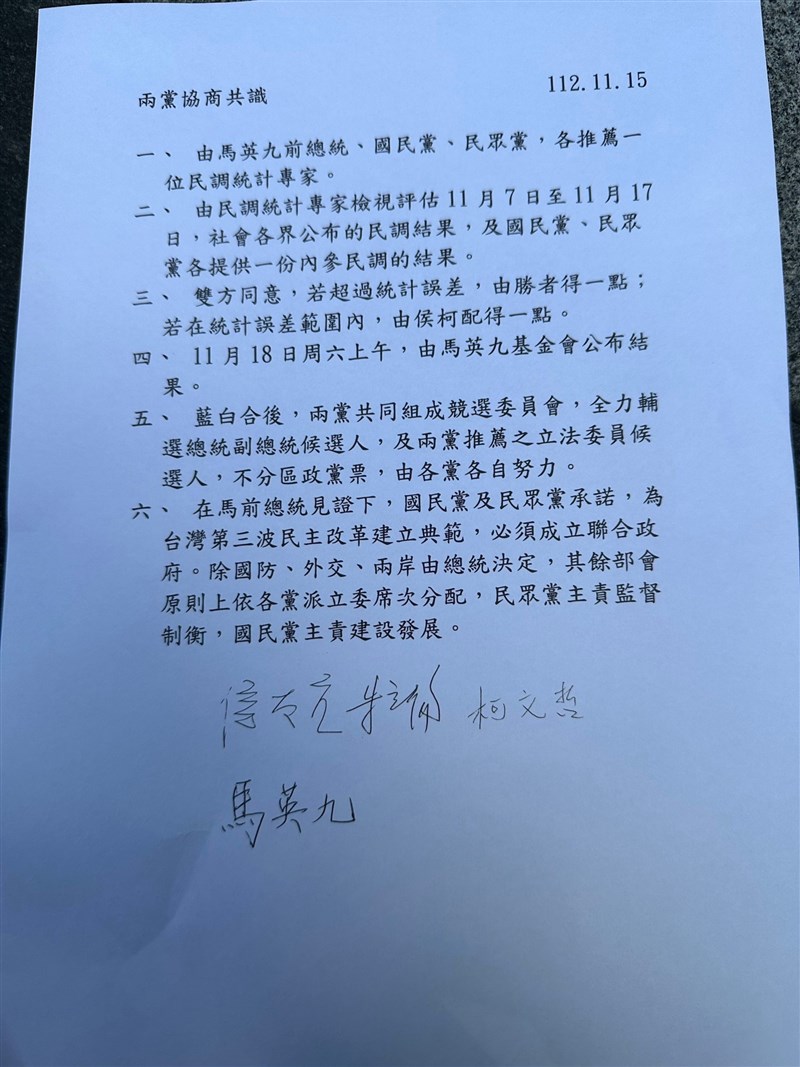 Speaking with CNA, Hsiao Yi-ching (蕭怡靖), a research fellow at National Chengchi University's Election Study Center, said a lack of details on polling methodology had left him skeptical.
Which polls should be included in the analysis to determine the joint ticket appears unclear in the joint statement, Hsiao told CNA.
"What happens if a poll indicates that Hou-Ko ticket is favored, but the Ko camp believes it should not be taken into account?" Hsiao said.
Hsiao said that fairness, objectivity and representativeness as well as sampling and questionnaire design were more significant than sampling errors.
Meanwhile, Gallup analyst Wu Li-yen (吳立嫣) also highlighted the importance of questionnaire design, to ensure consistency across polls.
The questionnaire should focus on a Hou-Ko or a Ko-Hou ticket in comparison to the Democratic Progressive Party (DPP) presidential nominee Lai Ching-te (賴清德) and his likely running mate, Hsiao Bi-khim (蕭美琴), Wu added.
According to Wu, the favorability for a Hou-Ko or a Ko-Hou ticket is "close," and the difference between the two falls within a margin of error of 1 to 2 percentage points, based on the data she has reviewed.
Nov. 15: Ko-Hou ticket worst scenario for DPP in presidential election: Source
Speaking with reporters on Wednesday, Lin Kuan-yu (林寬裕), head of the KMT's Culture and Communications Committee, said the polling experts will collaboratively identify credible polls and exclude those deemed unreliable, ultimately determining the joint ticket.
Polling specifics, including considerations like the ratio of mobile phone calls to landline calls and whether to include a comparison with Terry Gou (郭台銘), the founder of Hon Hai Precision Industry Co. and a potential presidential candidate, will be determined by the polling experts, Lin added.
Related News
Nov. 15: KMT, TPP to form joint presidential ticket based upon polling results
Nov. 14: Terry Gou officially qualifies for presidential election
Nov. 11: Ex-President Ma backs polling as escape from KMT-TPP joint ticket morass
Nov. 7: Presidential candidate choice 'only hurdle' left for joint ticket: Ko
Oct. 30: KMT, TPP agree to collaborate in legislative elections
FEATURE/Could a prospective opposition joint ticket block Lai's path to the presidency?
View All