ELECTION 2024
/
KMT, TPP to form joint presidential ticket based upon polling results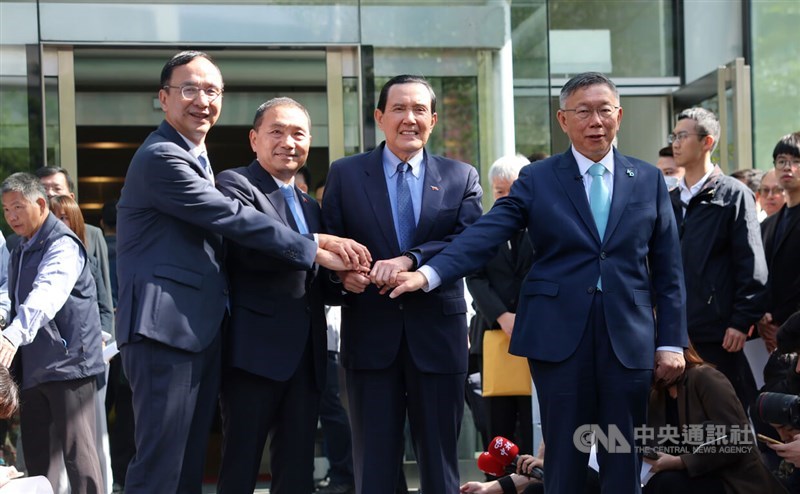 Taipei, Nov. 15 (CNA) The Kuomintang (KMT) and the Taiwan People's Party (TPP) agreed on Wednesday to determine the presidential and vice presidential candidates on a joint ticket in the 2024 presidential election through public polls, after months of deadlock.
(Please click here to read an updated story.)
Nov. 16: Poll selection disputes could disrupt joint opposition ticket: Expert
The agreement came after a two-hour meeting between KMT presidential nominee Hou Yu-ih (侯友宜), TPP chairman and presidential nominee Ko Wen-je (柯文哲), and KMT Chairman Eric Chu (朱立倫), with former President Ma Ying-jeou (馬英九) also in attendance.
Though a joint statement issued after the meeting said poll results would determine the ticket in the Jan. 13, 2024 presidential election, it was somewhat vague on how polls would be weighed and how the results would be determined.
It said former President Ma, the KMT, and the TPP would each recommend a polling expert, and the three experts will then assess poll results released publicly from Nov. 7 to Nov. 17 and the results of internal KMT and TPP polls to determine the ticket.
The results will be announced by the Ma Ying-jeou Foundation on Nov. 18, the statement said.
A joint campaign committee will be subsequently established by the two parties to campaign for the joint presidential and vice-presidential candidates, as well as legislative candidates recommended by both parties.
In the presence of former President Ma, the statement said, the KMT and the TPP pledged to establish a coalition government.
With the exception of ministers of national defense, foreign affairs, and cross-strait affairs, which are decided by the president, other ministries will be selected based on the proportion of legislators from each party, it said.
The TPP will focus on supervision and checks and balances, while the KMT will be responsible for Taiwan's construction and development, according to the statement.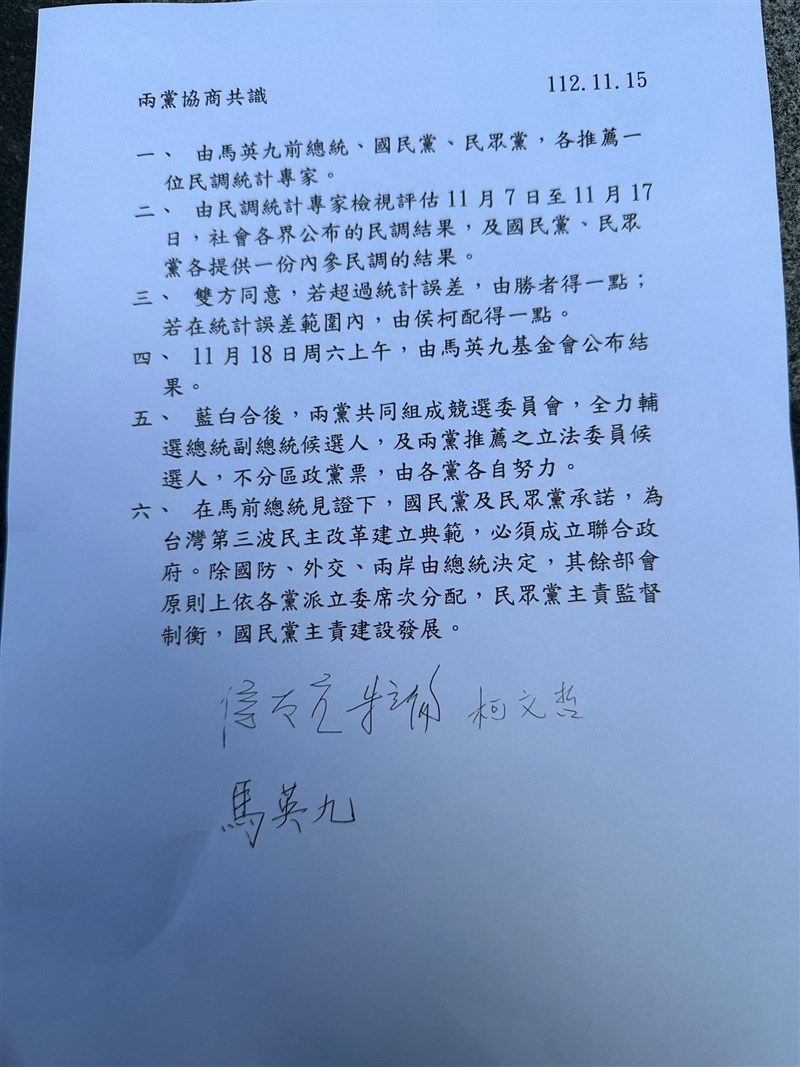 View All