President Tsai welcomes cybersecurity mission from the U.S.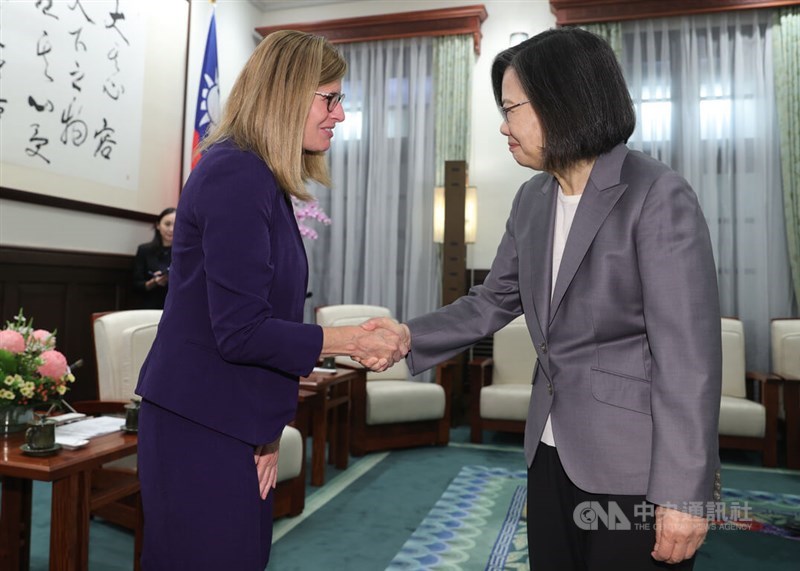 Taipei, Sept. 18 (CNA) President Tsai Ing-wen (蔡英文) welcomed a cybersecurity business development mission from the U.S. on Monday, stressing cybersecurity was a matter of national security and that Taiwan wants to share its experiences with other democracies.
Led by Laurie E. Locascio, director of the U.S. Department of Commerce's National Institute of Standards and Technology (NIST), the mission includes representatives from 13 U.S. firms in the cybersecurity field.
In her welcoming remarks, Tsai said since taking office she has viewed cybersecurity as a national security issue and facilitated various collaborative efforts between Taiwan and the U.S. to deal with the problem.
"For example, in April, a delegation from Taiwan's Ministry of Digital Affairs traveled to the U.S. to participate in the RSA conference [on information technology security], where they also met with representatives at NIST," Tsai said.
In May, the first Taiwan-U.S. Science and Technology Cooperation Dialogue was held, which was the first high-level policy interchange on the topic since the agreement on scientific and technological cooperation was signed at the end of 2020, Tsai added.
Tsai also lauded the deepening of the economic and trade partnership between the two countries.
"The first agreement under the Taiwan-U.S. initiative on 21st century trade was signed in June, marking another milestone in our economic and trade relations... We [also] look forward to the signing of the avoidance of double taxation agreement at the earliest possible juncture. This would allow for even closer industrial collaboration," she said.
Locascio said the representatives of the 13 firms in the mission are looking forward to meeting with their counterparts from Taiwan's leading information and communication technology security and critical infrastructure providers to foster enhanced commercial engagement.
Praising Tsai's commitment on the issue of cybersecurity since the beginning of her presidency, Locascio said she looks forward to meeting with Minister Audrey Tang (唐鳳) from the Ministry of Digital Affairs, the establishment of which Locascio said is evidence of Tsai's steadfast efforts in addressing cybersecurity issues.
Locascio stressed that all economies have "an inherent interest in cybersecurity and protecting their people as well as the public and private sectors from unwanted hacking, surveillance, and theft of proprietary and personal data."
The Biden administration released the National Cybersecurity Strategy in March this year, which prioritized international engagement with like-minded partners and friends, the NIST director said.
During her visit, she said she expected to discuss with officials and businesses ways to bolster "collective cybersecurity capabilities" and to encourage further private-sector adoption of proven cybersecurity standards, guidelines and practices.
NIST developed cybersecurity standards, guidelines and best practices as well as other resources to meet the needs of industries, the U.S. government, international partners, and the broader public, according to the director.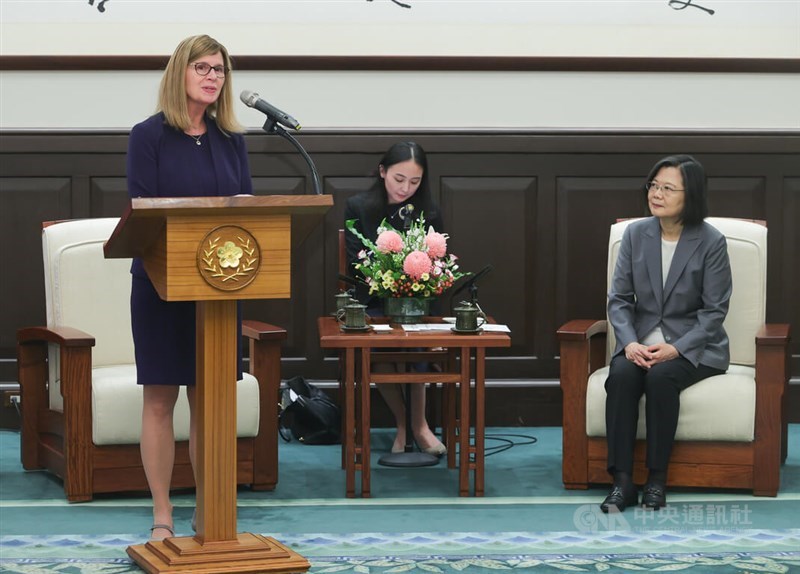 She welcomed engagement with Taiwan's experts on the updated version of the NIST cybersecurity framework, released last month, to ensure it continues to be a useful tool for all to manage cybersecurity risks.
The mission is scheduled to participate in the U.S. Business Day, a cybersecurity forum, as well as meetings with government officials and businesses to discuss ways to address cybersecurity challenges.
Monday's meeting at the Presidential Office was also attended by Deputy Assistant Secretary for Asia at the U.S. Department of Commerce Pamela Phan, Taiwan's Deputy Foreign Minister Remus Li-Kuo Chen (陳立國), American Institute in Taiwan Director Sandra Oudkirk and Taiwan's National Security Council Secretary-General Wellington Koo (顧立雄).