FEATURE
/
Dissecting Ko: Why young people seem to favor the TPP presidential candidate
[Editor's Note: This is part two of a multipart series taking an in-depth look at the main presidential candidates in Taiwan's 2024 election. The rest of the series will be published in the coming weeks.]
By Sean Lin, CNA staff reporter
Despite Ko Wen-je (柯文哲), the Taiwan People's Party (TPP) founder and presidential candidate being consistently behind front-runner Vice President Lai Ching-te (賴清德), the Democratic Progressive Party's (DPP) presidential candidate, in the polls, he is leading the way when it comes to wooing younger voters, boasting the highest approval rating of all candidates among voters under 40.
But will this translate into enough votes to secure victory for the former Taipei mayor when the country goes to the polls in January?
The figures
With the exception of polls conducted by Formosa in August, every poll conducted by media outlets or polling organizations has so far shown the physician-turned-politician's approval rating among voters aged between 20 and 40 to be significantly higher than that of Lai, and that of Hou Yu-ih (侯友宜), the New Taipei Mayor and opposition Kuomintang (KMT) candidate.
In a poll published Aug. 14 by online news outlet Newtalk, Ko's approval rating in the 20-24 age group -- which includes first-time voters -- was a whopping 65 percent, a staggering lead on Lai's 15 percent and Hou's 12.5 percent. In that poll, Ko maintained a lead on voters aged 25-44, before tying with Lai in the 45-49 age group with an approval rating of 28.78 percent.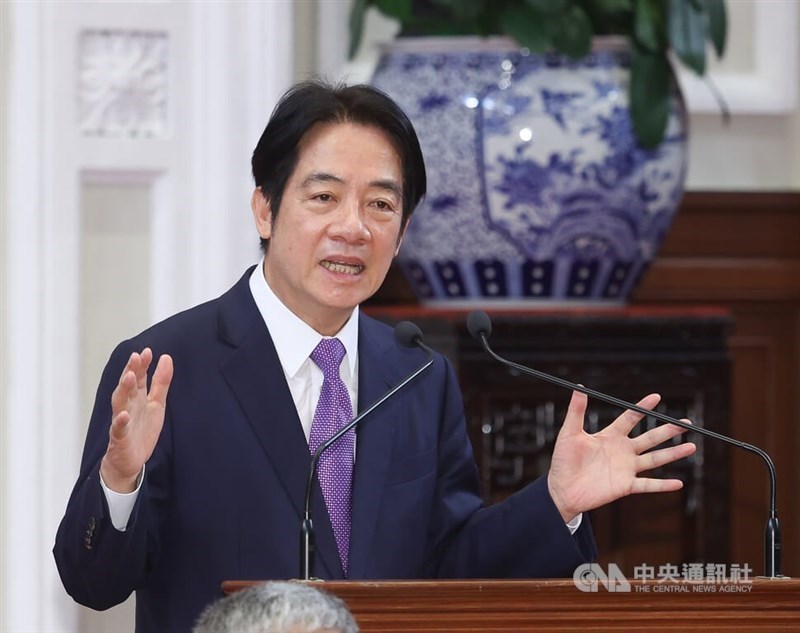 One Taiwan Public Opinion Foundation (TPOF) poll even suggests two-thirds of prospective voters aged 20-24 would lend him their vote.
However, past the 50+ point, the tables start to turn, with the TPP candidate's lead on Hou reducing to 1.3 percentage points among prospective voters aged 50-54. Ko loses out to Lai and Hou by increasingly wider margins in older age groups.
However, the entrance of Hon Hai Precision Industry Co. founder Terry Gou (郭台銘) into the race has shaken things up somewhat.
Since the independent announced his bid on Aug. 28, Ko's dominance over potential voters under 40 has taken a hit, according to the latest poll released on Aug. 30 by Newtalk.
While still the front-runner in terms of appeal among people under 40, Ko, 64, trailed Gou in the 35-39 age group, in which Gou boasted an approval rating of 34.62 percent, compared with Ko's 32.05 percent.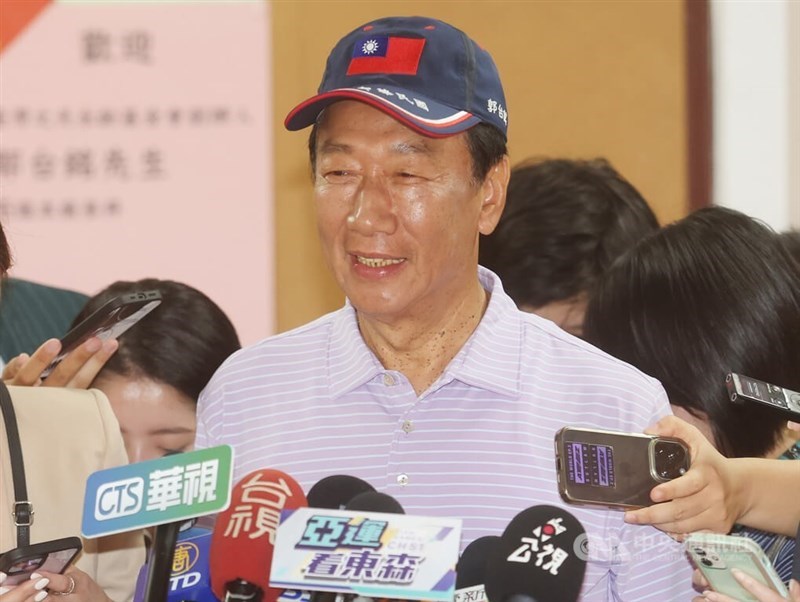 Overall, the concept of Ko being popular among younger voters is backed up by separate survey results by the TPOF, TVBS and RW News, which all put Ko as the clear leader among voters under the age of 40, with more than half of those voters suggesting they would vote for him.
A "bold reformist"?
Huang Chung-chieh, 36, a long-time Ko supporter and Taipei resident, told CNA he will vote for Ko in next year's election because the candidate is a "bold reformist," citing policies Ko pushed during his first term as Taipei mayor, for which he received mixed responses.
Huang cited the examples of Ko leading a landscape improvement project that tore down a ramp connecting to Zhongxiao Bridge and a now-canceled initiative that encouraged seniors living in the same community to dine together at community centers.
He also praised Ko for redirecting funds for the annual NT$1,500 (US$47.05) cash handout for seniors toward a now-canceled policy to "integrate" existing social security services, which, according to the Taipei Department of Social Welfare, only actually covered 452 -- or 0.1 percent -- of senior citizens in Taipei.
Hsu Man-hsuan, 41, another Ko supporter living in Taipei, pointed to Ko's efficiency in repaying the debt the city government owed citizens.
According to statistics released by the central government, Ko's administration cut $57.1 billion during his two mayoral terms from the NT$146.9 billion of debt it inherited when Ko took office in 2014.
This, according to the central government, made him the most effective of the country's 22 mayors and magistrates at cutting debt.
Hsu told CNA what impressed her the most and set Ko apart from other presidential candidates was how Ko always seemed to give his full attention and really got to the root of problems when he fielded questions from reporters, or at the Taipei City Council.
In addition, Hsu said, Ko often seems to be visionary when it comes to governing the country and does not resort to rhetoric designed to foment hatred and create social division.
A new way of doing things
Asked why Ko enjoys such widespread popularity among younger people, Dachi Liao (廖達琪), an emeritus professor at National Sun Yat-sen University's Graduate Institute of Political Science, said it was Ko's "loose cannon" way of talking that makes him appear more candid than conventional politicians like Lai and Hou, and more interesting in the eyes of young voters.
Ko was a political novice when he was first elected Taipei Mayor and pledged to bring change to politics and bureaucracy, which resonated with many young people and helped him build a dedicated following that has stayed until this day, Liao said.
In addition, Ko enjoyed widespread popularity at that time because of his use of the internet and social media, which are the only sources of news and information for many young people, Liao added.
Meanwhile, Liu Cheng-shan (劉正山), chair of National Sun Yat-sen University's Graduate Institute of Political Science, was more skeptical about the meaning behind the polls.
Liu said that Ko appeared to be more popular with younger people because many of them find the KMT "unappealing" -- a problem that also plagued the KMT and its previous candidate, former Kaohsiung Mayor Han Kuo-yu (韓國瑜), in the 2020 presidential election.
Han's stock was so low after his unsuccessful presidential run that he was recalled by Kaohsiung voters in June that year.
With voting KMT out of the question for many, some young voters will lend their vote to Ko, others will vote for the DPP, and the rest are still undecided, or agonizing between Ko and the DPP, Liu added.
The latest poll by TVBS, released on Aug. 24, showed that Ko's approval rating had dipped, most notably in the 20-29 age group, where his support was down by eight percentage points, but still high, at 54 percent.
Meanwhile, young voters who voted DPP in previous elections but are disappointed at the current state Taiwan is in -- especially considering that society is still reeling from the negative economic impact of COVID-19 -- are much more likely to vote for Ko than for the KMT's candidate, given that many young people feel the KMT has been "out of touch" with young people for a long time, Liu said.
Despite this suggesting Ko is "relatively" popular among young potential voters, it does not equate to Ko being "popular among young people," Liu said, arguing that young voters' views of Ko are very polarized.
Winning over the women
Unlike Liao, Liu said he did not believe Ko's propensity to make controversial and "very divisive" remarks had worked entirely in his favor or that it could be counted as a reason for his popularity among younger people.
"Ko sparked a lot of controversy when he was Taipei mayor," Liu said, adding, "the one thing young people dread the most is to be disdained by their peers for backing the wrong candidate."
One controversy was his long history of derogatory remarks about a range of women, including single women over 30, how obstetricians and gynecologists "make a living between women's thighs," plus comments directed at female politicians.
In July, Ko described Taipei Music Center Chairperson Kay Huang (黃韻玲) as a "eunuch trying to please the emperor" after Ko's application to rent a venue for his fundraising concert was rejected.
Kay Huang, citing management protocols for the venue, later explained that no political events were allowed at the government-run facility, and she was only following the rules.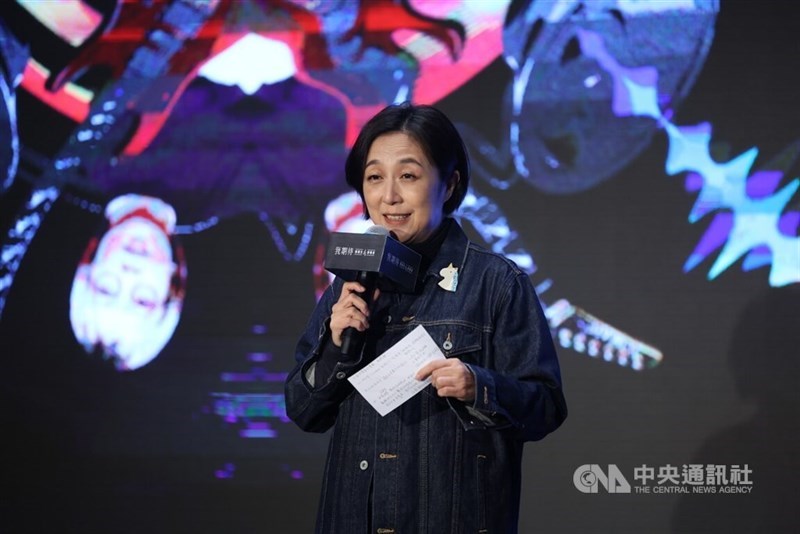 On August 5, Ko, who had been working hard to rid himself of the "misogynist" label on the campaign trail, found himself in hot water once again when his campaign staff hired a group of skort and crop-top-donning dancers dressed like flight attendants to dance onstage at a Taipei campaign event that sought to appeal to female voters.
Asked to comment on whether recent incidents that caused Ko to be labeled again as "sexist" and "misogynist" could erode his support among women, Liao and Liu both said isolated incidents were unlikely to impact the way people vote.
"Of course, the DPP will try to vilify Ko during its campaign by labeling him a misogynist, but do TPP supporters really care about that?" Liao asked.
Citing polls that distinguished between male and female respondents, Liao said that the number of women who support Ko trailed the number of men who support Ko by only 10 percent.
With people already having clear political leanings, it would be hard to turn most female supporters against Ko by exploiting gender issues and stirring up resentment, Liao said.
Liu expressed similar views, saying that occasional gaffes are not enough to unite all women against Ko, and any sentiment is unlikely to be reflected in polling.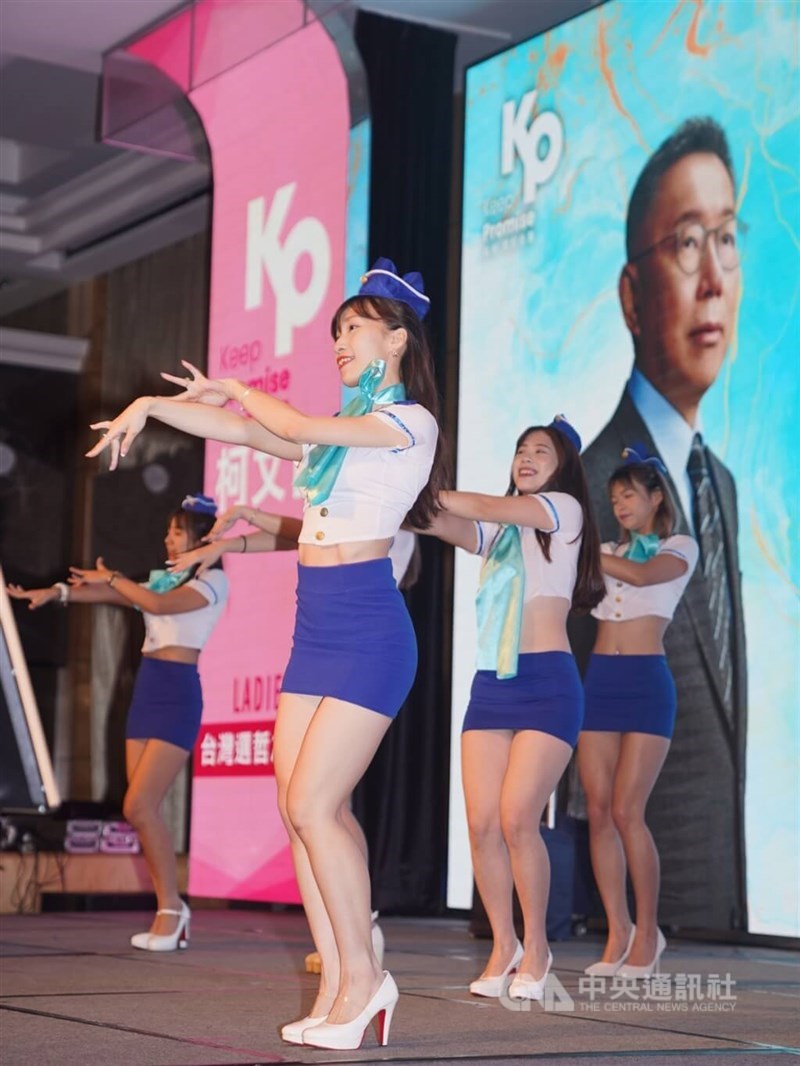 Asked why, then, there had been a dramatic difference in poll results from July that sought to gauge Ko's approval rating among potential female voters, Liu again cautioned against the credibility of polls in elections.
Poll results released on July 19 by RW News showed Ko's approval rating among female prospective voters had plummeted 11 percentage points that month compared to a month earlier, while poll results released by TVBS on July 26 showed that Ko's overall approval rating stood at 32 percent, down just one percent compared to a month earlier.
"Polls these days are weaponized and have become tools to boost one's prospects," Liu said, pointing to the many "preconditions" embedded in survey questions that may have been designed to prompt respondents, which often "lead to skewed results."
"The vast majority of people don't rely on polls when deciding which candidate to support," Liu said, adding that they are only meaningful to candidates and those who have a vested interest.
"The type of bad publicity that will impact a candidate's prospects is when they have been embroiled in a scandal or caught in a negative news cycle," Liu said, citing the example of former Hsinchu Mayor Lin Chih-chien (林智堅).
Lin was originally tapped by the DPP as its Taoyuan mayoral candidate in the 2022 local elections, but later withdrew from the race after the National Taiwan University, where he had been enrolled in a part-time graduate program, confirmed allegations that he had plagiarized his master's thesis. Following his withdrawal, Chung Hua University, where he also did his master's, also confirmed that he had plagiarized his master's thesis there. 
Liu also cited former Health Minister Chen Shih-chung (陳時中), the DPP's Taipei mayoral candidate in the 2022 elections, whose halo wore off after Taiwan's failure to sustain its success in containing COVID-19 locally during the pandemic.
Poaching support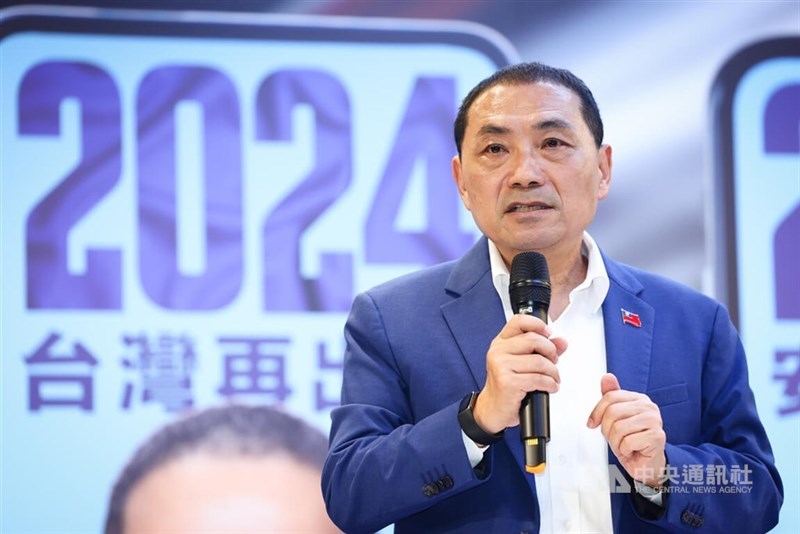 Regarding the makeup of Ko's supporters, poll results released in July by TVBS and TPOF showed that Ko had the backing of 7-10 percent of all respondents identifying as DPP supporters.
In comparison, results of those same polls showed that Ko had 20-22 percent of backing from all respondents identifying as KMT supporters.
The polls generally suggest that Ko is less appealing to borderline DPP supporters than to borderline KMT supporters, Liao said.
In addition, she added, Ko has led other candidates "by a country mile" in terms of online presence and influence, but like a "Buddha without a temple," he struggles to gain ground at the grassroots level.
Citing nationwide vote distribution in the 2022 city and county councilor elections, Liao said the TPP only received 4 percent of votes, compared with the KMT's 51 percent.
However, Liao said if Ko can "project the image of a victor" by sustaining his online popularity and doing well in polls, he might stand a chance at turning some local factions that have traditionally supported the KMT to his side.
Contrary to Liao, Liu said that he believes Ko's support base was fundamentally "non-KMT" and still constituted largely borderline DPP supporters who traditionally supported the DPP but have been persuaded by Ko's rhetoric that the ruling party should have done a better job.
In addition, Liu said, people who support President Tsai Ing-wen (蔡英文) do not necessarily identify with Lai -- a view echoed by Liao. Tsai and Lai were rivals in the last DPP presidential primary in 2019, which created a rift in the DPP that Ko will try to exploit, Liu added.
This could also provide an explanation as to why Ko was still able to garner the support of DPP supporters after his rapport with the party turned into bitter rivalry when it refused to endorse him for the 2018 Taipei mayoral election, as it did in 2014, and instead nominated then-lawmaker Pasuya Yao (姚文智) to run against him.
Liu said that Ko has bagged all possible KMT support, but that his offensive against Lai is just about to begin.
As minor political parties often do, he said, Ko will jump on every opportunity to point out problems with Lai's campaign or the DPP in general and use them to his advantage.
Enditem/kb
More 'Election 2024' articles
Election 2024/From popular mayor to ho-hum candidate, KMT's Hou struggles to gain traction
Sept. 2: Terry Gou resigns from Hon Hai board of directors
Aug. 31: Only DPP firmly defends Taiwan's sovereignty: VP Lai
Aug. 31: Presidential hopefuls to take part in climate debate in October
View All