ELECTION 2024
/
Terry Gou jumps into 2024 presidential race as independent candidate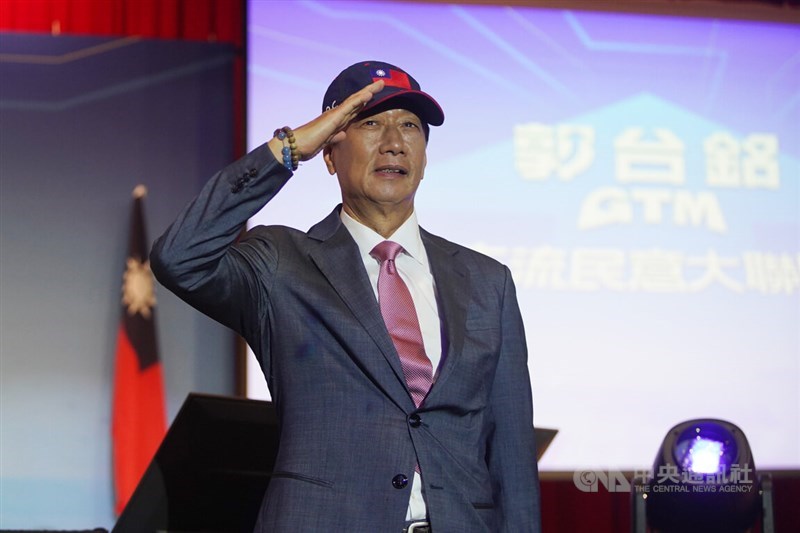 Taipei, Aug. 28 (CNA) Terry Gou (郭台銘), founder of the Taiwan-based manufacturing giant Hon Hai Precision Industry Co., announced Monday that he will run for president in 2024 on an independent ticket.
Gou made the announcement at a press conference weeks after he had proposed an alliance among the opposition parties in a bid to unseat the Democratic Progressive Party (DPP).
With the declaration of his intention to join the 2024 race as an independent, Gou will now be required to obtain the signatures of at least 1.5 percent of the electorate in the last legislative election, which would mean around 290,000 signatures, within 45 days of his formal application to run as an independent candidate, according to law.
In the presidential election on Jan. 13, 2024, he will come up against Vice President Lai Ching-te (賴清德), who chairs the DPP, New Taipei Mayor Hou Yu-ih (侯友宜) of the Kuomintang (KMT), and Taiwan People's Party (TPP) Chairman Ko Wen-je (柯文哲).
The date for the presidential candidates' registration at the Central Election Commission is Nov. 20-24.
Related News
Aug. 28: Terry Gou announces presidency bid, touts business acumen as key asset
Aug. 28: Terry Gou's decision to run for president 'deeply regrettable': KMT
Aug. 22: Terry Gou floats cross-strait peace strategy amid rumored presidential run
Aug. 18: Invoking 'Three Little Pigs,' tycoon Gou invites rivals to talk
March 27: With possible presidential run looming, Terry Gou to visit U.S.
View All