FEATURE
/
From popular mayor to ho-hum candidate, KMT's Hou struggles to gain traction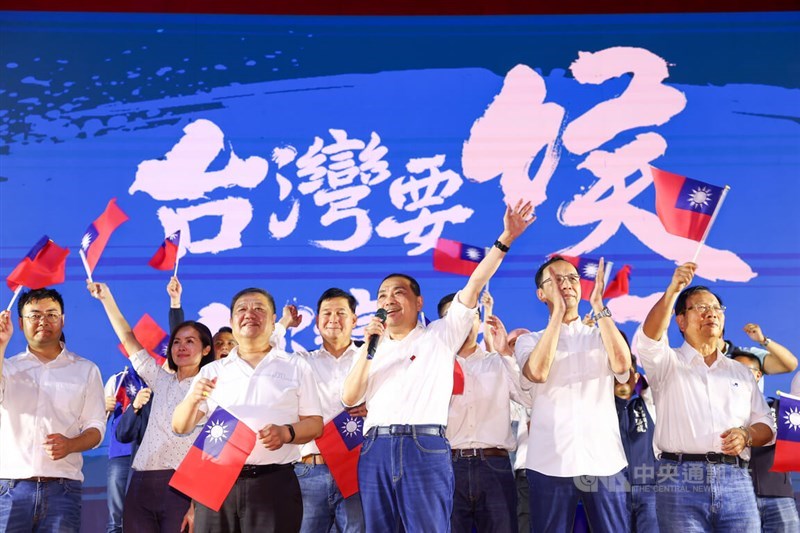 [Editor's Note: This is part one of a multipart series taking an in-depth look at the main presidential candidates in Taiwan's 2024 election. The rest of the series will be published in the coming weeks.]
By Joseph Yeh, CNA staff reporter
After winning re-election as New Taipei mayor by a 25-point margin in November 2022, Hou Yu-ih (侯友宜) was thought to be the "chosen one" who could help the opposition Kuomintang (KMT) win back power it lost to the ruling Democratic Progressive Party (DPP) in 2016.
Not only had he been elected mayor of Taiwan's most populous city with a record number of votes for a second time, the 66-year-old retired crime fighter had received five-star ratings as mayor in his first four years on the job from 2019 to 2022.
Yet, any momentum he could have leveraged into a bid for the presidency in 2024 quickly withered in the face of his perceived indecision, a split in his own party triggered by a populist billionaire, and a third party candidate with social media savvy.
By the time Hou was officially nominated on May 17 as the KMT's candidate in the January 2024 presidential election instead of business tycoon Terry Gou (郭台銘), he was already languishing in the polls behind the front-runner, Vice President Lai Ching-te (賴清德) of the ruling Democratic Progressive Party.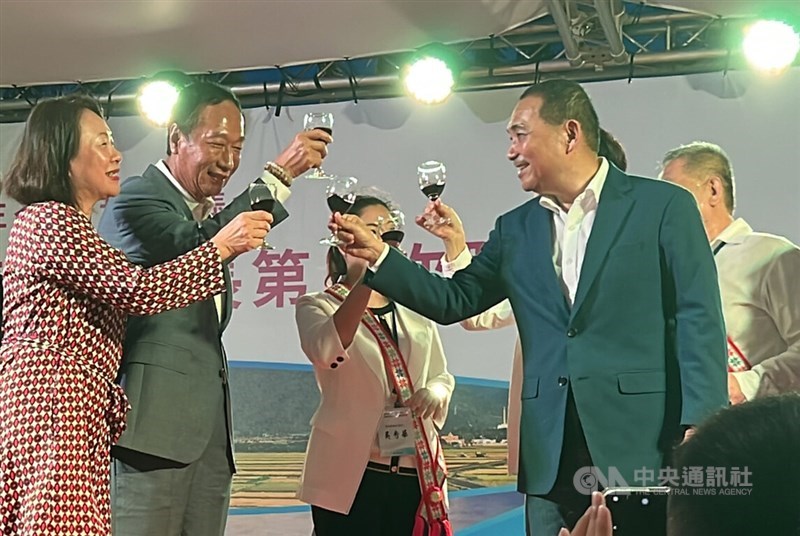 Since then, he has also consistently polled about 5 to 7 points behind Ko Wen-je (柯文哲), founder of the fledgling Taiwan People's Party (TPP), and 15 points behind Lai, garnering only about 20 percent support, unthinkable just eight months ago.
Though the gap between Ko and Hou may be narrowing, the question is why the slide in the first place and can Hou recover?
A number of commentators feel Hou's popularity has lagged because he took too long to publicly declare his presidential intentions, leaving a void for Gou and Ko to pull support away from Hou by holding rallies and vocally criticizing the DPP government.
Ko has also parlayed his use of social media to drive up his support among younger voters while Hou was inactive.
Several pro-KMT political commentators, including Jaw Shaw-kong (趙少康), Huang Wei-han (黃暐瀚) and Tung Chih-sen (董智森), repeatedly urged Hou to announce his presidential bid earlier than he did, but the New Taipei mayor held back, presumably fearing it would be bad form to pursue higher office so soon after his re-election as mayor.
That reluctance to rush into things and the inclination to watch and wait before making a move could be tied to his upbringing and earlier professional experience as a police officer.
Born on June 7, 1957 in Puzi City in Chiayi County, Hou grew up helping man his family's pork stall in a local market or catching and killing wild pigs. In an interview in 2020, Hou said he applied the same powers of observation he needed to subdue pigs to catching criminals in his career as a cop.
After graduating from Central Police University, Hou got his first leadership role as captain of the criminal police in the Taipei Police Department in 1980 before rising up the ranks.
He reached the top of his policing career in 2006 when he became head of the National Police Agency, which oversees all police forces on a national level.
Hou gained fame as a crime-fighter in 1997 after arresting Chen Chin-hsing (陳進興), who was responsible for a series of killings, robberies, and rapes in the 1990s, including the murder of the only daughter of popular Taiwanese TV host and actress Pai Ping-ping (白冰冰).
Shortly after Chen killed Pai's daughter in April 1997, he took a South African diplomat and his family hostage, and Hou played a key part in negotiating their release and getting Chen to turn himself in, making him a household name.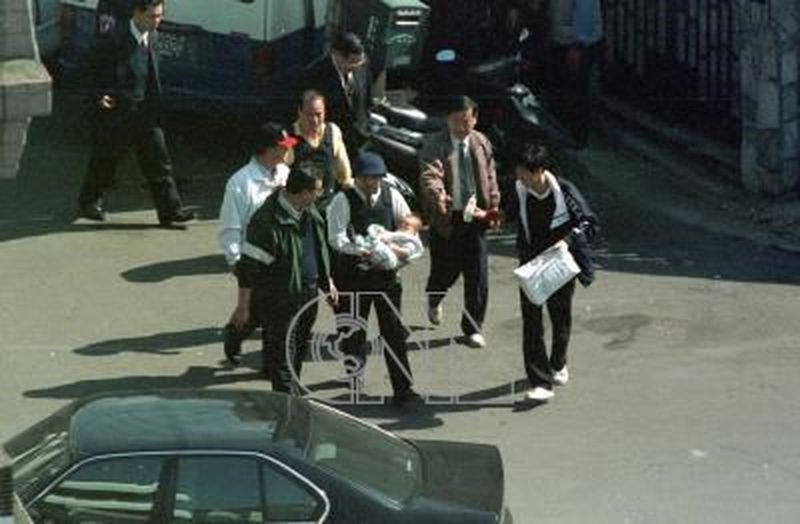 He was not immune to controversy, however, having been responsible for the arrest of Taiwan pro-democracy activist Nylon Cheng (鄭南榕), which led Cheng to set himself on fire to resist arrest on April 7, 1989.
His role in the incident was criticized by DPP politicians and supporters, but Hou defended his actions, saying that he was simply following orders while expressing regret over Cheng's death.
Hou got involved in politics when then New Taipei Mayor Eric Chu (朱立倫) of the KMT invited him to be his deputy in 2010, before winning two mayoral elections on his own.
Lack of charismatic leadership
But local analysts believed that the skills he developed as a cop and the retail brand of politics he has exhibited as New Taipei mayor have not translated well to a nationwide political race in which building one's own brand, playing to the media, and being able to communicate effectively are essential.
Liao Da-chi (廖達琪), a professor at the Graduate Institute of Political Science at National Sun Yat-sen University, indicated as much, saying that Hou's camp needed to not only come up with a more eye-catching policy platform but also better personal branding.
She told CNA that Hou's team could fall back on his image as a national crime-fighting hero.
"Hou's campaign team needs to do a better job in promoting his crime-fighter's image, which made him a household name in Taiwan in the first place," Liao said.
Hou and the KMT headquarters also need to work closely with grassroots KMT politicians to take advantage of the party's traditional strong suit -- their local election broker system built over decades -- she said.
Not blue enough
His background and less partisan approach to politics that has served him well as mayor have also been drawbacks on the national stage.
Recent polls indicate that only 60 to 70 percent of respondents identifying themselves as KMT supporters intend to vote for Hou, compared to more than 80 to 90 percent support for Lai and Ko among DPP and TPP supporters, respectively.
That gap could be caused by a lack of support from the party's deep-blue faction that favors more cordial ties with China. Huang, the commentator, put this group at about 10 percent of KMT supporters.
Multiple KMT supporters told CNA that they considered Hou "too green" because he was promoted to head the NPA under the DPP administration of former President Chen Shui-bian (陳水扁).
He is also a native Taiwanese instead of a "mainlander," referring to people who moved to Taiwan after the Chinese Civil War in 1949 with the then KMT government or their descendants.
Most importantly, many KMT hardcore supporters dislike him for not going all out to support KMT nominee Han Kuo-yu (韓國瑜) in the 2020 presidential election.
"He didn't help Han the last time. Why should we support him?" said 70-year-old retired elementary school teacher Kuo Chih-lin.
Han eventually lost to incumbent Tsai Ing-wen (蔡英文) by about 20 percentage points.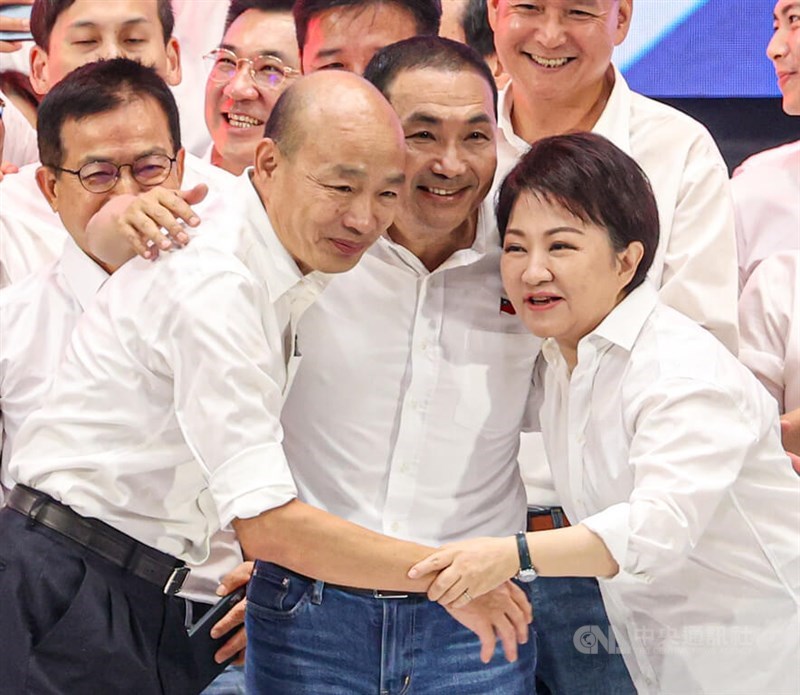 Hou is simply "not KMT or blue enough" to convince supporters to vote for him, these supporters told CNA, with some suggesting they would support Ko instead.
Still, some supporters are trying to push his candidacy.
In an open letter circulated among KMT supporters in LINE groups, Lin Ching-shun (林金順), a retired major general, called on voters to back Hou because "he has proven as a decorated crime-fighter that he is trustworthy."
Lin said that while Hou lacked the charisma and gift of gab of other politicians, his down-to-earth qualities would make him a good national leader who would work for the benefit of the country.
The Gou wild card
A wild card is the Terry Gou factor and the lack of unity in the party he has caused.
Gou vied for the KMT nomination against Hou earlier this year, and pledged to support whoever won. He backtracked on that pledge after losing out to Hou, and has since held multiple campaign rallies of his own while hinting at his own independent run for the presidency.
Wang Yeh-lih (王業立), a professor in the Department of Political Science at the National Taiwan University, said the lack of unity among KMT supporters has hurt Hou's standing, and if Gou were to run, it would probably end any chance Hou had of rebounding.
A Gou candidacy would affect all three existing candidates, Wang said, but it would deal a more serious blow to both Ko and Hou, who are considered to be more China-friendly, than it would to Lai, who is considered hawkish toward China.
On Aug. 17, however, Gou suggested a meeting with Ko and Hou to try and unify opposition forces against the DPP, and Hou responded positively.
It would be in Hou's interest to try to get Gou on his side, which could solidify Hou's support within the KMT and give him an edge in polling above Ko, according to analysts.
Whoever is seen as having a better chance at dislodging the DPP from power may be in the best position to draw support. Though he is the clear front-runner, Lai has had trouble polling above 40 percent, indicating an appetite for another candidate, whether it be Ko or Hou.
Several voters who considered themselves "True Blue" who have never voted for DPP candidates in their lives told CNA that they would wait until the last minute to see which pan-blue candidate has higher support rate and vote for him.
As a 78-year-old veteran Cheng Ming-hsiung told CNA: "We just want to see the current DPP administration being replaced by a new government. Eight years are enough and it is time for a change."
Enditem/ls
Related News
Election 2024/Dissecting Ko: Why young people seem to favor the TPP presidential candidate
Aug. 24: Ko open to talks with KMT chairman, presidential aspirants
Aug. 24: Terry Gou hints at possible presidential bid during temple visit
Aug. 24: KMT presidential candidate Hou to make 8-day trip to U.S. in September
View All