U.S. lawmakers slam Central American Parliament for China diplomatic switch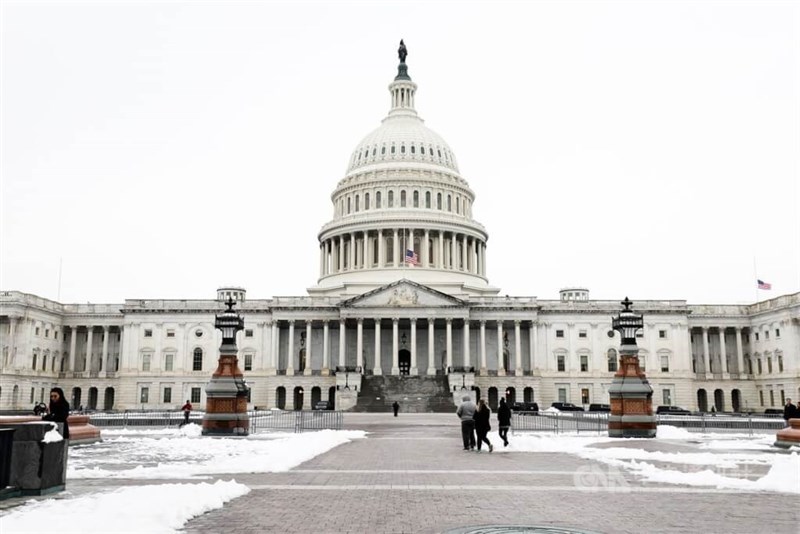 Washington, Aug. 22 (CNA) American lawmakers across party lines on Tuesday condemned a parliamentary body in Central America for its decision to replace Taiwan with China as a permanent observer in the wake of most of the organization's members switching diplomatic recognition to China.
In a statement on his twitter page, U.S. Republican Representative Mario Diaz-Balart, co-chair of the Congressional Taiwan Caucus, said the decision to cancel Taiwan's permanent observer status in the Central American Parliament, known by its Spanish acronym PARLACEN, was "a condemnable attack on democracy."
Earlier in the day, Taiwan's Ministry of Foreign Affairs (MOFA) announced its decision to withdraw with immediate effect from the Central American Parliament in a bid to safeguard the country's national dignity, and also condemned the decision from PARLACEN.
Taipei's withdrawal from PARLACEN came in the wake of the organization's approval -- following a vote of 73-32 with 9 abstains -- of the entry of the People's Republic of China (PRC) into the bloc as a permanent observer during a plenary assembly held in Nicaragua on Monday (local time).
Taiwan is a key democratic ally and partner of the U.S., and it is crucial that the Biden administration support and promote Taiwan's rightful position on the international stage, Diaz-Balart said in the Twitter message.
PARLACEN, which was set up in 1991, has six member countries: Guatemala, Dominican Republic, El Salvador, Honduras, Panama, and Nicaragua. Taiwan joined the parliamentary body as a permanent observer in 1999.
Guatemala, where the parliament is based, is the only member that still has official ties with Taiwan. The others -- El Salvador, the Dominican Republic, Honduras, Nicaragua and Panama -- have all switched diplomatic recognition to Beijing in recent years.
Echoing Diaz-Balart, Republican Senator Marsha Blackburn said the United States should continue to stand by Taiwan to tackle the growing influence of China worldwide.
In addition, U.S. Democratic Senator Tim Kaine and his Republican counterpart Marco Rubio also issued a joint statement condemning the Central American Parliament for the proposal to expel Taiwan's Legislative Yuan and instead recognize the Chinese National People's Congress as a permanent observer.
"Since 1999, Taiwan has served as a strong partner in its role as a permanent observer of the Central American Parliament, encouraging good governance and economic development in our Hemisphere, while China's regime has consistently undermined democracy, hindered sustainable growth in the region, and subjected Uyghurs in Xinjiang to state-sponsored genocide, torture, rape and arbitrary detention," Kaine and Rubio said in the statement.
"As leaders of the Foreign Relations Subcommittee overseeing the Western Hemisphere, we condemn this vote to expel Taiwan and admit China," the two added.
Kaine and Rubio are the chair and ranking members of the U.S. Senate Foreign Relations Subcommittee on the Western Hemisphere.
The proposal to revoke the PARLACEN permanent observer status of Taiwan's Legislative Yuan and replace it with that of the Chinese National People's Congress was raised by Nicaraguan representatives.
MOFA accused Nicaraguan lawmakers, its leader Daniel Ortega, and other pro-China lawmakers in the PARLACEN of doing what they are simply to "curry favor" with Beijing and of disregarding Taiwan's decades-long contributions to the regional parliamentary organization.
Central America was once Taiwan's staunchest base of diplomatic support, with all seven countries still recognizing the ROC as of 2006.
However, Costa Rica severed ties in 2007, followed by Panama, El Salvador, and Nicaragua in 2017, 2018 and 2021, respectively.
Following Honduras' decision to cut ties with Taiwan in March 2023, Guatemala and Belize are the only countries in Central America to maintain diplomatic relations with Taipei.
Related News
Aug. 23: Guatemala President-elect seeks to balance relations with China, Taiwan
Aug. 22: Taiwan condemns Central American Parliament diplomatic switch to Beijing
Aug. 21: Taiwan congratulates Guatemala President-elect Arévalo
Aug. 15: VP Lai attends Paraguayan president inaugural ceremony
Aug. 14: Taiwan, Guatemala ink LOI to boost customs cooperation
July 27: No plans to end Guatemala's ties with Taiwan: Presidential candidate
June 15: Honduras gives 6-month notice to end free trade agreement with Taiwan
May 6: Paraguay president-elect pledges to continue formal ties with Taiwan
FEATURE / Can 'dual recognition' solve Taiwan's diplomatic isolation?
April 25: Guatemalan president calls for support for Taiwan amid Chinese threat
April 3: Tsai begins 3-day visit to Belize after wrapping up Guatemala tour
March 26: Taiwan, Honduras end diplomatic ties
March 15: Honduras president plans to seek official ties with China