Nancy Pelosi marks 1st anniversary of her historic visit to Taiwan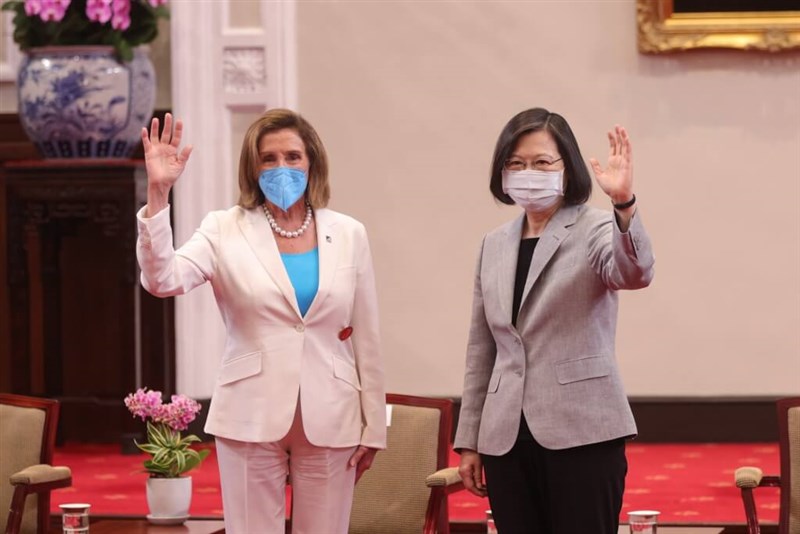 Washington, Aug. 2 (CNA) Representative Nancy Pelosi on Wednesday marked the first anniversary of her historic visit to Taipei as U.S. House speaker with a statement praising the trip as a testament to America's "unwavering commitment" to Taiwan.
The former speaker said her delegation's visit to Taiwan from Aug. 2-3, 2022 sent "an unequivocal message" to the world that "America stands with Taiwan as it defends itself and its freedom."
The visit did not represent a change in the U.S.' long-standing "one China" policy but instead "honor[ed] the unwavering commitment America has made to Taiwan" based on their common interest in security and economics, as well as shared values, said Pelosi, whose speakership was taken up by Kevin McCarthy of the Republican Party in January.
Solidarity with the people of Taiwan is "as important as ever, as our world faces a stark choice between democracy and autocracy," she went on, "Beijing's continued aggression against Taiwan is cowardly and cannot be met with silence."
Pelosi said her brief Taiwan trip, which made her the highest-ranking U.S. official to visit Taiwan in 25 years, had been met with a "very positive" response from around the world and was followed by more bilateral engagement.
Pelosi's visit prompted Beijing, which opposes official interactions between Taiwan and the U.S., to launch a series of retaliatory measures against Taiwan, including conducting week-long large-scale military exercises around Taiwan to simulate a blockade.
The Chinese military also fired 11 Dongfeng ballistic missiles into waters off Taiwan during the drills, Taiwan's defense ministry confirmed while condemning the move as having "jeopardized regional peace."
U.S. Secretary of State Antony Blinken later criticized China's military drills as "provocative," saying there "is no justification for this extreme, disproportionate, and escalatory military response."
In addition, China announced a temporary suspension of imports of food and agricultural products from Taiwanese manufacturers, in a move widely viewed as part of its retaliation for Pelosi's whirlwind visit to Taiwan.
During her 19-hour stay in Taiwan, Pelosi, joined by five other Democratic members of the House of Representatives, met with President Tsai Ing-wen (蔡英文) at the Presidential Office and Legislative Speaker You Si-kun (游錫堃) at the Legislature.
She also met with those who have spoken out against China's human rights violations, including Taiwanese pro-democracy activist Lee Ming-che (李明哲) and Tibetan envoy Kelsang Gyaltsen Bawa, in Taipei.
In a separate statement issued on Thursday (Taipei time), Taiwan's foreign ministry thanked Pelosi for her support for Taiwan, and said it would continue working with global partners to defend democracy, freedom, human rights, and the rule-based international order.
Related News
Aug. 2: Vice president to stop in New York, San Francisco on Paraguay trip
INTERVIEW/Paraguay President-elect Peña 'determined' to keep diplomatic ties with Taiwan
June 14: Vice president of Italian Senate arrives in Taiwan for high-level visit
May 18: Legislative Speaker You meets Pelosi, McCaul in Washington
April 6: Tsai-McCarthy meet reflects bipartisan support for Taiwan: Analysts
March 28: 'We will be with you,' visiting Czech speaker tells Taiwan