ELECTION 2024
/
Hou Yu-ih's presidential nomination approved at KMT party congress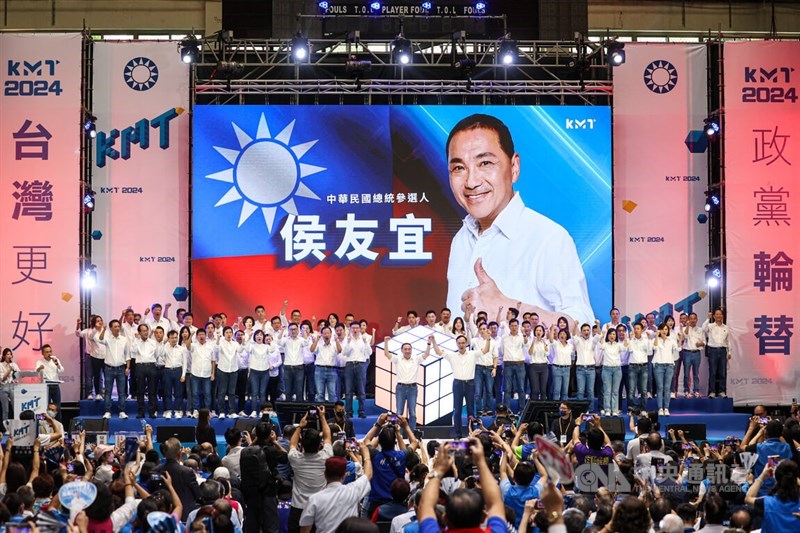 Taipei, July 23 (CNA) The opposition Kuomintang (KMT) formally approved the selection of New Taipei Mayor Hou Yu-ih (侯友宜) as its 2024 presidential nominee during a party congress at Banqiao Gymnasium on Sunday.
In a speech following his official nomination, Hou framed Taiwan's upcoming election as a "pivotal" moment of decision between regression and progress, war and peace in the Taiwan Strait, and the improvement or deterioration of people's living conditions.
He warned that under the ruling Democratic Progressive Party (DPP), Taiwan has come to be known internationally as "the most dangerous place on earth," due to the heightened risk of war with China.
Under his own leadership, he said, the government would focus its efforts on preventing war and pursuing peace, "without which there is nothing."
If elected president, Hou said his top priorities would be strengthening Taiwan's democratic system and military preparedness, while also enhancing cross-strait exchanges and reducing the risk of conflict with Beijing.
"I oppose Taiwan independence. I oppose 'one country, two systems.' I want to create a future for Taiwan that is more peaceful, more stable and more prosperous," he said.
Hou thanked the KMT's mayors and county magistrates for the positive example they have set, singling out former Kaohsiung Mayor Han Kuo-yu (韓國瑜), whose 2020 presidential campaign Hou was accused of not doing enough to support.
"In recent years, I've remembered and taken to heart Han Kuo-yu's words, to never forget how many suffering people there are in the world," Hou said, to loud applause from Han's backers in the audience.
At the congress, KMT Chair Eric Chu (朱立倫) said the party is hoping to not only unite the "blue" (KMT supporting) camp ahead of 2024, but also create a governing coalition among the parties currently in the opposition.
The show of support at the gathering, which was attended by most KMT lawmakers and local government heads, comes as Hou faces doubt following polls that have consistently showed him trailing his opponents -- Vice President Lai Ching-te (賴清德) of the DPP and Ko Wen-je (柯文哲) of the Taiwan People's Party (TPP).
In addition to speculation that the party could replace Hou -- as it did with its 2016 candidate Hung Hsiu-chu (洪秀柱), only three months before the election -- there have been growing signs that Foxconn founder Terry Gou (郭台銘), who made a failed shadow run for the KMT nomination, is preparing to launch an independent presidential campaign.
In a social media post Sunday morning coinciding with the party congress, Gou pledged "not to let down" the "millions" of people hoping for change and to "bring a new style to the election and politics."
Asked by reporters whether he was concerned by the absence of some Gou supporters at Sunday's congress, Hou replied that he was confident all KMT members would recognize the importance of the moment and unite to win the election.
According to the handful of opinion polls released this month, the DPP's Lai has generally led the presidential field with support above 30 percent, while the TPP's Ko has averaged in the 20s and Hou has been around, or often under, 20 percent.
Around a quarter of respondents in the polls either said they were undecided or refused to answer.
Taiwan's presidential and legislative elections will be held on Jan. 13, 2024.
View All