Visiting U.S. congressional delegation meets with President Tsai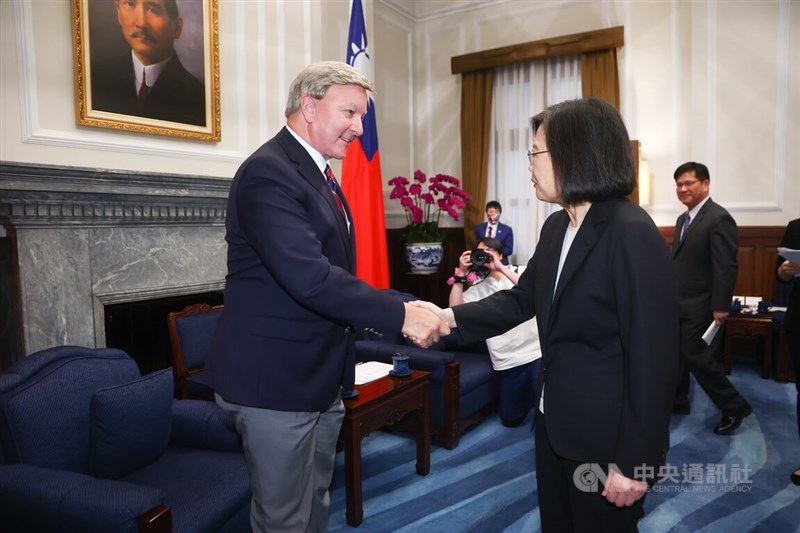 Taipei, June 28 (CNA) A United States congressional delegation led by the Republican chairman of the House Committee on Armed Services, Mike Rogers, met with President Tsai Ing-wen (蔡英文) in Taipei on Wednesday.
The delegation's support for Taiwan is "bipartisan" and "unwavering," Rogers told Tsai at the Presidential Office, ahead of their closed-door meeting that involved other members of the delegation and high-level Taiwan government officials.
"The United States and Taiwan have had a long and important friendship," said Rogers, adding that "Our shared commitment to the rule of law, democracy, and a free and open Indo-Pacific has only deepened that friendship."
The delegation also comprises the committee's ranking member -- the most senior Democratic member -- Adam Smith, as well as Joe Courtney, John Garamendi, Jill Tokuda, David Rouzer, Gary Palmer, Jim Moylan, and Cory Mill, a total of nine people.
The delegation arrived in Taiwan Tuesday for a visit from June 27-29, as part of a larger Indo-Pacific tour, according to the American Institute in Taiwan, which represents Washington's interests in Taiwan in the absence of diplomatic relations.
The delegation's current Taiwan trip comes less than a week after the House armed services committee passed the bill under the National Defense Authorization Act needed to legislate the U.S. national defense policy and budget for the fiscal 2024 year.
The bill, which was then put through to the House for approval, includes provisions encouraging U.S. military cooperation with Taiwan.
Regarding the NDAA, Tsai said the U.S. annual legislation "plays a vital part in maintaining the security of Taiwan and the Indo-Pacific region."
"The NDAA continues to include policies and initiatives to assist Taiwan in bolstering its self-defense capabilities and deepen Taiwan-U.S. security cooperation," she said.
Tsai added that Taiwan would continue to work with the U.S. in areas including economics and national defense to help contribute to peace and stability in the Indo-Pacific region.
Source: Presidential Office, in Mandarin and English, with YouTube's CC (closed caption) and auto-translate features available