ELECTION 2024
/
Terry Gou to pursue KMT presidential nomination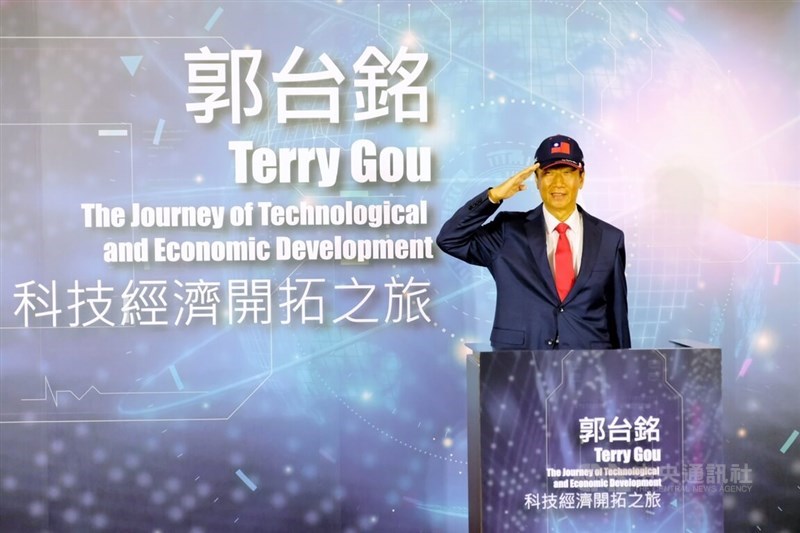 Taipei, April 5 (CNA) Business tycoon Terry Gou (郭台銘), founder of the world's biggest contract manufacturing company, has announced he will seek the presidential nomination of the opposition Kuomintang (KMT) in Taiwan's 2024 presidential election.
Gou said at a news conference Wednesday that if he is nominated by the KMT as its presidential candidate, he would do his best to unite the "non-green camp," referring to all those who do not support the ruling Democratic Progressive Party (DPP), and unseat the DPP.
"I hope I will represent the KMT to compete with the DPP's Lai Ching-te (賴清德) in a battle of gentlemen," Gou said.
Lai, the incumbent vice president, is the only DPP figure to announce his candidacy to date and is expected to be nominated by the party as its presidential candidate in mid-April.
Gou will have obstacles to hurdle if he wants to get the KMT's nomination, including his behavior in 2019, when he lost the KMT presidential primary to then Kaohsiung Mayor Han Kuo-yu (韓國瑜) and later withdrew from the party in September 2019.
"My exit from the KMT four years ago disappointed many party supporters. I am very sorry for that," Gou said Wednesday.
"But I think I have to shoulder my responsibility and do my best for the 23 million people in Taiwan at a dangerous time in global politics by contributing the experience, wisdom and connections I have built in the international arena," Gou said.
Some remarks made by Terry Gou at Wednesday's press conference in Taoyuan. (in Chinese, no subtitles)
Gou also said he was grateful to KMT Chairman Eric Chu (朱立倫) and Vice Chairman Sean Lien (連勝文) for recognizing him as an important asset of the party even though he formally withdrew from the KMT four years ago.
The KMT has changed how it will select a presidential nominee this year, eschewing a party primary in favor of directly recruiting and appointing a candidate.
The new approach was considered favorable to both Gou and the presumed KMT frontrunner for the nomination, New Taipei Mayor Hou Yu-ih (侯友宜).
Had a primary been held, all participants would have had to be KMT members. Gou would not have made it in time, because under KMT rules he would not have been allowed to rejoin the party until September 2023, four years after he left it.
If the KMT "recruits" a candidate, however, the individual does not have to be a party member.
"Recruiting" a candidate could also help Hou, who just won a second mayoral term in November 2022 and whose active participation in a presidential primary could lead to criticism he was abandoning his constituents.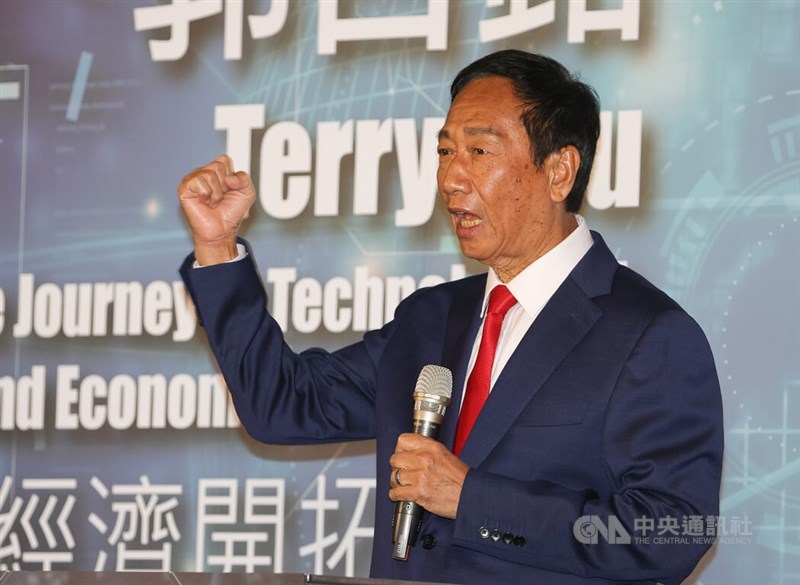 Gou, who founded Hon Hai Precision Industry Inc., better known internationally as Foxconn, one of Apple's biggest suppliers, had been on a trip in the United States since March 27.
But he decided to cut it short and return to Taiwan to make his announcement seeking the KMT's presidential nomination.
The businessman had described his trip as aimed at building a cooperation framework between Taiwan and the U.S. amid the economic challenges and rapid changes in technology facing the world at a time of growing uncertainty.
At his press conference in Taiwan on Wednesday, Gou reiterated that Taiwan's biggest problem was its economy, and the need for technology development and innovation. He also said politics could not be separated from economic development.
"Taiwan's current wealth is built on stability across the Taiwan Strait, regional mutual benefit, and global prosperity," Gou said.
"As a pivotal part of the ongoing tensions between the U.S. and China and an important economic link between the U.S. and China, Taiwan has the ability to resolve the conflicts as long as the country has a leader who has a vision to pursue and maintain peace."
Gou argued that Taiwan should not take sides in conflicts between Washington and Beijing or it will become a direct victim, and said Taiwan needed to unseat the DPP.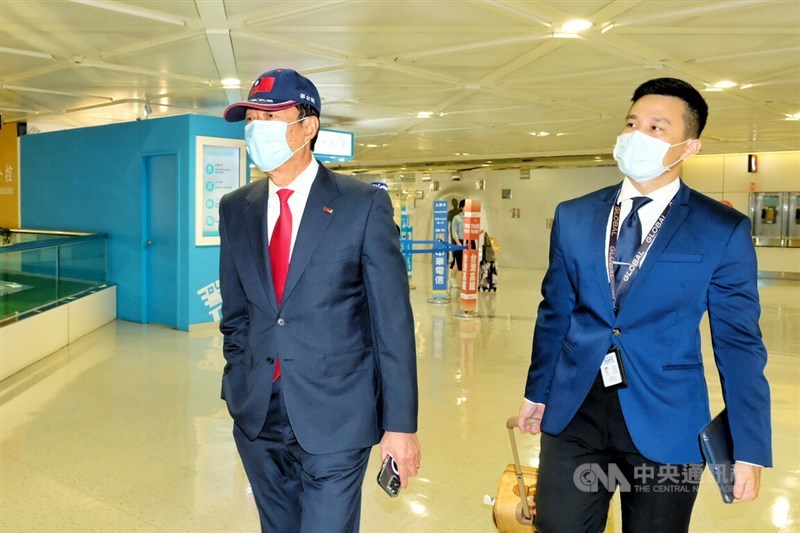 "We should tell our young people that voting for the DPP would be dangerous as it has called for Taiwan independence and advocated hating and resisting China," he said.
"Peace cannot be taken for granted. It requires the people to make the right decision."
To guide its choice of candidate, the KMT is planning to conduct one or more opinion surveys in the future to gauge the popularity of potential nominees.
Gou urged people to support him in those surveys, but pledged that if Hou received higher approval ratings than he did, he would fully support Hou and join with the KMT in the presidential race.
April 4: Terry Gou stresses technology as key to future in U.S. speech
Following the press conference, KMT said in a statement released by the party's Culture and Communications Committee that the Hon Hai founder was not only an asset of the KMT but also an asset of the Republic of China (Taiwan's official name).
The KMT said the party will try its best to unite Taiwan's people to enhance the country's security and prosperity, support peace in the region, and help the country avoid war to give it a bright future.
Related News
April 5: Tsai to set milestone in meeting with U.S. house speaker
April 3: Ex-President Ma says cross-strait youth exchanges must continue
March 26: Taiwan FM suspects timing of Honduran ties cut linked to president's US trip
March 15: VP Lai runs in DPP primary, vows to safeguard Taiwan amid China threat
March 6: Taiwan People's Party outlines itinerary of chairman's U.S. trip
View All