Taiwan, Honduras end diplomatic ties (update)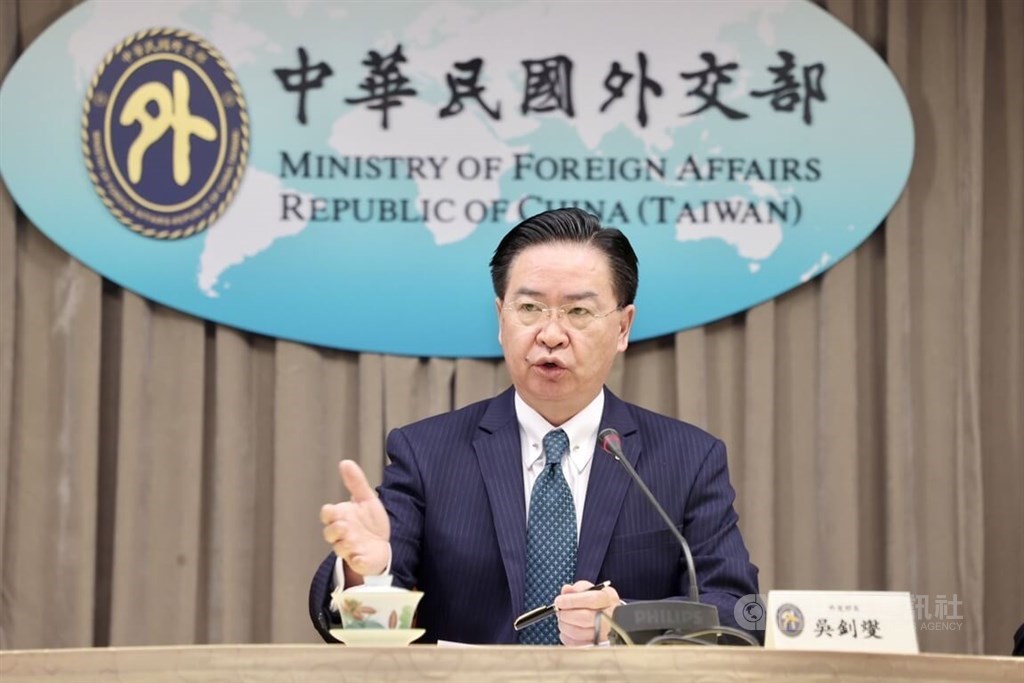 Taipei, March 26 (CNA) Taiwan has severed diplomatic ties with Honduras, the Ministry of Foreign Affairs (MOFA) announced Sunday, the ninth diplomatic ally expected to switch allegiance to Beijing during the nearly seven years President Tsai Ing-wen (蔡英文) has been in power.
The move came shortly after the Central American nation announced earlier that day it had formally cut ties with the Republic of China (ROC), Taiwan's official name, more than a week after Honduran President Xiomara Castro said her administration was seeking formal relations with Beijing.
A Honduran delegation headed by Foreign Minister Eduardo Enrique Reina arrived in Beijing earlier this week, seeking to sign a communique on the establishment of diplomatic relations with his Chinese counterpart.
Taiwan found it "deeply regrettable" that the Honduran government had disregarded the decades-long friendship between Taiwanese and Hondurans, Foreign Minister Joseph Wu (吳釗燮) said at a press conference.
"To safeguard national sovereignty and dignity, Taiwan has decided to terminate diplomatic relations with Honduras with immediate effect," end all bilateral cooperation projects and aid programs, and recall staff of its embassy and technical mission in Honduras, Wu said.
The ministry also condemned Beijing, saying the People's Republic of China (PRC) had forced Taiwan's ally to switch allegiance in an attempt to squeeze Taipei's international space.
"(Taiwan) will not succumb to the pressure and coercion of the Chinese authoritarian government, but will uphold the values of freedom and democracy, actively unite with allies and like-minded countries, work together to maintain regional peace and stability, and strive to achieve Taiwan's due international status," Wu said.
Losing Honduras means Taiwan, officially named the Republic of China (ROC), is left with 13 diplomatic allies worldwide.
Honduras is also the ninth diplomatic ally, and fifth in Latin America, Taipei is expected to lose to Beijing since Tsai took office in May 2016.
China has sought to put pressure on the Tsai government, which has refused to accept a negotiating framework that acknowledges that Taiwan is part of China, by snatching away Taiwan's formal diplomatic allies and limiting communications between the two governments.
The ROC and Honduras established diplomatic relations in 1941 when the ROC government was still based in mainland China.
Those official ties were reported to be shaky in 2021 when Castro, the wife of ousted former Honduran leader Jose Manuel Zelaya, was running for president of Honduras, a post she won in the Nov. 28, 2021 election.
March 24: Taiwan helped Honduran first family in 2009 coup: Ex-ambassador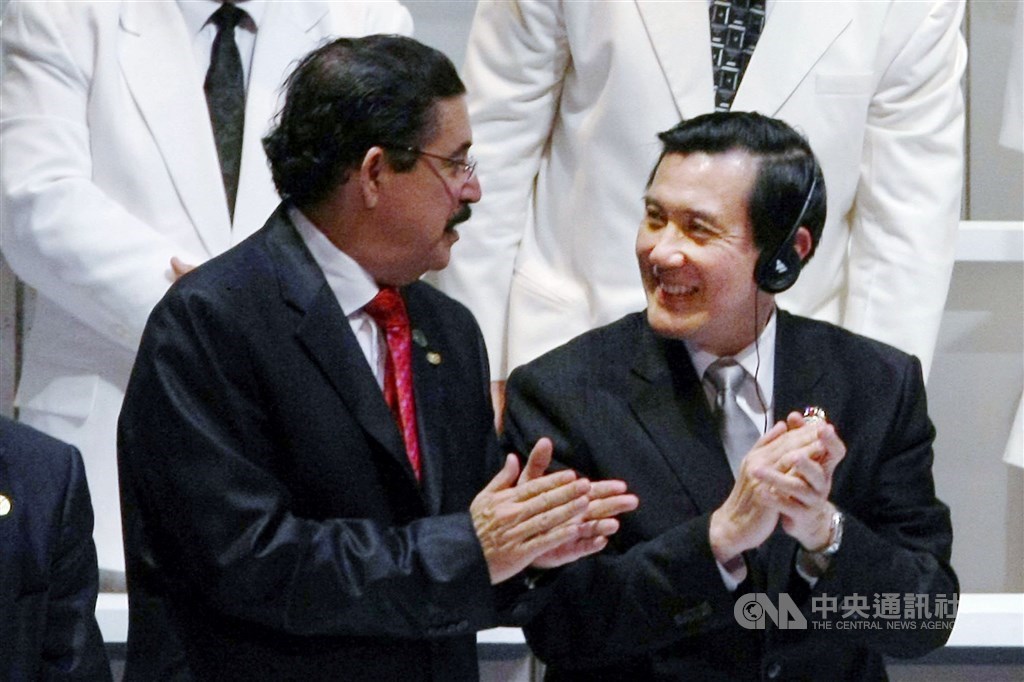 Statements made by her campaign raised concerns that Castro might end Honduras' diplomatic relationship with Taipei in favor of establishing ties with Beijing.
In a meeting with Taiwan's Vice President Lai Ching-te (賴清德) at her inauguration in January 2022, however, Castro allayed Taipei's fears by stating that she hoped to maintain the two countries' current relationship.
That commitment seemed to weaken more recently.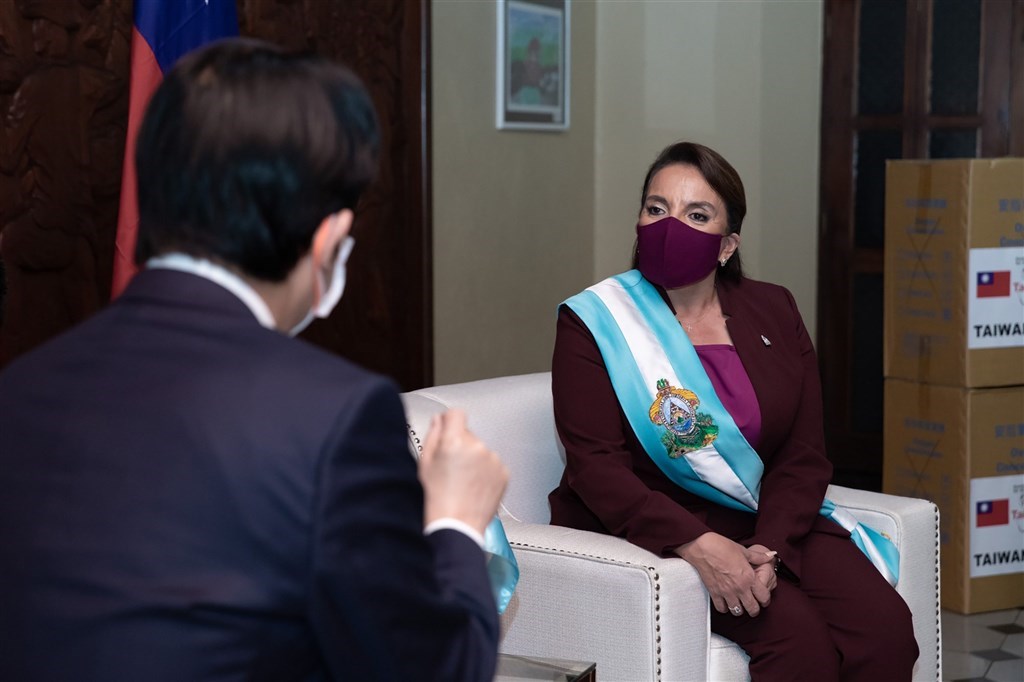 On Jan. 1 2023, Honduran Foreign Affairs Minister Eduardo Enrique Reina met with Chinese Foreign Affairs Vice Minister Xie Feng (謝峰) in Brazil in a bid to secure funding for a planned hydroelectric power plant.
The move was described by Honduran media as "taking the first steps to establish relations with the People's Republic of China."
On Jan. 8, Honduran online news outlet Paradigma reported that Zelaya called for the country to break off ties with Taiwan and recognize China instead, hinting that the Central American ally could soon switch diplomatic recognition.
On March 14, Castro said in a social media post that she had instructed the country's foreign minister to begin the process of opening official diplomatic ties with China.
Despite the tweet, MOFA responded in a statement that it was not considering ending diplomatic relations with Honduras before the Central American country officially announced a diplomatic switch.
However, MOFA did express grave concern to Honduras, warning that Beijing always offered "false promises" to Taipei's allies with the sole purpose of snatching them away in order to diminish Taiwan's international presence.
A diplomatic source said the rupture came after repeated attempts by Honduras to secure funding from Taiwan since Castro took office.
Her government had asked Taiwan for US$45 million for a hospital, US$350 million for a dam, and help to pay back US$2 billion in debt, the source told CNA on March 22.
Taiwan had responded over time by saying that it would try to find solutions to the requests within its capacity, including by reaching out to other like-minded countries to help with the dam project, working on ways to restructure the repayment of US$489 million in debt owed to Taiwan, and assisting in the construction of a hospital as it did in Guatemala, according to the source.
According to the source, however, MOFA received a letter from Reina asking Taiwan for US$2.5 billion for the said projects on March 13 -- just one day before Castro released the tweet about forging ties with Beijing.
Honduras on March 22 denied demanding US$2.5 billion in aid, saying instead it was seeking a "negotiated refinancing mechanism."
The source indicated that Taiwan's responses over time had gone unanswered by Reina, while at the same time, Honduras had also asked Beijing for a US$6 billion cash injection.
At Sunday's press conference, Wu revealed the requests Honduras made in the letter on March 13, including US$90 million for a hospital, US$350 million for a dam, in addition to US$2 billion to help Honduras repay national debt.
Central America was once Taiwan's staunchest base of diplomatic support, with all seven countries still recognizing the ROC as of 2006.
Costa Rica severed ties in 2007, followed by Panama, El Salvador, and Nicaragua in 2017, 2018 and 2021, respectively. After Honduras' decision to cut ties with Taiwan, Guatemala and Belize are the only countries in Central America to maintain diplomatic relations with Taipei.
Source: Ministry of Foreign Affairs
Update
March 26: 'No more dollar diplomacy,' says Tsai as Honduras cuts ties
March 26: Hondurans in Taiwan reckon with future after diplomatic split
March 26: Different motives seen behind Beijing's poaching of Honduras
March 26: Taiwan ministries set to address aftermath of Honduran ties cut
March 26: Taiwan's FM describes Honduran financial demands as akin to bribery
March 26: MAC condemns Beijing after Honduras cuts ties with Taiwan
March 26: Taiwan FM suspects timing of Honduran ties cut linked to president's US trip
March 26: U.S. backs engagement with Taiwan, warns of China's empty promises
March 26: Ma Ying-jeou Foundation blames Tsai's policy failures for Honduras loss
Related News
March 25: Hondurans gather in Taipei to highlight long 'friendship' with Taiwan
March 25: Taiwan has tried its best to aid Honduras: MOFA
March 23: Wu accuses China of bribing officials as Honduras switch nears
March 21: Tsai to depart for tour of Guatemala, Belize on March 29