Full Cabinet lineup settled with appointment of academics, DPP cadres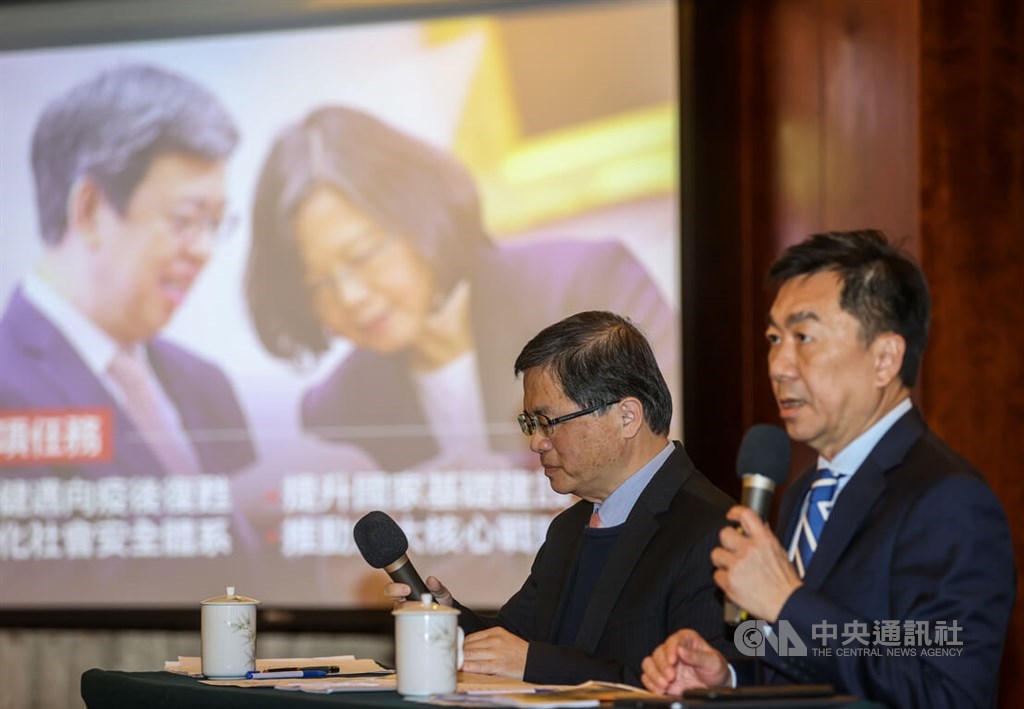 Taipei, Jan. 30 (CNA) The full lineup of Premier-designate Chen Chien-jen's (陳建仁) new Cabinet was unveiled Monday, with academics and ruling Democratic Progressive Party (DPP) apparatchiks among those appointed to deputy ministerial positions.
From the world of academia, Roy Lee (李淳), a trade liberalization policy, WTO, services trade and regional integration professor, will serve as deputy foreign minister, incoming Cabinet Spokesman Chen Tsung-yen (陳宗彥) told a press conference Monday.
Lee, currently the senior deputy executive director of the Taiwan WTO and RTA Center at the Chung-Hua Institution for Economic Research, will replace Tsai Ming-yen (蔡明彥), following the latter's appointment as National Security Bureau secretary-general.
Chen added that Wang Ya-fen (王雅玢), a professor at Chung Yuan University's Department of Environmental Engineering, had been appointed the deputy minister at the Environmental Protection Agency (EPA).
Wang, the current head of the Sustainable Environmental Education Center and Taiwan Association for Aerosol Research, will become the first female deputy minister in the EPA's 36-year history and replaces the retiring Tsai Hung-teh (蔡鴻德).
Meanwhile, Chen also announced the appointment of Deputy Secretary-General to the President Lee Chun-yi (李俊俋), a former DPP lawmaker, as deputy Minister of Labor.
In addition, former DPP Taipei City Councilor Ruan Jhao-syong (阮昭雄) will serve as deputy minister for Overseas Community Affairs Council, while Chou Chiang-chieh (周江杰) will become deputy minister at the Hakka Affairs Council.
At Monday's press conference, incoming Executive Yuan Secretary-General Li Men-yen (李孟諺) noted that the number of women in the Cabinet had increased by three to seven.
Li said President Tsai Ing-wen (蔡英文) had tasked the new Cabinet with addressing four main areas -- post-pandemic economic recovery, infrastructure, bolstering Taiwan's social safety net and assisting the "six key strategic industries" of communication technology, information security, precision healthcare, defense, renewable energy and wartime necessities.
Earlier on Monday, ex-Premier Su Tseng-chang (蘇貞昌) led his Cabinet members to resign en masse, part of a reshuffle prompted by DPP's bruising defeat in local government elections in November last year.
The 75-year-old Su, who has headed the executive branch under Tsai since January 2019, tendered his resignation on Jan. 19 after an earlier offer to resign was turned down by the president on election night.
Su is the longest-serving premier since Taiwan first held direct presidential elections in 1996.
The new Cabinet led by Chen Chien-jen, who served as vice president during Tsai's first term from 2016-2020, will be sworn in on Tuesday.
Full list of Cabinet members:
Premier: Chen Chien-jen (陳建仁)
Vice Premier: Cheng Wen-tsan (鄭文燦)
Secretary-General of the Cabinet: Li Men-yen (李孟諺)
Deputy Secretary-General of the Cabinet: Ho Pei-shan (何佩珊)
Cabinet spokesperson: Chen Tsung-yen (陳宗彥)
Ministers without Portfolio: Lin Wan-i (林萬億), Chang Jing-sen (張景森), John Deng (鄧振中), Lo Ping-cheng (羅秉成), Huang Chih-ta (黃致達), Lee Yung-te (李永得), Wu Tse-cheng (吳澤成), Wu Tsung-tsong (吳政忠), and Kung Ming-hsin (龔明鑫)
Minister of the Interior: Lin Yu-chang (林右昌)
Minister of Foreign Affairs: Joseph Wu (吳釗燮)
Minister of National Defense: Chiu Kuo-cheng (邱國正)
Minister of Justice: Tsai Ching-hsiang (蔡清祥)
Minister of Economic Affairs: Wang Mei-hua (王美花)
Minister of Finance: Chuang Tsui-yun (莊翠雲)
Minister of Labor: Hsu Ming-chun (許銘春)
Minister of Health and Welfare: Hsueh Jui-yuan (薛瑞元)
Minister of Transportation and Communications: Wang Kwo-tsai (王國材)
Minister of Education: Pan Wen-chung (潘文忠)
Minister of Culture: Shih Che (史哲)
Minister of Digital Affairs: Audrey Tang (唐鳳)
Minister of the Environmental Protection Administration: Chang Tzi-chin (張子敬)
Minister of the National Development Council: Kung Ming-hsin (龔明鑫)
Minister of the Mainland Affairs Council: Chiu Tai-san (邱太三)
Minister of the Ocean Affairs Council: Kuan Bi-ling (管碧玲)
Minister of the Council of Agriculture: Chen Chi-chung (陳吉仲)
Minister the Council of Indigenous Peoples: Icyang Parod (夷將‧拔路兒)
Minister of the Hakka Affairs Council: Yiong Con-ziin (楊長鎮)
Minister of the Overseas Community Affairs Council: Hsu Chia-ching (徐佳青)
Minister of the Veterans Affairs Council: Feng Shih-kuan (馮世寬)
Minister of the Atomic Energy Council: Chang Ching-wen (張靜文)
Minister of the National Science and Technology Council: Wu Tsung-tsong (吳政忠)
Minister of the Public Construction Commission: Wu Tse-cheng (吳澤成)
Minister of Budget, Accounting and Statistics: Chu Tzer-ming (朱澤民)
Minister of the Directorate-General of Personnel Administration: Su Chun-jung (蘇俊榮)
Financial Supervisory Commission Chairperson: Huang Tien-mu (黃天牧)
Fair Trade Commission Chairperson: Lee May (李鎂)
National Communications Commission Chairperson: Chen Yaw-shyang (陳耀祥)
Central Election Commission Chairperson: Lee Chin-yung (李進勇)
Central Bank Governor: Yang Chin-long (楊金龍)
National Palace Museum Director: Hsiao Tsung-huang (蕭宗煌)
Related News
Jan. 30: Presidential Office announces personnel appointments
Jan. 30: Su Tseng-chang's Cabinet resigns en masse amid reshuffle
Jan. 27: Taiwan politicians respond to Chen Chien-jen's appointment as premier
Jan. 27: Chen Chien-jen to focus on post-COVID-19 recovery as premier
Jan. 26: Deputy foreign minister Tsai Ming-yen to lead National Security Bureau