Visit to promote closer links in semiconductors: U.S. senator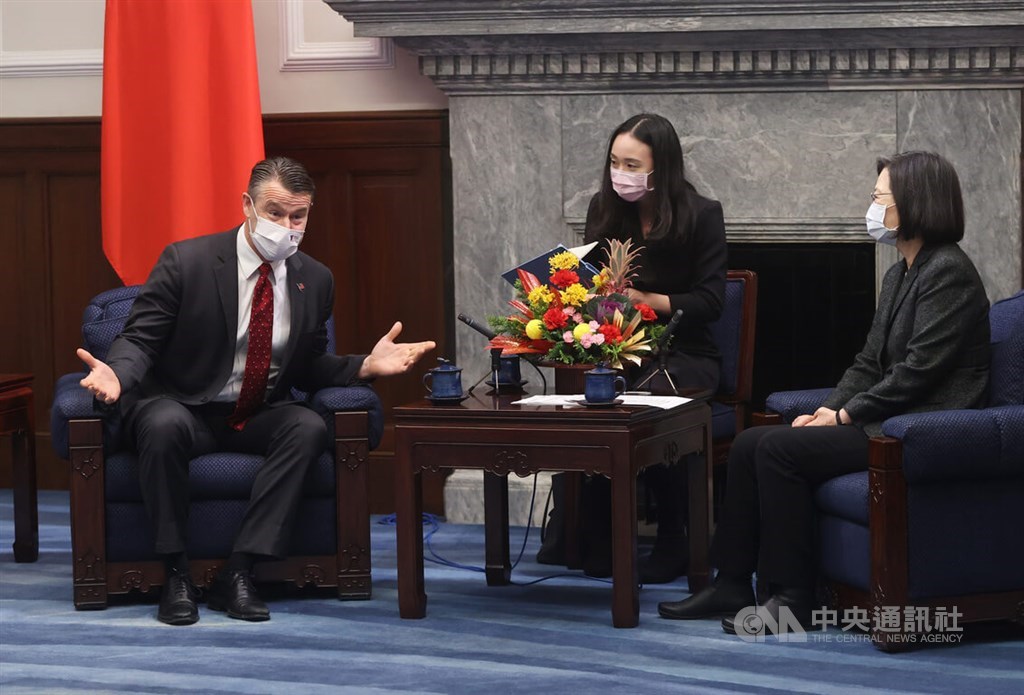 Taipei, Jan. 17 (CNA) A visiting United States senator who is one of the initiators of the U.S. CHIPS and Science Act said on Tuesday that he intended to learn more about Taiwan's semiconductor sector and promote closer links between the two countries in that field during his three-day trip.
Republican Senator Todd Young of Indiana said during his meeting with President Tsai Ing-wen (蔡英文) on Tuesday morning that his visit to Taiwan from Monday to Wednesday had several purposes, one being to show bipartisan support toward Taiwan from the U.S. Congress.
As one of the initiators of the CHIP Act, which was signed into law by President Joe Biden to boost domestic research and manufacturing of semiconductors and counter China, Young said that he also wanted to learn more from Taiwan in terms of semiconductors.
"I am here to learn how to continue do that [in terms of chips cooperation], sell more chips, and hire more people and [promote] more linkages between the U.S. and Taiwan and other countries moving forward. That will benefit all of us."
Todd also said that Indiana had maintained a close friendship with Taiwan for decades. Its capital Indianapolis established a sister city relationship with Taipei in 1978 before the state formed a "sisterhood" with Taiwan in 1979.
The latter decision made Indiana the first U.S. state to forge a sister-state relationship with Taiwan.
Recently, Indiana and Taiwan also signed a number of agreements to promote academic research in semiconductors, he added.
In concluding his remarks, the senator reiterated the bipartisan support toward Taiwan in the U.S.
He said that being a democracy, American people have different views on a lot of issues.
"But make no mistake, there is something Republicans and Democrats alike are unified on and will be unified, that is the importance of supporting the U.S.-Taiwan relationship and holding the Chinese Communist Party accountable," he stressed, though it was not specified what the party should be held accountable for.
President Tsai, meanwhile, welcomed the visit of Young, who is the first U.S. senator to travel to the country in the new U.S. Congress session.
Tsai praised the U.S. senator for being one of the strongest supporters of Taiwan in the U.S. Congress by backing Taiwan's international participation and being a key architect of the CHIPS and Science Act.
"Facing authoritarian expansion and post-pandemic economic challenges, like-minded partners need to build a sustainable supply chain for democracy chips. This will help Taiwanese, U.S., and global economies continue to prosper and develop," she said.
Tsai also called on Young to advocate for the possible signing of a Taiwan-U.S. agreement on double taxation sooner to create more opportunities for companies from both sides to engage in exchanges.
Young arrived in Taiwan on late Monday for a three-day visit as part of a larger trip to the Indo-Pacific region.
During his stay until Wednesday, Young will meet with senior Taiwan leaders and private sector representatives to discuss U.S.-Taiwan relations, regional security, trade and investment, global supply chains and other significant issues of mutual interest, according to the American Institute in Taiwan (AIT).