Ex-chief calls on NATO to help Taiwan train, hold joint drills in Europe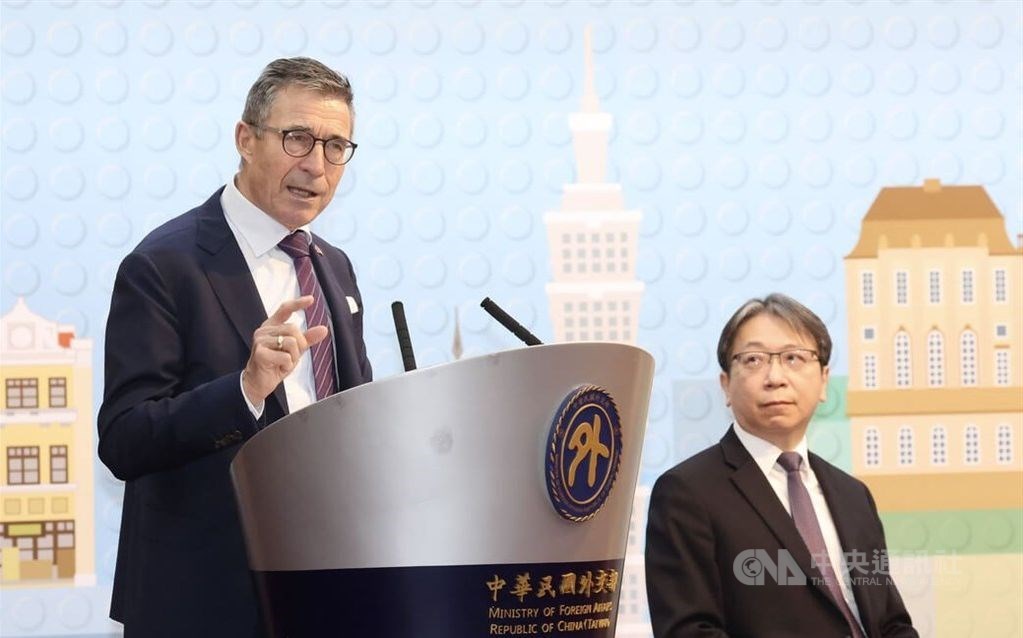 Taipei, Jan. 5 (CNA) Visiting former NATO Secretary-General Anders Fogh Rasmussen called on the intergovernmental security alliance and European countries on Thursday to hold joint exercises with Taiwan's military on "European soil" to prevent a Chinese invasion.
Rasmussen, who served as the 12th secretary-general of NATO from August 2009 to October 2014, made the remarks during a press event in Taipei when asked about his view on possible NATO expansion to the Indo-Pacific region and on NATO playing a more active role in the cross-Taiwan Strait situation, as suggested by foreign scholars.
In response, the Danish politician said he did not think a potential NATO expansion "will be the most efficient to address the challenges in the Indo-Pacific."
Instead, he said he thought it was important to develop multilateral defense cooperation in the region, such as the creation of AUKUS, a trilateral security pact between Australia, the United Kingdom and the United States; and the Quad, a strategic security dialogue consisting of Australia, India, Japan and the U.S.
Existing security cooperation blocs would be more efficient than a NATO expansion, said Rasmussen.
On NATO's potential role in the event of a cross-strait confrontation, the former Danish prime minister from November 2001 to April 2009 said he did not see NATO as an actor in such a conflict.
However, he believed that NATO should react "determinately if China were to attack Taiwan" by helping Taiwan militarily and warn Beijing of "profound and comprehensive economic sanctions" should it invade Taipei.
"All NATO allies including European countries could play a central role to show that the cost for China of an attack on Taiwan would be so high that the leadership in Beijing would think at least twice before attacking Taiwan," he said.
Asked to elaborate on the so-called military assistance toward Taiwan, Rasmussen said though NATO and some European countries are not like Washington, which is the main supplier of weapons to Taipei, they could still play a more active role to prevent a Chinese invasion.
As they have done in training Ukrainian troops to fight invading Russian forces, he said European countries and NATO could conduct "joint training and exercises on European soil for instance" with servicepersons in Taiwan.
He later added that NATO should at least explore the possibility of holding joint training and exercises in areas including how to cooperate in terms of cybersecurity and the use of high-tech military systems and equipment to help Taiwan defend itself.
In Thursday's press event, Rasmussen praised Taiwan for becoming a "beacon of democracy" in Asia and the world since his last visit to the island in 1994.
"That's why I am here today, to declare my full support for freedom, democracy and the rights of the Taiwanese people to decide their own future in peace," he said.
He accused Beijing of being an "aggressive autocracy threatening a small democratic state" similar to the situation between Russia and Ukraine.
"The most important way to deter a Chinese move on Taiwan is to ensure an Ukraine victory in the current conflict," he said, warning that a Moscow victory could set an example for dictators everywhere showing that military aggression works.
"All those who believe in a democratic Taiwan and a rules-based international order must work to ensure Ukraine prevails. It is for the people of Ukraine and the people of Taiwan to decide their future and the free world must give them our support," he added.
Rasmussen is visiting Taiwan from Tuesday to Thursday as the founder and chair of Alliance of Democracies Foundation (AoD), a non-profit organization dedicated to the advancement of democracy and free markets across the globe established in 2017.
In this role, he hosts the annual Copenhagen Democracy Summit, which was first held in 2018. Foreign Minister Joseph Wu (吳釗燮) visited Denmark for the annual summit in 2019 while President Tsai Ing-wen (蔡英文) has also been invited to give a virtual speech at the summit annually since 2020, according to the Ministry of Foreign Affairs.
Related News
Jan. 4: Visit a show of support for Taiwan, ex-NATO chief says