Visiting Japan lawmaker underscores maintaining cross-strait status quo
Taipei, Dec. 28 (CNA) Visiting Japanese parliamentarian Hiroshige Seko told President Tsai Ing-wen (蔡英文) Wednesday that Japan's latest national defense paper has made it clear that Tokyo will not tolerate unilateral forces changing the status quo in the Taiwan Strait.
Seko, who currently serves as secretary-general of the ruling Liberal Democratic Party in the House of Councillors in the Japanese Diet, made the remarks during a meeting with Tsai at the Presidential Office.
He said his country had recently revised its National Security Strategy, pledging to significantly increase defense spending to boost the country's military capability.
In the National Security Strategy approved on Dec. 16, Japan designated Taiwan as an "extremely important partner" and underscored the importance of maintaining peace and stability in the Taiwan Strait.
The strategy, along with the United States' recently promulgated defense policy legislation, should send a clear message that any unilateral force to change the status quo will not be tolerated, said Seko, who arrived in Taiwan on Monday at the head of a 12-person parliamentarian delegation for a visit from Dec. 26-29.
Seko was referring to the U.S. National Defense Authorization Act (NDAA) for 2023.
He added that these steps served as a testament to the relevant countries' efforts in achieving deterrence.
Signed into law by U.S. President Joe Biden last Saturday, the NDAA grants Taiwan treatment in certain areas equal to that for NATO allies, major non-NATO allies, and the Philippines, as it mandates that the U.S. administration prioritize and expedite the processing of requests for weapons from Taiwan.
The NDAA also includes provisions to give Taiwan annual grants of up to US$2 billion to buy weapons from the U.S., though those provisions were eventually left out of the government funding bill that cleared Congress last Saturday.
The Omnibus Consolidated Appropriations Act for fiscal 2023, which now awaits Biden's signature to take effect, will allow direct loans of up to US$2 billion to be provided to Taiwan to buy weapons.
Seko went on to say that Japan would continue promoting a free and open Indo-Pacific, urging neighboring countries such as India and Australia to work together to maintain the peace and stability of the region.
At the same time, the parliamentarian said, he and other delegates from the ruling party would spare no effort to bolster bilateral relations between Taiwan and Japan.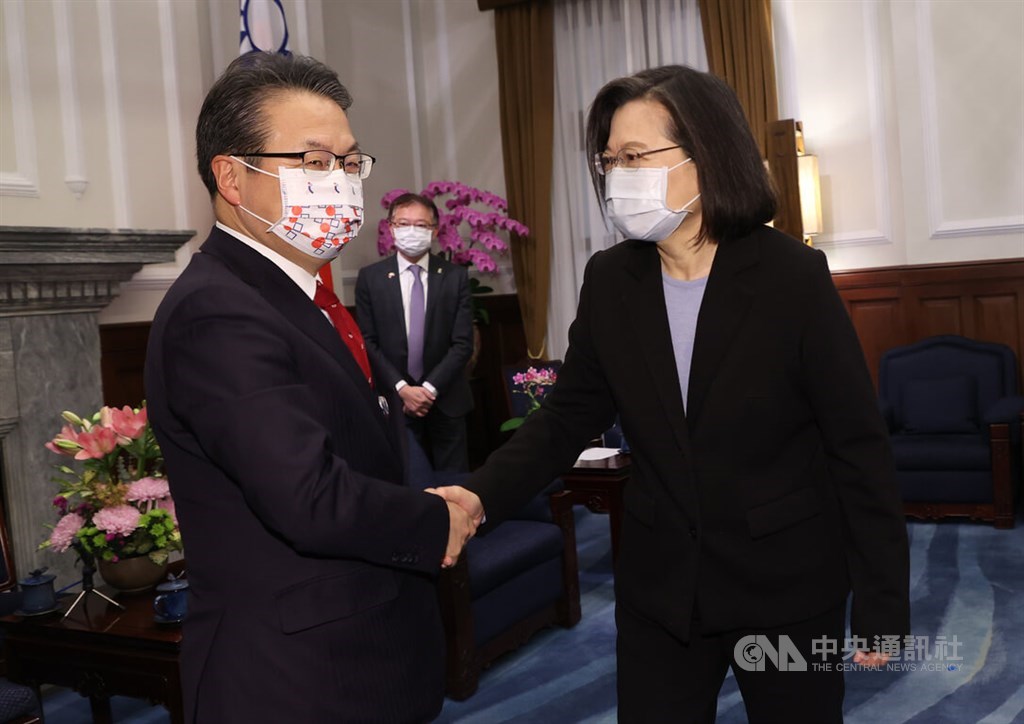 Meanwhile, Tsai told Seko and his delegation that Taiwan looked forward to further deepening cooperation with Japan, especially in the areas of trade and security.
Taiwan and Japan both face regional challenges, Tsai said, without elaborating, adding that Taiwan was committed to working with Japan, the U.S., and the European Union to contribute to the stability and prosperity of the Indo-Pacific.
The delegation led by Seko has also met with Premier Su Tseng-chang (蘇貞昌), Legislative Yuan Speaker You Si-kun (游錫堃), and Foreign Minister Joseph Wu (吳釗燮) over the past few days.
On Tuesday, the group paid respects to late President Lee Teng-hui (李登輝) at a military cemetery in New Taipei, where Lee was buried, and visited a memorial to former Japanese Prime Minister Shinzo Abe in Kaohsiung, according to Seko.