Extended military service to include higher pay, longer boot camp: President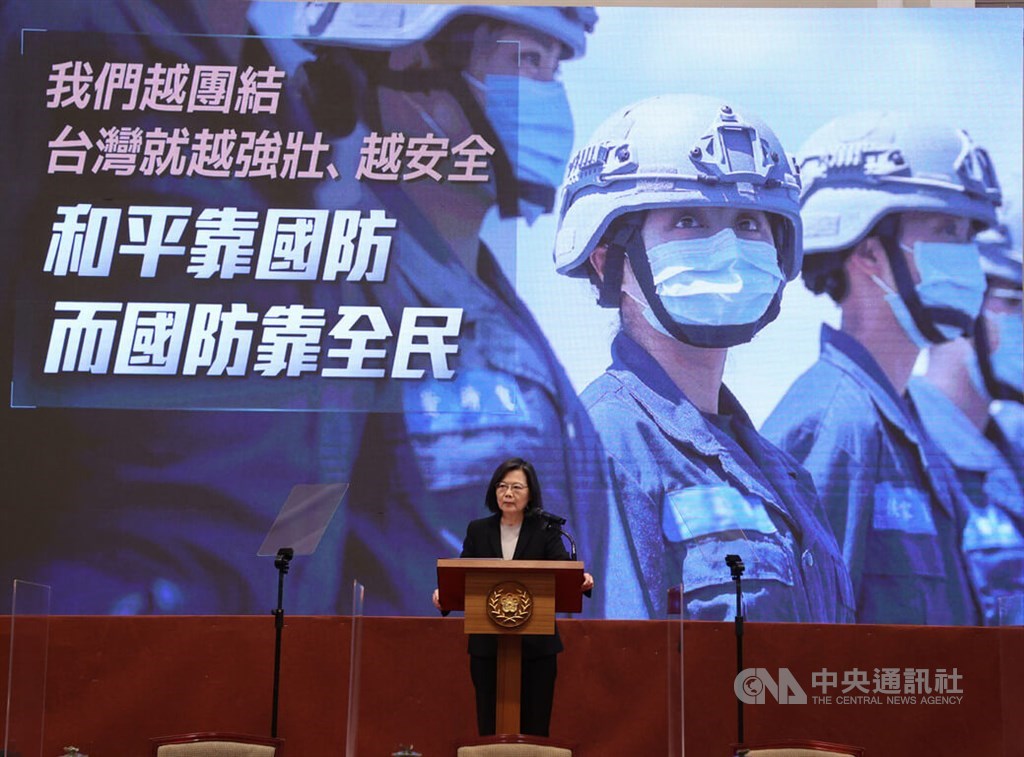 Taipei, Dec. 27 (CNA) President Tsai Ing-wen (蔡英文) on Tuesday announced that compulsory military service in Taiwan will be extended from four months to one year, effective Jan. 1, 2024, to strengthen Taiwan's combat readiness against potential Chinese attacks.
Tsai also promised to increase the monthly salary of conscripts, from the current starting salary of NT$6,510 (US$212) to NT$26,307, to make sure they earn enough to cover their basic daily expenses. However, the disposable income portion of the salary will be NT$20,320, while the army will also provide NT$5,987 to cover monthly meals and insurance.
The decision is expected to affect conscripts who were born on Jan. 1, 2005 and after.
"This is a tough decision but one we have to make for the sustainable development and survival of Taiwan," she said during a press event. "This is a responsibility that cannot be avoided."
Citing the ongoing Russian invasion of Ukraine, which has lasted for more than 300 days, the president said people in freedom-loving countries are all deeply touched by how Ukrainians have defended their country.
"No one wants war," Tsai said, but she stressed that Taiwan has faced increasing military coercion from China in recent years and needs to do its part by boosting self-defense.
To ensure conscripts undergo required training instead of wasting their time during the longer mandatory military service, the president said they will receive more intense and longer boot camp training to boost their combat preparedness.
Currently all conscripts undergo five weeks of boot camp. Starting from 2024, boot camp will be extended to eight weeks.
Conscripts will also spend more time on marksmanship training as they are expected to fire no less than 800 rounds of ammunition during their one-year-service period, according to Tsai.
They will also be trained to fire Kestrel anti-armor rockets and FIM-92 Stingers, operate UAVs and engage in close-combat training, which have proven useful in modern day warfare, she said.
Tsai said the Ministry of Education is also in talks with local universities and colleges to come up with ways to make the higher education curriculum more flexible so conscripts can complete their required one-year-service while studying at colleges and universities.
In this way they will not have to postpone their plans to enter the job market simply because they have to serve longer in the military, the president said.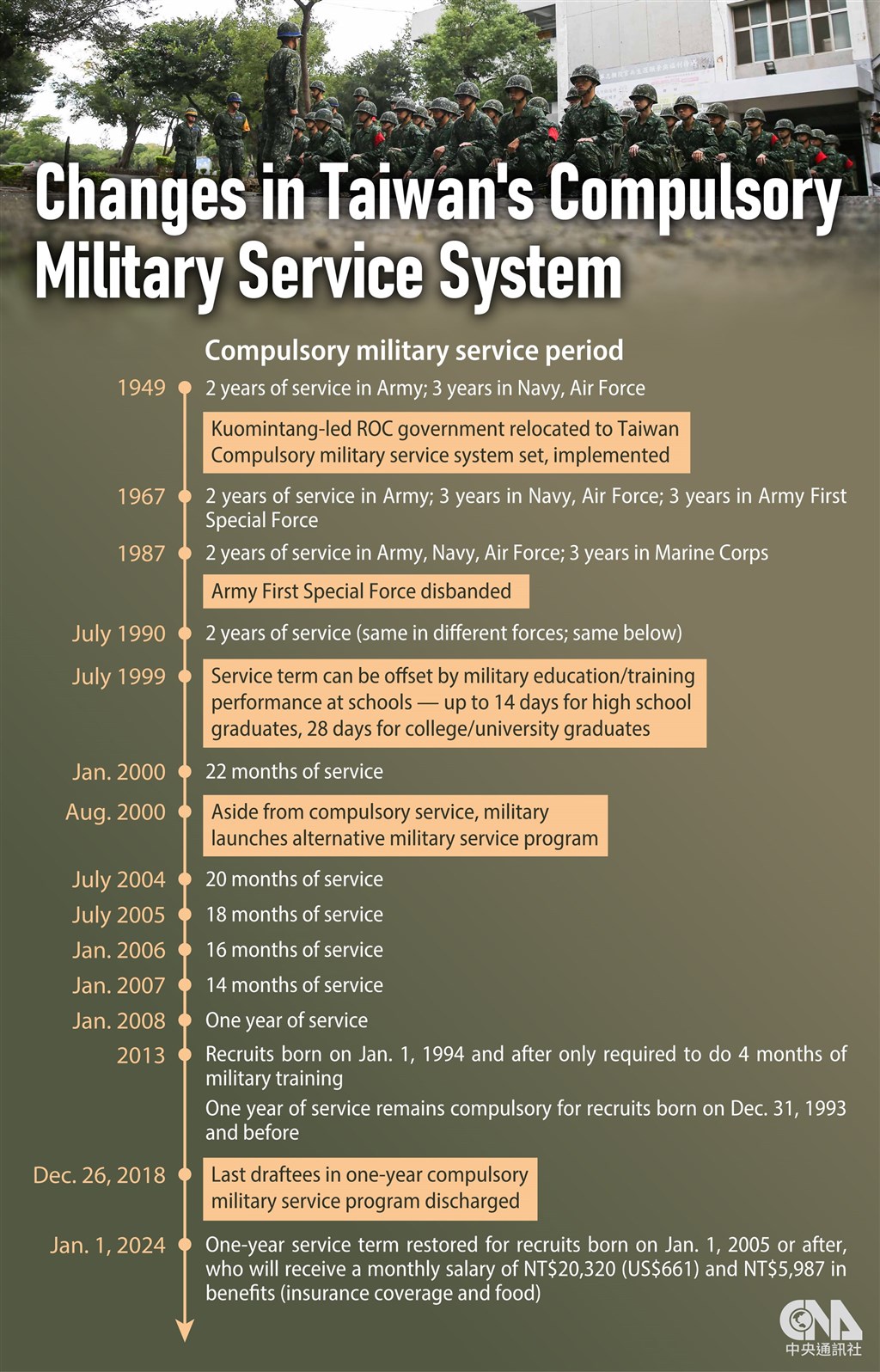 Tuesday's announcement was made after Tsai held a round of meetings in the Presidential Office with high-level officials to discuss Taiwan's economic and national security, following months of discussion in the wake of the Russian invasion of Ukraine.
Ukraine's wholesale mobilization to ward off a Russian invasion has seen a once-reluctant Taiwanese public warm to the idea of a return to longer training periods for military conscripts.
From after 1949 when the Republic of China government relocated to Taiwan following the Chinese Civil War to the end of the 20th century, all Taiwanese men aged 18 and over had to serve two to three years in the military as part of the country's conscription system.
After 2000, conscription was gradually reduced, reaching one year in duration in 2008.
During the previous Kuomintang administration under President Ma Ying-jeou (馬英九), which governed from 2008-2016, the government turned the nation's military into a mainly volunteer force, with conscripts, serving in support roles, only required to undergo four months of military training starting in 2013.
During the four months, conscripts do five weeks of boot camp followed by 11 weeks of specialized training with field units.
Experts have warned, however, that implementing the program could be challenging given Taiwan's lack of officers to train conscripts and lack of resources and facilities needed to expand training regimens.
Related News
Dec. 27: Tsai announces military reforms, introduces U.S. training models
Dec. 27: Taiwan's conscription reform shows self-defense commitment: AIT
Dec. 27: Opposition calls for Taiwan conscription reforms alongside extension
Dec. 27: Scholars call for training overhaul after military service extension
Dec. 26: 71 Chinese warplanes detected around Taiwan, highest number this year