ELECTIONS 2022
/
Tainan mayoral candidates spar over crime in televised forum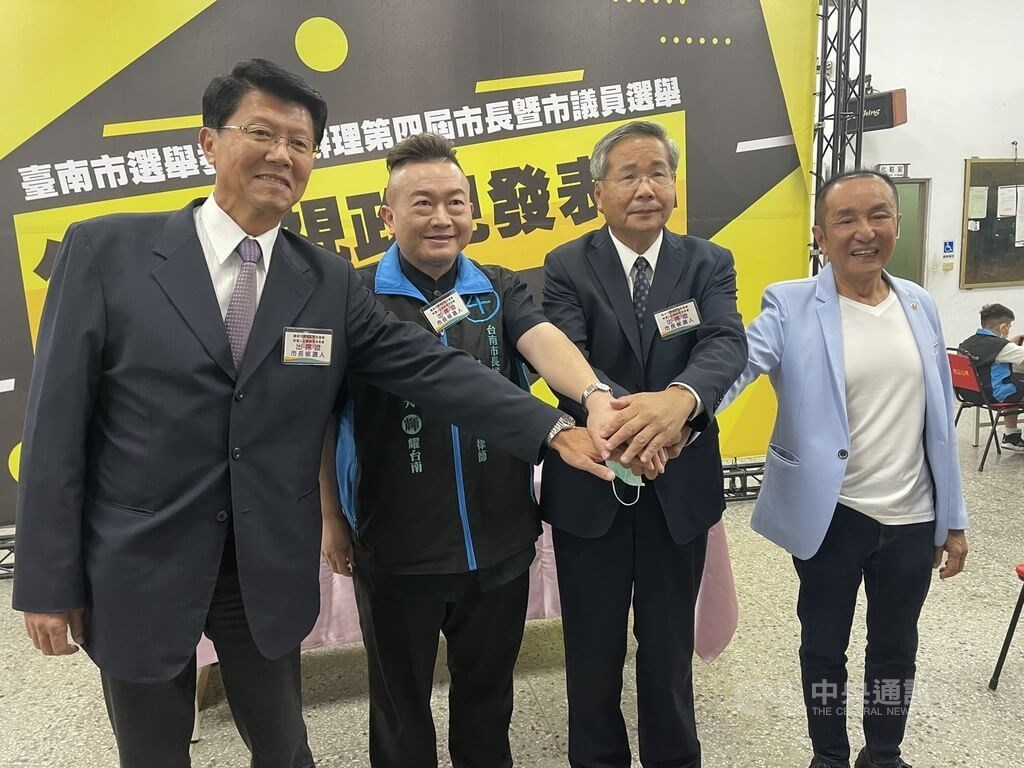 Tainan, Nov. 17 (CNA) The main candidates in the race for Tainan mayor on Wednesday debated public security in the wake of high-profile gun and knife crimes that have roiled the southern city in recent months.
In a televised opinion forum, Kuomintang (KMT) nominee Hsieh Lung-chieh (謝龍介) used his opening remarks to hammer Mayor Huang Wei-che (黃偉哲) of the Democratic Progressive Party (DPP) for his supposedly lax attitude on crime.
As evidence, he cited Huang's failure to take more decisive action after an incident last week in which a suspect, still at-large, shot 88 rounds from a submachine gun into the office of a city councilor and a private business in the city's Syuejia District.
Hsieh said that if elected mayor, he will make Tainan safer by hiring 200 new police officers every year, or a total of 800 officers over a four-year term.
"I will also let the police do their job...so we don't have the people with guns getting killed by people with knives," he said, referring to the stabbing deaths of two Tainan police officers by a wanted fugitive in August, which some blamed on overly-strict guidelines governing when police can fire their weapons.
Huang, meanwhile, accused Hsieh of "using an isolated public security incident to disparage Tainan" for his personal political gain, arguing that "politics and law enforcement are separate fields, and cannot interfere in each other's work."
He said that in a second term, he would support increasing the equipment budgets and employee pay for police and fire departments, and denied that any of his policies as mayor have made the city less safe.
During the forum, Huang highlighted his proactive response to COVID-19, which he said was part of the reason Tainan has the lowest number of COVID-19 cases and moderate to severe infections of Taiwan's six special municipalities.
On the economic side, Tainan has attracted over NT$1.8 trillion (US$57.9 billion) in investment over the past four years, and has the lowest unemployment rate among the six special municipalities, he said.
Hsieh, a longtime city council member, pledged to fulfill several of his major campaign promises, such as providing free healthcare to seniors and free school lunches to junior high and elementary school students, by reallocating funds in the city's budget.
"I will enact every single one of my policies in the first year of my term, or resign from office and apologize to the public," he vowed.
Meanwhile, the three other candidates in the race - independents Wu Ping-hui (吳炳輝), Lin I-feng (林義豐) and Hsu Chung-hsin (許忠信) - spoke on a range of issues including public security, the DPP's long control of Tainan's government, and the need for someone with a more "international perspective" to govern the city.
Related News
● Election campaigns around Taiwan, Nov. 17
● Election campaigns around Taiwan, Nov. 16
● Election campaigns around Taiwan, Nov. 15
● Election campaigns around Taiwan, Nov. 14
Niv. 17: People should not wear masks with campaign signs to vote: official
Nov. 16: Hsinchu mayor hopefuls tout policies for city development
Nov. 16: Taichung mayoral candidates underscore air pollution at forum
Nov. 15: Taoyuan mayoral candidates address traffic, housing at televised forum
Nov. 14: New Taipei mayor dodges question about presidential run in TV forum
Nov. 14: DPP candidates unveil joint semiconductor development platform
Nov. 12: 12 Taipei mayoral candidates outline visions at televised hustings
Nov. 12: Kaohsiung mayoral candidates highlight population loss, high-tech plans
View All