ELECTIONS 2022
/
DPP heavyweights campaign for Taipei, New Taipei mayoral candidates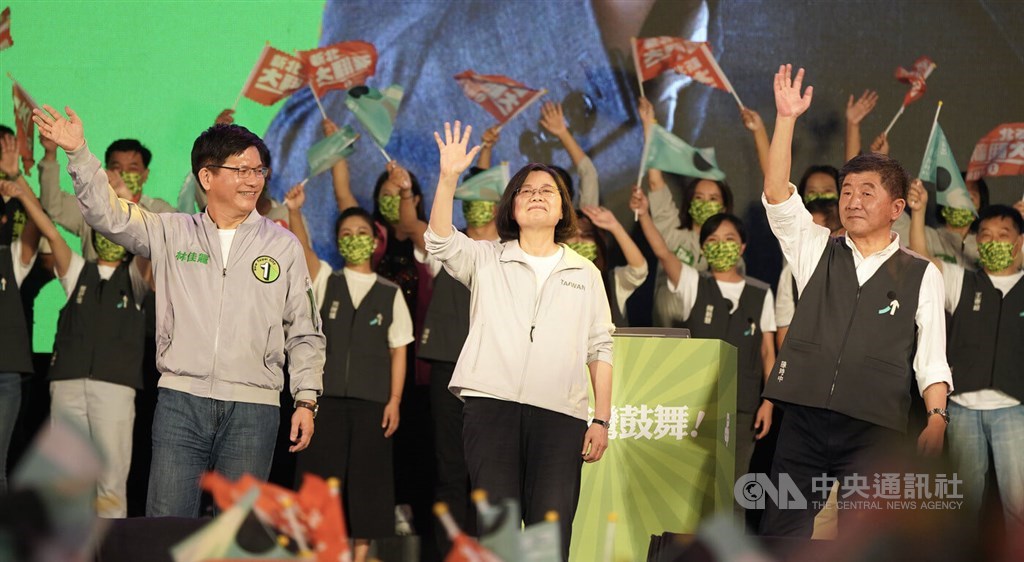 Taipei, Nov. 12 (CNA) Ruling Democratic Progressive Party (DPP) leaders gathered in Taipei on Saturday evening to rally support for mayoral candidate Chen Shih-chung (陳時中), and Lin Chia-lung (林佳龍), who is running in neighboring New Taipei.
"Chen was the best chief [of the Central Epidemic Command Center (CECC)], and he will be the best mayor," Premier Su Tseng-chang (蘇貞昌) said at the rally, which, according to the DPP, attracted 50,000 people.
Chen stood down as health minister and head of the ad-hoc CECC in July to focus on his election campaign.
The 68-year-old is locked in a three-way race for the capital's top job with two-time Kuomintang (KMT) Legislator Chiang Wan-an (蔣萬安) and former Deputy Taipei Mayor Huang Shan-shan (黃珊珊).
Su said that for 908 days under Chen's leadership, the CECC had worked tirelessly to lead Taiwan's fight against COVID-19.
As a result, Taiwan had seen fewer COVID-19 cases and deaths compared to other countries over the past two years and was able to continue growing its economy, Su added.
Vice President Lai Ching-te (賴清德) said both Taipei, the capital, and New Taipei, Taiwan's most populous city, played instrumental roles as the country sought to bolster economic growth in the post-pandemic era and consolidate its democracy.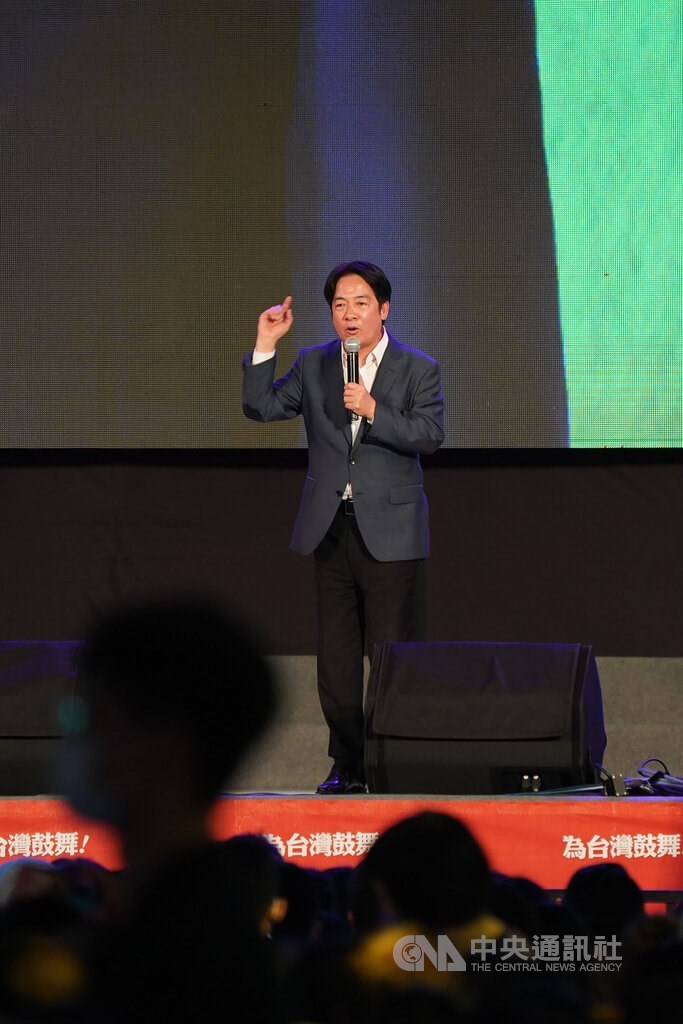 Citing the two candidates' ministerial-level experience, Lai said that Chen and Lin had all the qualities that any leaders of the two cities should have, including "an international vision and administrative capacities" and "a sense of mission to safeguard democracy."
Lin, mayor of Taichung from 2014-2018, was appointed as minister of transportation and communications in January 2019, shortly after losing his bid for reelection. The 58-year-old is now ambassador-at-large for digital New Southbound Policy initiatives.
President Tsai Ing-wen (蔡英文), meanwhile, said the world was watching how Taiwanese people would vote in the local government elections on Nov. 26, the first nationwide elections in Taiwan after China's Communist Party Congress concluded.
Nov. 26 is a moment for Taiwanese people to "decide the fate of the country," Tsai said while accusing the KMT of being "China-friendly" and stalling the progress of Taiwan.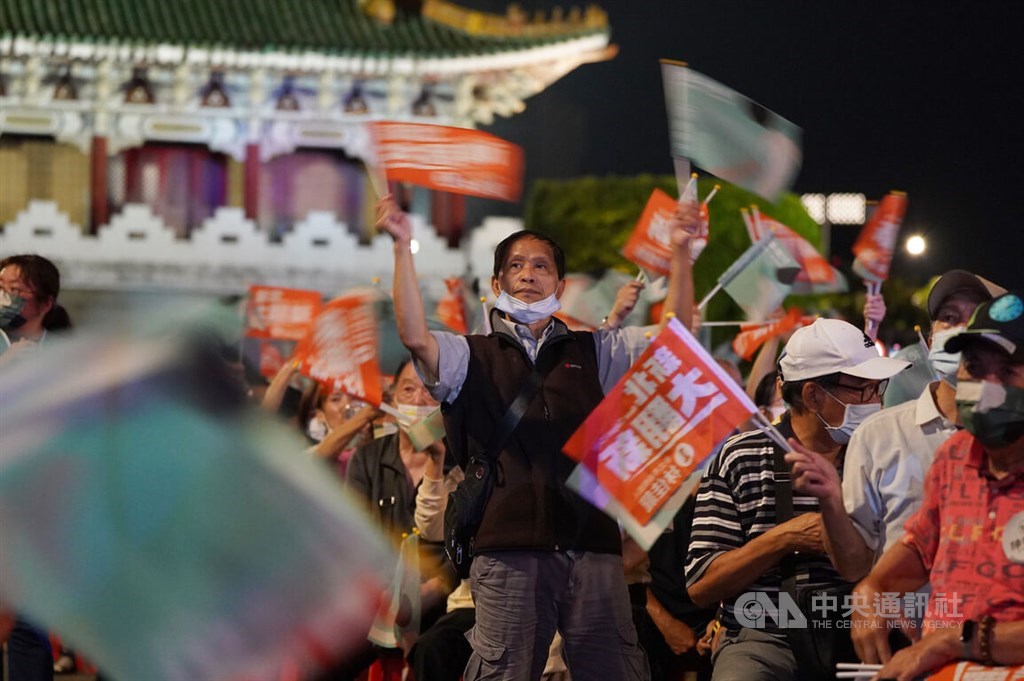 According to Tsai, the DPP's six years in power has seen the party insist on preserving the Taiwan's democracy and thus won the broad support of the international community.
This stance should not be seen as an act of provocation, she said, adding that the DPP had sought to maintain the cross-strait status quo.
CNA's special three-part election series 
Part 1: Taiwan's local elections may come down to battles in three northern cities
Part 2: Upstart party hoping to make impact in elections with eye on 2024
Part 3: Local election results could shape expectations of 2024 presidential poll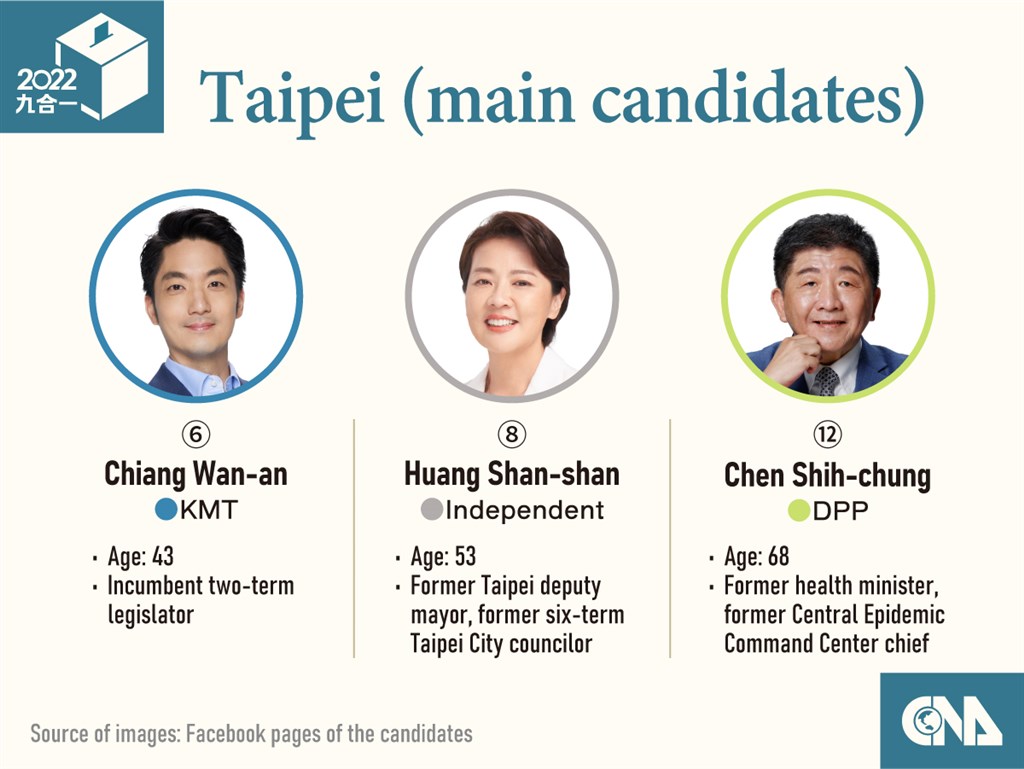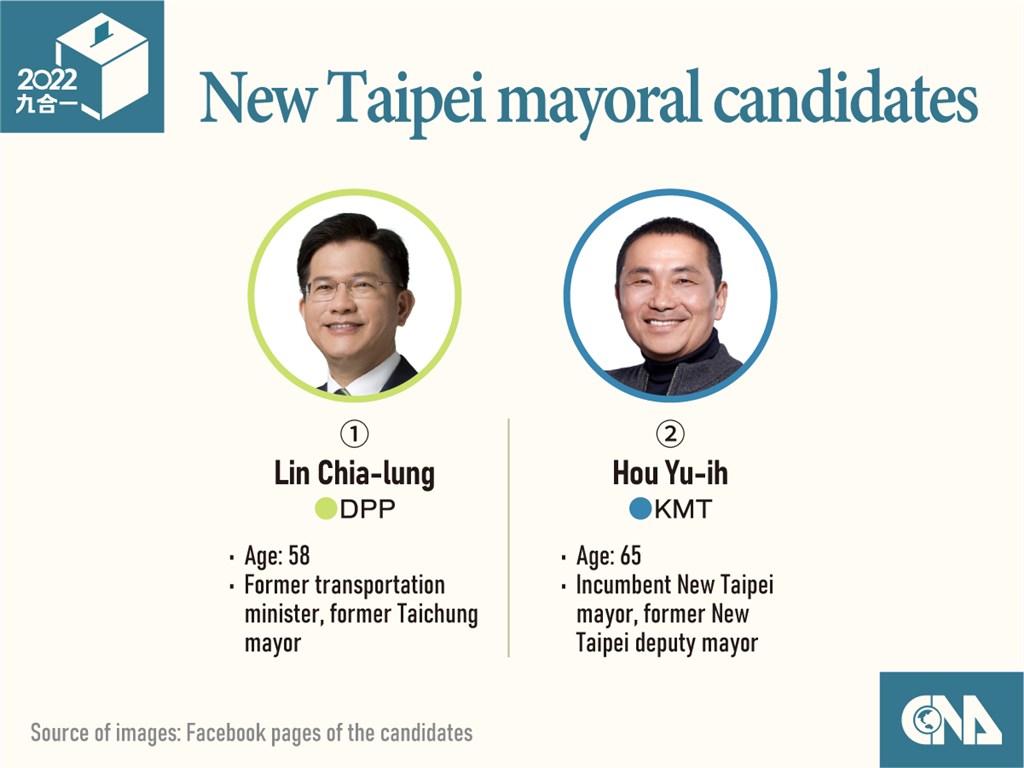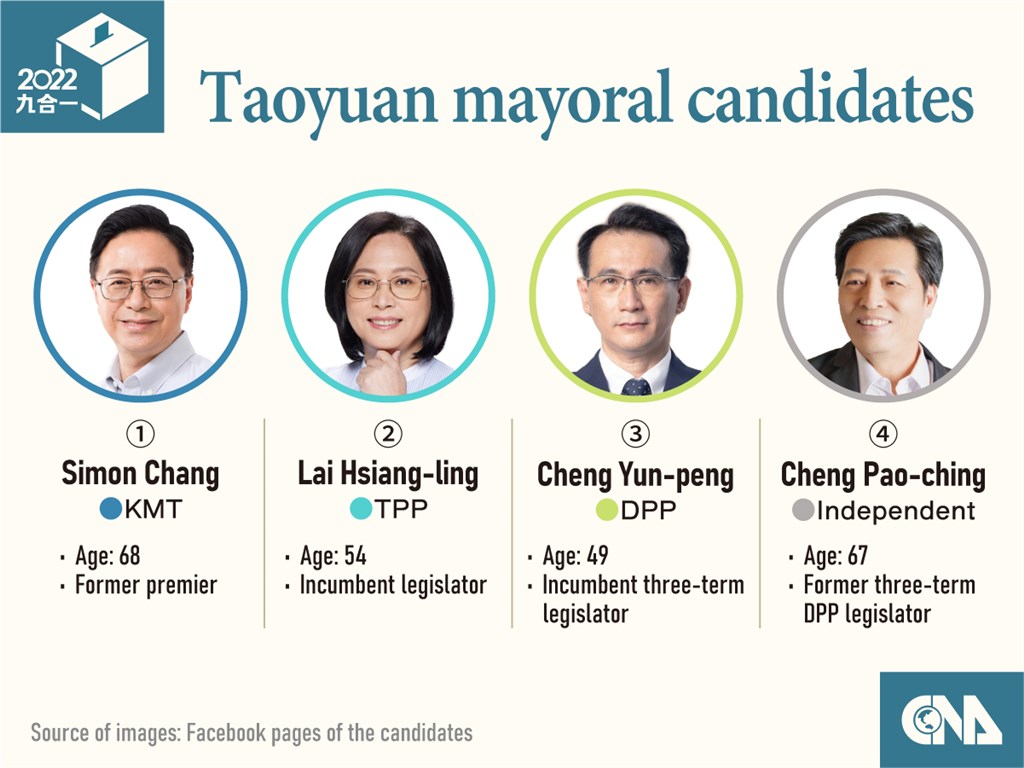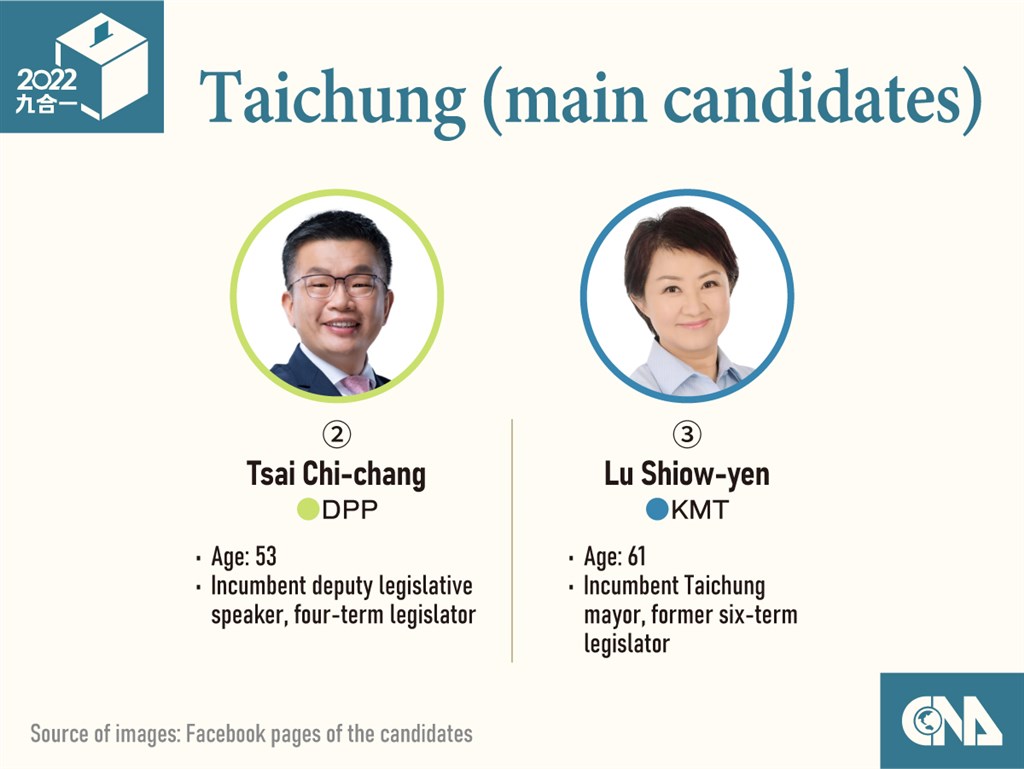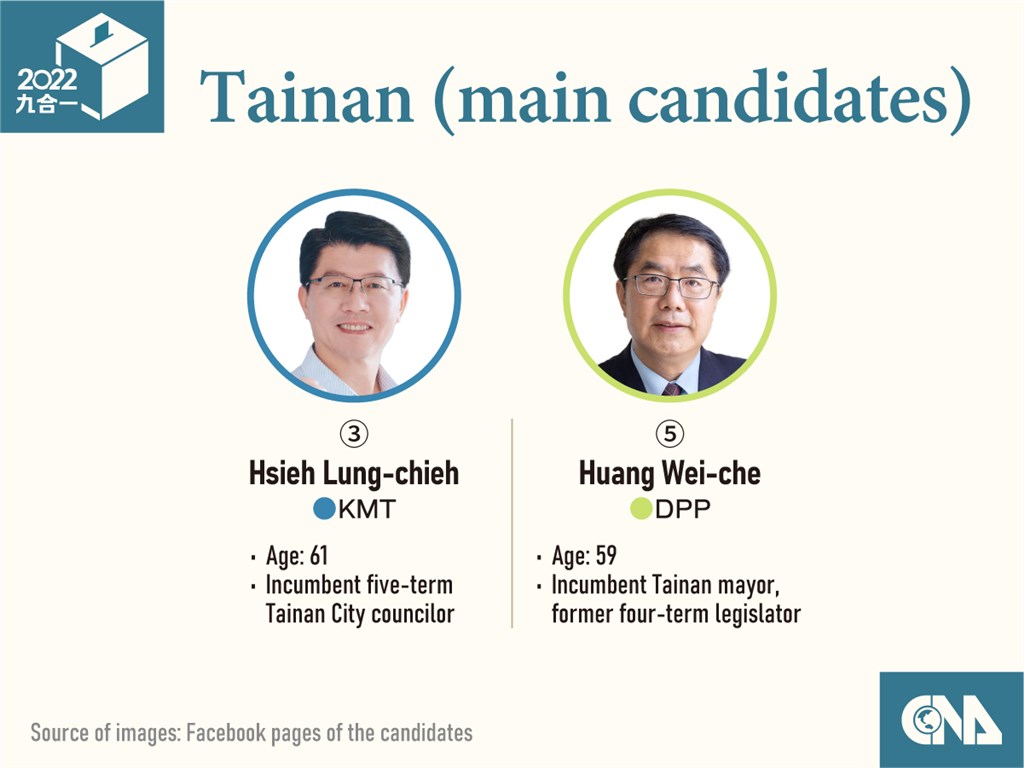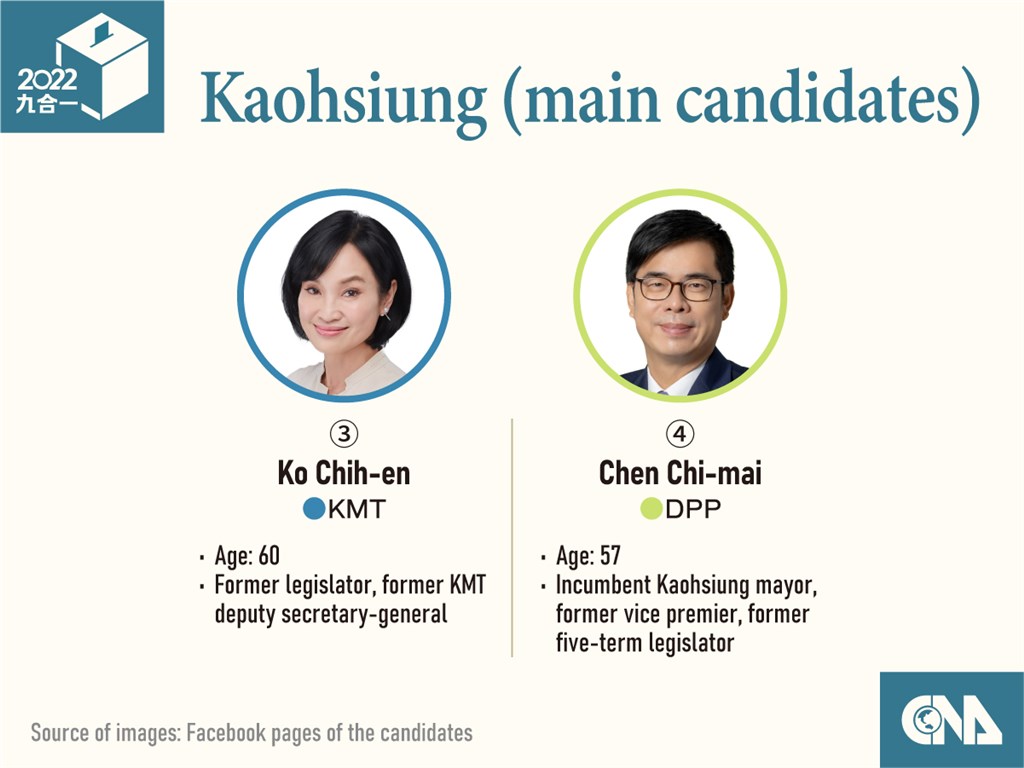 View All