Pompeo pans Biden over Taiwan; urges change in how U.S. engages with China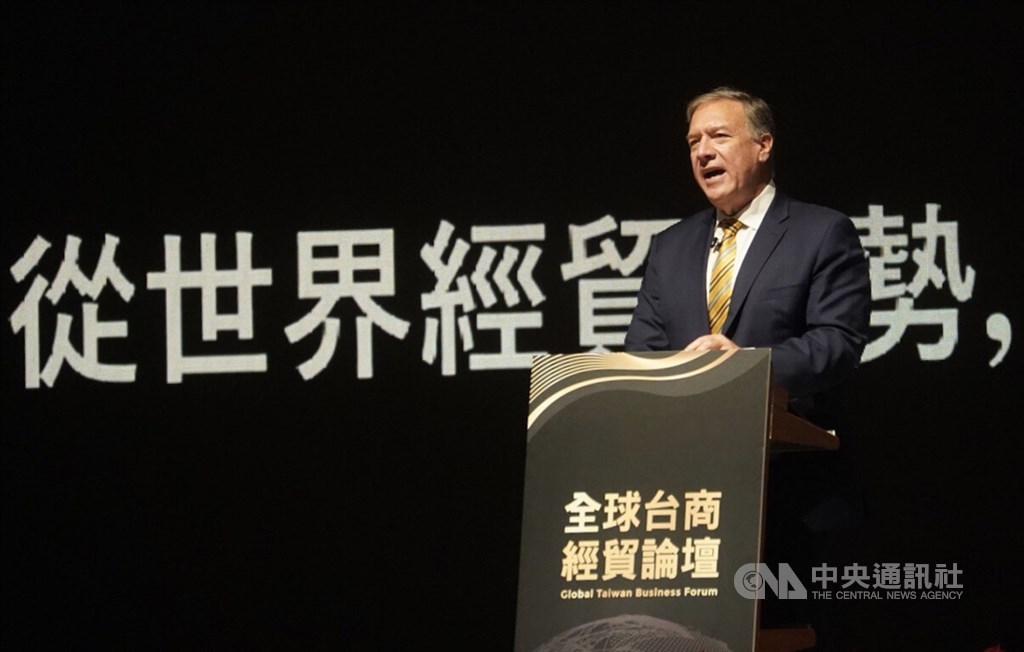 Kaohsiung, Sept. 27 (CNA) Former United States Secretary of State Mike Pompeo has criticized President Joe Biden for making American policy on Taiwan "more ambiguous" and urged the U.S. to change it terms of engagement with China and build even closer ties with Taiwan.
Speaking at a Kaohsiung business forum, Pompeo said there were concerns in the U.S. that Washington was withdrawing from Asia and was less committed to Taiwan at a time of ongoing security commitments in Europe.
"I think these highlight the muddled and confusing statements by President Biden. I'm confused, too. Concerning America's true commitment to Taiwan, the ambiguity that had been American policy has now become even more ambiguous," he said.
Pompeo did not cite any of the "statements" he was referring to, but Biden has pledged on four occasions, most recently in an interview aired on CBS on Sept. 18, to defend Taiwan if it were attacked by China.
The White House reaffirmed its one-China policy after each occasion, however, and affirmed that U.S. policy on Taiwan had not changed.
Biden's repeated pledges have called into question whether the U.S. still maintains a longstanding stance characterized as "strategic ambiguity" regarding whether it would come to Taiwan's defense if China were to attack.
When Pompeo was last in Taiwan in March, he called for diplomatic recognition by the U.S. of Taiwan. In Tuesday's speech, which was mostly focused on economic ties, he did not repeat the appeal or say what he would do in case of military action by China.
But he did repeat his support for Taiwan as a sovereign state.
"Taiwan does not need to declare its independence because it is already an independent nation," he said.
"One of the things from my time as secretary of state I was most proud of is that I moved the people of the United States and our government closer to recognizing this simple political, diplomatic and sovereign reality."
Pompeo, a potential contender for the Republican Party nomination in the 2024 U.S. presidential race, also bashed the Biden administration's Indo-Pacific Economic Framework (IPEF) launched in May and its decision to not include Taiwan in it.
"It is very unclear to me what, if anything, the framework will achieve other than diplomatic talk and coffee and salons in the region," Pompeo said, while arguing it was wrong to exclude Taiwan.
"I see the Biden ministration foolishly sidelining its eighth biggest trading partner, Taiwan, and they're doing so for political reasons. This was made in spite of the fact that Taiwan made perfectly clear that it wants to be involved," he said.
Washington did not give a reason for not including Taiwan in the IPEF at its launch but said it would continue to enhance economic ties with Taiwan "on a bilateral basis."
Pompeo also called for a different form of engagement with China in the future and a recalibration of ties toward Taiwan.
"If we want a free 21st century, and not the Chinese century, the century which Xi Jinping dreams of, the old paradigm of blind engagement must end," he said.
"America must choose instead to engage with China realistically and on our terms, the terms of freedom. This includes a deeper and far more enthusiastic relationship with Taiwan."
Pompeo was speaking at the first Global Taiwan Business Forum in Kaohsiung, which is being hosted by the Chinese-language Liberty Times newspaper.
He arrived Taiwan late Monday.
While in Taiwan, he is also scheduled to deliver the opening address at the annual meeting of the World Taiwanese Chambers of Commerce on Wednesday, and he will visit some high-tech companies in the south of the country, according to the Liberty Times.
The former U.S. secretary of state first visited Taiwan in March, accompanied by his wife Susan Pompeo, his former adviser on China policy Miles Yu (余茂春), and nine other people, on a four-day trip.
Related News
Sept. 26: Former U.S. top diplomat Mike Pompeo arrives in Taiwan
Recent visits by U.S. politicians
Sept. 8: Taiwan won't yield to China's threats, Tsai tells U.S. lawmakers
Sept. 1: Arizona to open trade office in Taiwan: Governor
Aug. 26: Visiting U.S. senator calls for preserving Taiwan's independence
Aug. 22: Taiwan partnership 'as strong as Indiana limestone': Visiting governor
Aug. 15: U.S. senator praises Taiwan for restraint amid Beijing coercions
Aug. 2: Visit to honor 'unwavering' U.S. commitment to Taiwan: Pelosi