G7, EU urge China to refrain from 'aggressive military activity'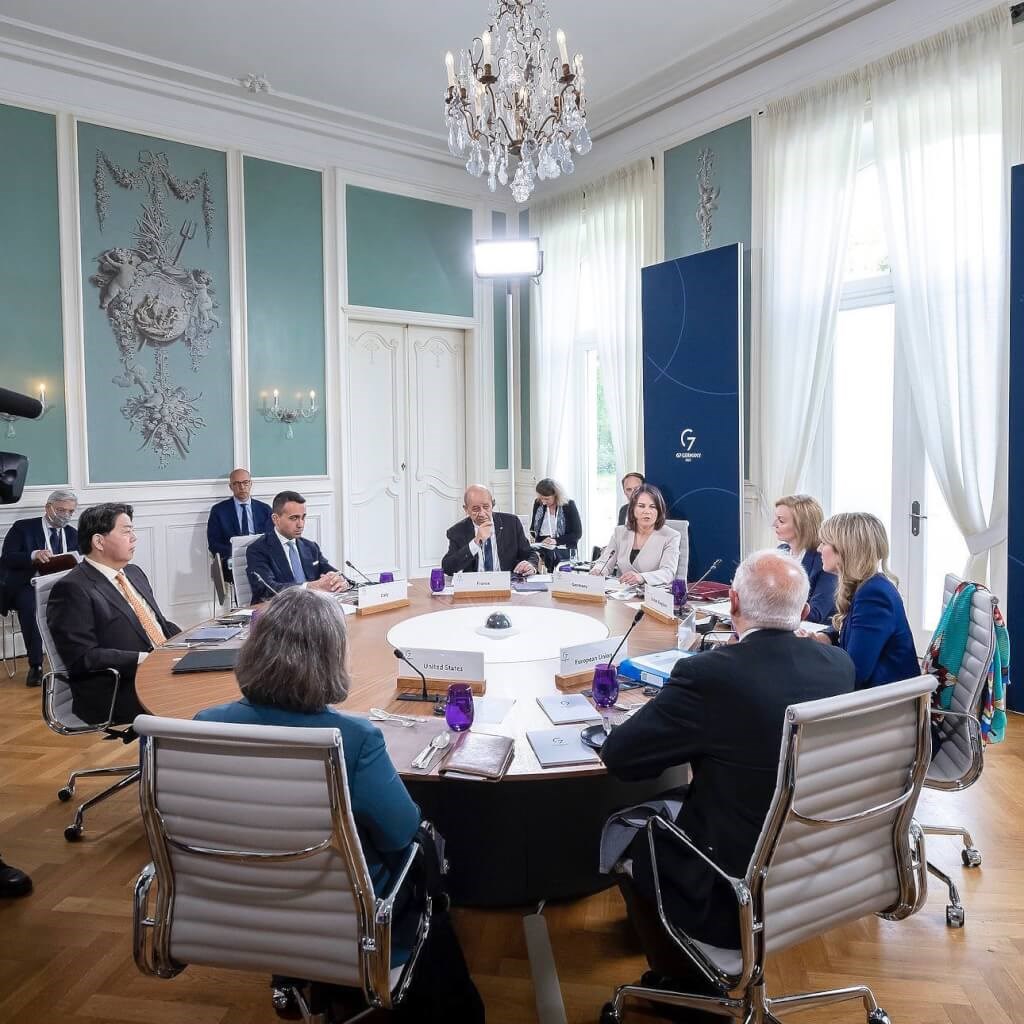 Taipei, Aug. 4 (CNA) The Group of Seven (G7) leading industrial nations and the European Union have called on Beijing to refrain from "aggressive military activity" in the Taiwan Strait, one day after China said it would hold live-fire exercises near Taiwan starting Thursday.
G7 foreign ministers and the EU's high representative for foreign and security policy issued a joint statement Wednesday expressing concern about "threatening actions by the People's Republic of China (PRC)," saying that live-fire exercises and punitive economic measures announced by Beijing risked "unnecessary escalation."
Shortly after U.S. House of Representatives Speaker Nancy Pelosi arrived in Taiwan on Tuesday night, China said via state media that it would hold live-fire military exercises from Aug. 4-7 in six areas near Taiwan, with part of those areas encroaching on Taiwan's territorial waters.
At the same time, China announced it would halt natural sand exports to Taiwan, as well as suspend the import of certain food products from the island.
"The PRC's escalatory response risks increasing tensions and destabilizing the region," the joint statement said, adding there was "no justification to use a visit as pretext for aggressive military activity in the Taiwan Strait."
The statement called on China "not to unilaterally change the status quo by force in the region" while reaffirming a "shared and steadfast commitment to maintaining peace and stability across the Taiwan Strait."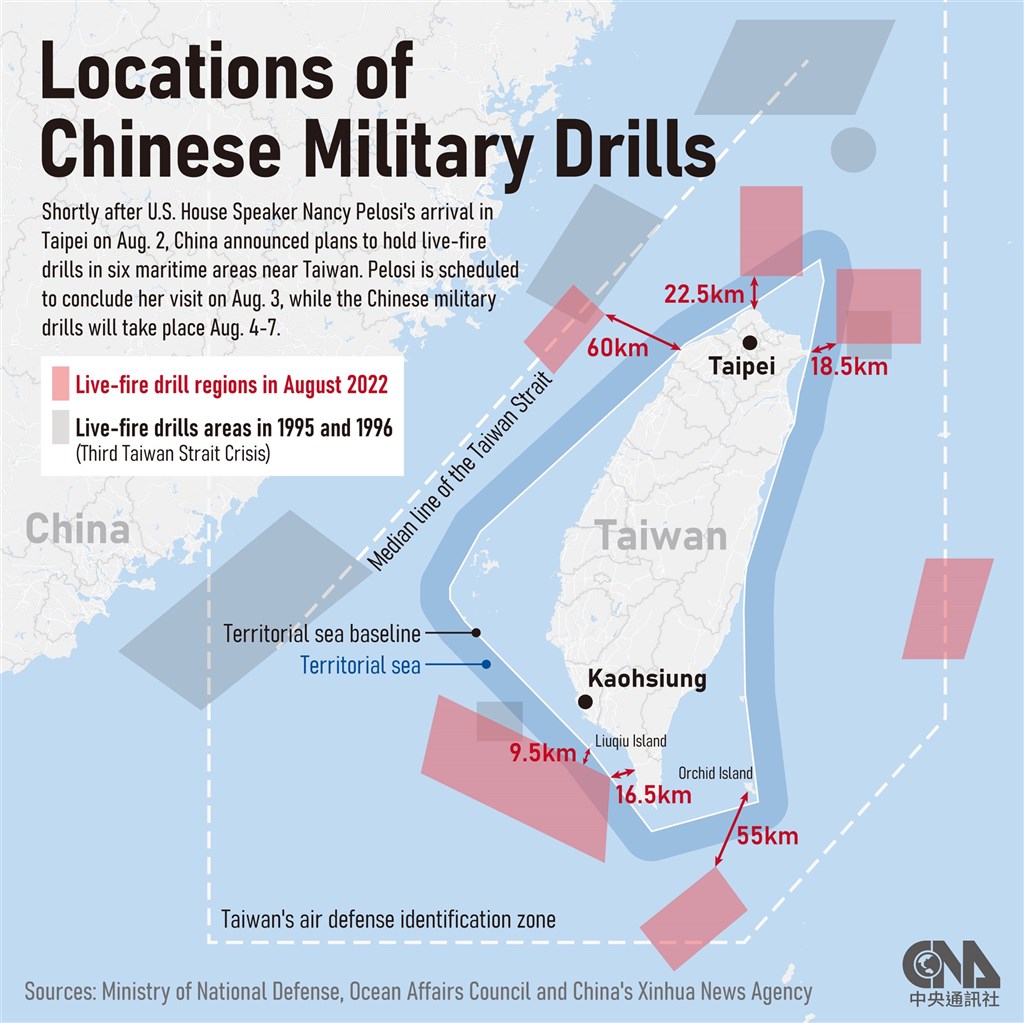 White House Press Secretary Karine Jean-Pierre told reporters shortly after the release of the joint statement that there was no reason for Beijing to turn Pelosi's visit to Taiwan into a crisis or use it as a pretext to increase aggressive military activity in or around the Taiwan Strait.
Asked what the G7 nations -- Canada, France, Germany, Italy, Japan, the U.K., and the U.S. -- would do if China were to continue aggressive action, Jean-Pierre said they would "monitor," and "manage what Beijing chooses to do."
In Taipei, President Tsai Ing-wen (蔡英文) thanked the G7 for "supporting regional peace and stability" via Twitter on Thursday, adding that Taiwan remained "committed to defending the status quo and our hard-earned democracy."
Douglas Hsu (徐佑典), a senior official at the Ministry of Foreign Affairs (MOFA), said at a press briefing the same day that China should not "interfere in Taiwan's friendly engagements with other countries."
He urged the international community to support Taiwan as it works to safeguard its national sovereignty.
In a counterstatement, the Mission of the People's Republic of China to the European Union called the G7 statement "evil" and "shameless" and said any intervention in Taiwan's affairs was an "infringement on China's sovereignty."
"Today's world is no longer an era in which Western powers can run wild and do whatever they want. The 1.4 billion Chinese people have the final say in what is to be done with Taiwan," according to the Chinese statement.
Pelosi arrived in Taipei Tuesday night for an unannounced 19-hour visit, despite China threatening to take "resolute and strong measures" in response.
During the whirlwind stopover, Pelosi -- the highest-level U.S. politician to have visited Taiwan in 25 years -- met with President Tsai Ing-wen (蔡英文) to discuss ways to further bilateral economic and security partnerships.
The 82-year-old Democratic lawmaker also met with activists who had been persecuted by the Chinese authorities, including the founder of Causeway Bay Books in Hong Kong, Lam Wing-kee (林榮基), and human rights activist Lee Ming-che (李明哲), who was recently freed after spending five years in a Chinese prison on national security charges.
Update
Aug. 8: China's Yellow Sea drills won't affect Taiwan int'l flights: MOTC
Aug. 7: China sends 66 warplanes, 14 warships around Taiwan Sunday
Aug. 6: 20 Chinese warplanes, 14 warships deployed around Taiwan: MND
Aug. 6: U.S., Japan, Australia urge China to stop military drills
Aug. 6: Taiwan companies told to abide by China's labeling rule: MOEA
Aug. 5: 68 Chinese warplane, 13 warship sorties recorded around Taiwan: MND
Aug. 5: MOFA reports continued cyberattacks seeking to crash its website
Aug. 5: International flights avoiding Taipei FIR due to China drills: Official
Aug. 4: President Tsai calls China's live-fire drills 'irresponsible act'
Related News
Aug. 4: China fires 11 Dongfeng ballistic missiles into waters off Taiwan: MND
Aug. 3: Taiwan one of world's freest societies: Pelosi 
Aug. 3: 22 Chinese aircraft cross Taiwan Strait median line ahead of military drills
Aug. 3: China's military exercises aimed at blockading Taiwan: defense ministry
Aug. 3: China imposes new trade restrictions on Taiwan as Pelosi visits
Aug. 3: Agencies gauge impact of new China import bans
Aug. 3: CrisisWatch sees higher risk of conflict over Taiwan due to Pelosi's visit
Aug. 3: American observers weigh pros and cons of Pelosi's visit to Taiwan
Aug. 2: Visit to honor 'unwavering' U.S. commitment to Taiwan: Pelosi