President Tsai awards state honor to visiting U.S. House speaker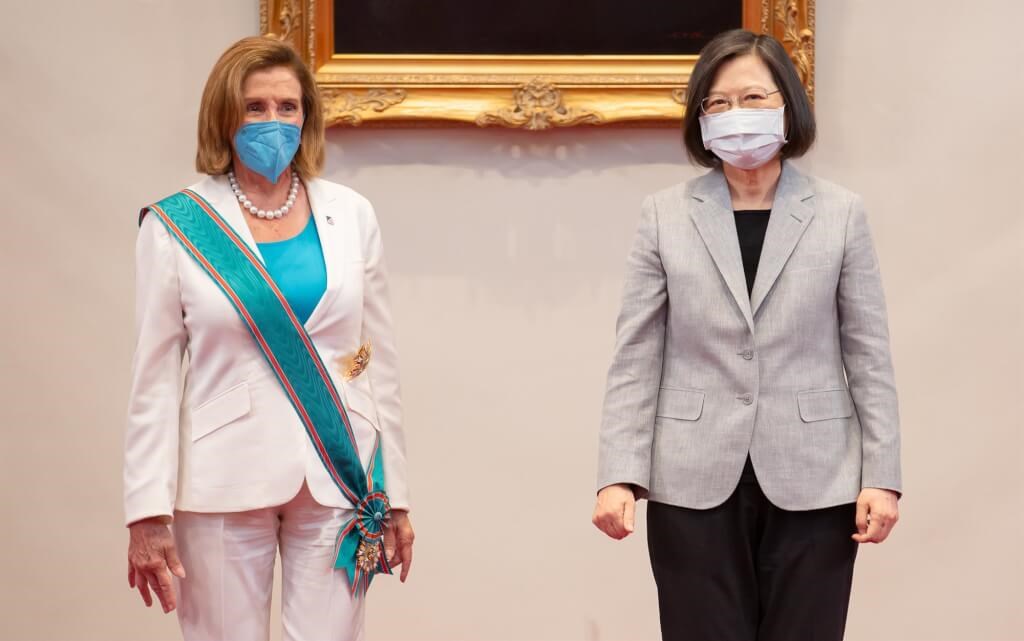 Taipei, Aug. 3 (CNA) President Tsai Ing-wen (蔡英文) on Wednesday honored visiting U.S. House of Representatives Speaker Nancy Pelosi for her commitment to promoting Taiwan-U.S. relations.
In a ceremony at the Presidential Office building, Tsai conferred on Pelosi the Order of Propitious Clouds with Special Grand Cordon for her decades-long attention to Taiwan's development as a democracy and her "unwavering support" for Taiwan's international participation.
The Order of Propitious Clouds is a civilian order that can be awarded to Taiwan citizens or foreign nationals. It is divided into a total of nine "classes" or grades, of which the Special Grand Cordon is the highest.
Pelosi said she was particularly honored to receive the award from Tsai -- "a woman president in one of the freest societies in the world."
She emphasized that there is broad and bipartisan support for Taiwan in the U.S. Congress and that the response to her visit among her colleagues had been extremely positive.
Courtesy of Presidential Office
Since the passage of the Taiwan Relations Act in 1979, she said, the U.S. and Taiwan have built a "thriving relationship" grounded in shared values.
"Today our delegation came to Taiwan to make unequivocally clear that we will not abandon our commitment to Taiwan and we are proud of our enduring friendship."
Pelosi said she felt it was important "now more than ever" for the U.S. to show solidarity with Taiwan, and that that was the message her delegation hoped to bring.
The House speaker argued that the world is now facing a choice between democracy and autocracy, and asserted that the U.S.'s determination to preserve democracy in Taiwan remains "ironclad."
"And we're grateful to the partnership of the people of Taiwan in this mission," she said.
Tsai also used the occasion to reiterate what she said were Taiwan's basic principles for "responding to (geopolitical) changes."
Referring indirectly to China, Tsai said Taiwan would not back down in the face of "deliberately heightened military threats" and would continue to uphold its sovereignty and "hold the line of defense for democracy."
Taiwan will also do "whatever it takes" to strengthen its defense capability, she said, and is committed to maintaining peace and stability in the Taiwan Strait and acting as "a stabilizing force in regional security."
"We will continue to work with the U.S. Congress as well as the administration to strengthen cooperation in areas such as Indo-Pacific security, economic development, talent cultivation and supply chains so as to further elevate Taiwan-U.S. relations," Tsai said.