U.S. lawmakers urge Pelosi to visit Taiwan, end 'outdated' One China policy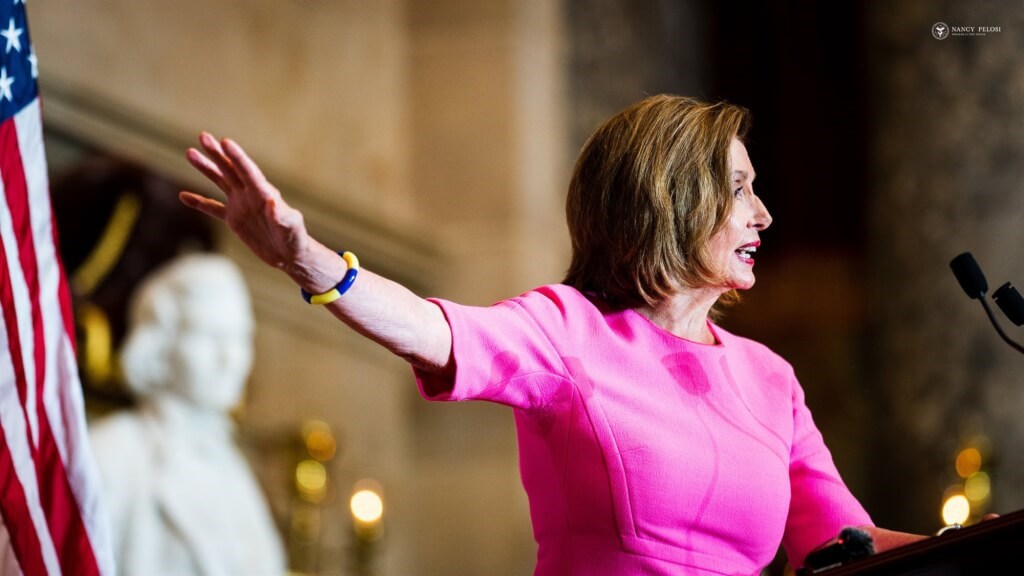 Washington, July 24 (CNA) Two U.S. Republican lawmakers have urged House Speaker Nancy Pelosi to proceed with her planned trip to Taiwan and convene a floor vote to pass a resolution to end the "outdated" One China Policy.
In a joint letter to Pelosi dated July 22, House Representatives Tom Tiffany and Scott Perry encouraged her to "reject the objections of China's rulers and President Biden."
"As the Speaker of the United States House of Representatives, you should never have to ask a foreign dictatorship or the State Department for permission to talk to America's friends and allies," they said in the letter.
Pelosi's planned trip to Taiwan was first reported on July 18 by the Financial Times, which cited six people familiar with the matter as saying that the 82-year-old Democratic lawmaker is planning to lead a delegation to Taiwan in August to show support for Taipei as it faces increasing pressure from Beijing.
Biden, however, on July 20 reacted to the reported trip by saying the military thought that "it's not a good idea right now" though he also added "but I don't know what the status of it (the trip) is." The U.S. president also said he was expected to talk to Chinese President Xi Jinping (習近平) in the next 10 days.
China, which considers Taiwan part of its territory, has expressed its strong opposition to Pelosi's rumored Taipei trip. Chinese foreign ministry spokesman Zhao Lijian (趙立堅) called on Washington to "stop creating tensions over the Taiwan Strait."
Also in the joint letter, Tiffany and Perry said they would like to ask Pelosi to schedule a floor vote before her departure for Taiwan on a resolution to end "outdated and nonsensical One China Policy and normalize the U.S.-Taiwan ties.
Under the One China policy, which has long served as a cornerstone of the U.S.-China ties, Washington recognizes and has formal ties with Beijing rather than Taipei. It also acknowledges, though it does not endorse, China's claim that the two sides are part of one country. Washington has also adhered to a policy of strategic ambiguity under which it sells weapons to Taiwan so it can defend itself, but has never committed to militarily intervening if it is attacked by the mainland's military.
The two U.S. lawmakers said a growing number of experts, including former Defense Secretary Mark Esper, who visited Taiwan last week, and President Barack Obama's former envoy to Taiwan William Stanton have recently cast doubts on "the utility of this counter-productive policy -- a policy which was never approved by Congress."
During his stay in Taiwan, Esper, who serves on the board of a defense company, said Washington should "move away" from its long-standing policy of strategic ambiguity toward Taiwan. "It is my personal view that the (U.S.) One China policy has outlived its usefulness; that it is time to move away from strategic ambiguity," Esper said when he met with President Tsai Ing-wen (蔡英文).
However, White House National Security Adviser Jake Sullivan on July 22 reiterated Washington's strategic ambiguity over Taiwan has not changed.
"Somehow that ambiguity -- that creative tension within the policy -- has allowed us to maintain peace and stability across the Taiwan Strait for multiple decades across multiple administrations," Sullivan said at the Aspen Security Forum.
Three scholars -- Simon Shin-wei Chen, Wang Kai-chun, and Samuel Hui -- have argued in an article published in the Diplomat last year that the strategic ambiguity policy employed by Washington "can best keep Taiwan safe and deter China from attempting an amphibious invasion or any sorts of military blockade to cut off the island."
The three, who were then advisors to the Office of Charles Chen, Taiwan's Legislator-at-large for the opposition Kuomintang in the Foreign and National Defense Committee of Taiwan's Legislative Yuan, said any actions by the parties in the China-Taiwan-U.S. triangular relationship are expected to set off a chain of reactions, for better or for worse.
However, Tiffany and Perry pointed out that the decision for the U.S. to establish diplomatic ties with China by cutting ties with Taiwan was predicated on Beijing's commitment to resolve its differences with Taipei peacefully.
They argued that Chinese officials routinely threaten to take Taiwan by force and so far this year, China has sent its military planes cross into Taiwan's airspace almost 600 times, which showed China has ignored the foundational assurance.
That airspace is technically considered international airspace because it's in Taiwan's Air Defense Identification Zone (ADIZ), and ADIZs are not recognized by international law. In a recent Chinese aircraft crossing of the median line in the Taiwan Strait between the two sides, Taiwan's Ministry of National Defense also pointed out that it was not in Taiwan's territorial airspace.
However, China's actions are considered provocative by the Taiwanese and American governments. For its part, China has emphasized it wants peaceful unification, but insists it will not tolerate moves toward Taiwan independence, while also blaming the Taiwanese administration and Washington of being the cause of tensions.
In addition to Tiffany and Perry, Republican House Representative Brian Fitzpatrick on Sunday called on Pelosi not to bow to China. "If you cancel this trip, it will show further weakness on the world stage and play into the hands of the CCP (Chinese Communist Party). America must stand up to the CCP," Fitzpatrick said.
Meanwhile, Don Bacon, also a Republic House Representative, also tweeted that Communist China cannot dictate who in America can visit Taiwan.
Former U.S. Secretary of State Mike Pompeo, who visited Taiwan in March, said he was willing to go with Pelosi to Taipei.
"Nancy, I'll go with you. I'm banned in China, but not freedom-loving Taiwan. See you there!" Pompeo tweeted.
In Taiwan, asked to comment on Biden's remarks on Pelosi's reported Taipei trip, MOFA spokeswoman Joanne Ou (歐江安) has reiterated the ministry's stance that it had not received any information about a planned visit to Taiwan by Pelosi, though it always welcomes the visit of American congresspersons to the country.
Should the rumored trip be confirmed, Pelosi will be the first sitting U.S. House speaker to visit Taiwan since 1997, when her predecessor, Newt Gingrich of the Republican party, traveled to Taipei and met with then-President Lee Teng-hui (李登輝) during another period in tense cross-strait relations.