Taiwan, Lithuania hold talks on sidelines of WTO meeting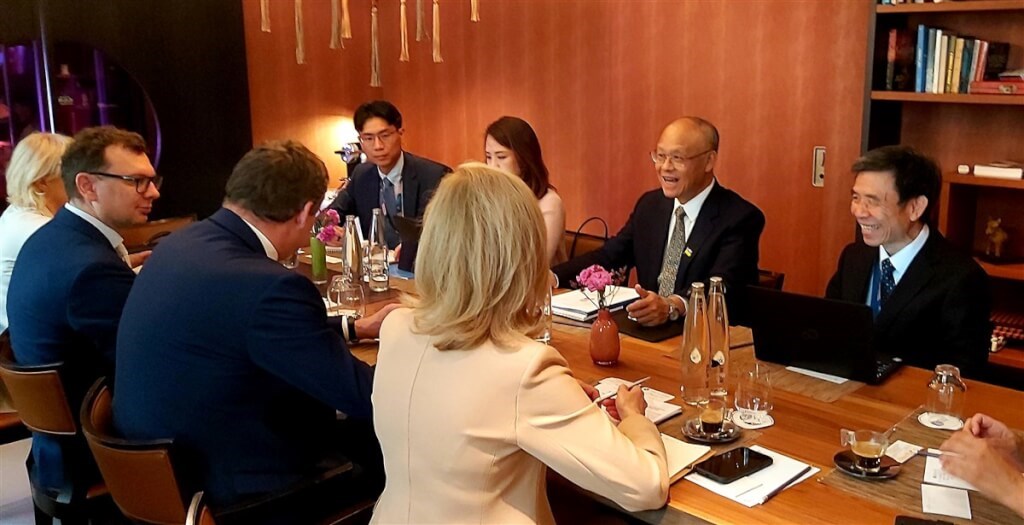 Taipei, June 14 (CNA) Taiwan's top trade negotiator John Deng (鄧振中) and Lithuanian Vice Minister of Foreign Affairs Raimundas Karoblis agreed on the need to jointly resist Chinese economic coercion during bilateral talks in Geneva on Monday.
The two met on the sidelines of a World Trade Organization (WTO) ministerial meeting being held from June 12-15.
During the talks, Karoblis thanked Taiwan's government and people for supporting Lithuania and expressed confidence that trade relations between the countries would continue to grow.
Lithuania has much that it can learn from Taiwan's semiconductor industry, which is part of the reason its Vice Economy and Innovation Minister Jovita Neliupšie is currently leading a delegation on a visit there, he said.
Taiwan, for its part, could benefit from greater investment in Lithuania's advanced laser and energy industries, said Karoblis, who served as Lithuania's defense minister from 2016-2020.
Meanwhile, Deng noted in his remarks that Lithuania and Taiwan had faced retaliatory trade moves by China in violation of WTO regulations.
Lithuania had its exports illegally blocked by Chinese customs after allowing Taiwan to set up a representative office in the country, Deng said, while Taiwan has been hit by Chinese bans on several types of fruit and, most recently, grouper imports due to political factors.
In response to these tactics, it is important that the two democratic countries stand together to demand that China meets its commitments under WTO trade agreements, he added.
Lo Chang-fa (羅昌發), Taiwan's permanent representative to the WTO, noted that these types of "under the table" trade barriers are difficult to regulate under current WTO guidelines.
Karoblis, meanwhile, said he believed the WTO needed to enact new "anti-economic coercion" regulations, both to protect against the unilateral moves by authoritarian countries and to safeguard the integrity of the multilateral trading system.
Ties between Taiwan and Lithuania have warmed in recent years, with Taiwan opening a representative office in the Baltic state last November.
Bilateral trade between the countries increased by 30 percent in the first quarter of 2022 but remained low overall at NT$44.87 million (US$1.51 million), according to Taiwan customs data.