Taiwan launches national human rights action plan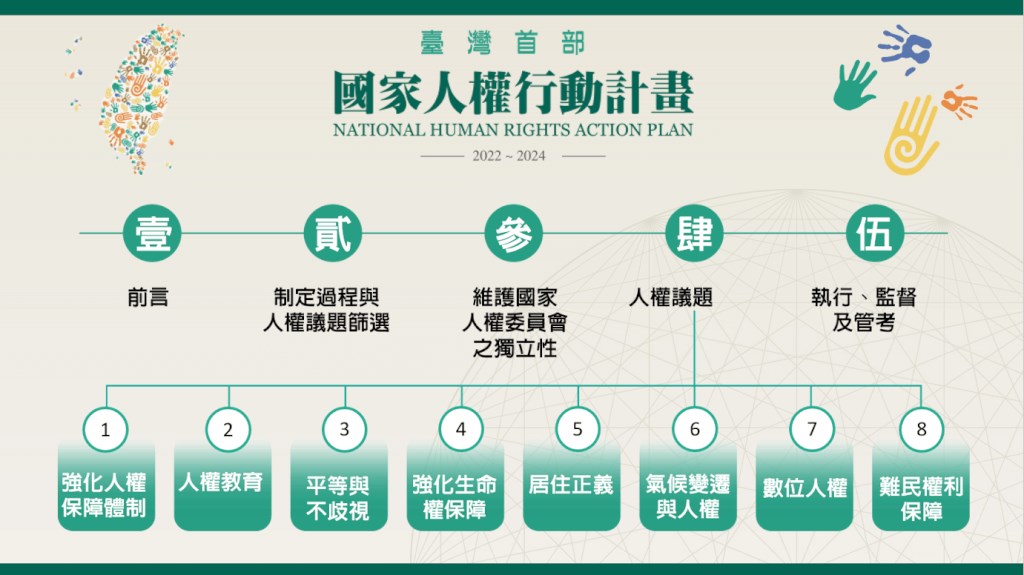 Taipei, May 5 (CNA) The Cabinet on Thursday unveiled Taiwan's first-ever national human rights action plan, which it says will prioritize issues such as transitional justice and a review of the country's refugee policies over the next two years.
Although Taiwan had adopted the principles of several international charters, the country lacked a consolidated strategy when it came to championing human rights, Huang Yu-yuan (黃玉垣), head of the Ministry of Justice's Department of Legal System, told a Cabinet press conference on Thursday.
To address this, the National Human Rights Action Plan aims to provide general guidelines for different government agencies as they make and implement plans pertaining to human rights, Huang added.
The government will work on legal amendments to address the problems such as teen suicide and traffic-related deaths, to "safeguard the right to life," Huang said, adding that similar efforts would also be made to tackle climate change and prevent online sexual abuse.
According to Huang, the most vulnerable members of society - including Indigenous peoples, LGBTQ groups, the homeless, migrant workers, the elderly, women, children, the disabled, and refugees - were most likely to be affected by such issues.
In addition, the government will review current housing and refugee policies, as well as commit to ensuring people's right to adequate housing, and protecting displaced people in Taiwan, Huang added.
Huang said that an office under the Cabinet would also be established to review and coordinate work on human rights and transitional justice.
The Cabinet had planned to inaugurate such an office by the end of May to ensure a smooth handover of the Transitional Justice Commission's duties and facilitate subsequent efforts in promoting transitional justice and human rights.
Huang said the government had spent four years consulting with 29 government agencies, 71 civil society groups, and human rights experts before coming up with the action plan.
Meanwhile, Cabinet spokesman Lo Ping-cheng (羅秉成) cited Premier Su Tseng-chang (蘇貞昌) as saying the action plan marked a milestone for the development of human rights in Taiwan.
Su added that Taiwan would continue improving the county's human rights condition and strive to meet international standards, according to Lo.