Taiwan raises US$32 million relief funds for Ukrainian refugees in a month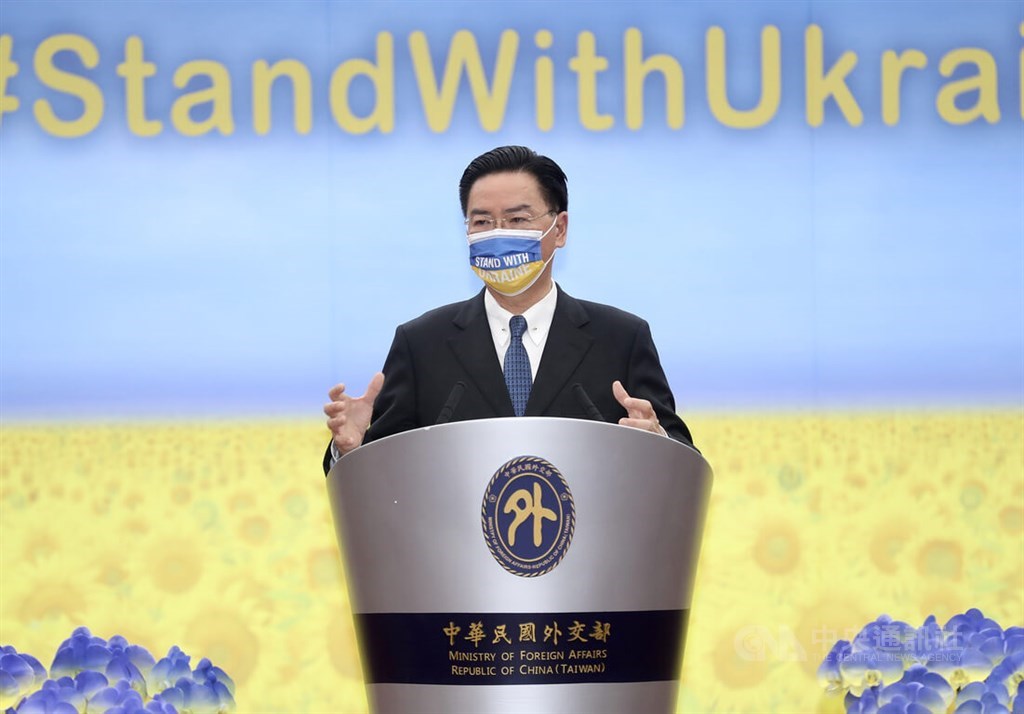 Taipei, April 1 (CNA) Taiwan's Minister of Foreign Affairs (MOFA) said Friday a government fundraising campaign intended to support European nations that have sheltered millions of Ukrainian refugees had raised roughly US$32.69 million in just one month.
At a press conference in Taipei, Foreign Minister Joseph Wu (吳釗燮) said that as of Friday afternoon, approximately US$32.69 million had been donated by the public into a bank account set up to collect relief funds in response to the ongoing Ukrainian crisis.
The campaign, launched on March 2 and will end at midnight Friday, seeks to provide funding to European countries that have been sheltering millions of Ukrainians displaced by the Russian invasion of their country since Feb. 24.
"The donation drive has received an overwhelming response from across Taiwan," Wu said.
The provision of funds and supplies by the people of Taiwan "demonstrate[s] our utmost respect and support for the great people of Ukraine," he added.
According to Wu, the government has allocated US$3.5 million from the fund to Poland's Governmental Strategic Reserves Agency.
It is currently working on another batch of donations totaling US$11.52 million to be sent to Ukraine's other neighboring countries, including Slovakia, the Czech Republic, Hungary, and Lithuania, Wu said.
Wu added that the donations would be processed after administrative procedures, including contract signing with authorities or government-designated relief agencies in those countries, were done.
Wu also announced at the press conference additional donations of US$1 million each to Slovakia, the Czech Republic, Lithuania, Latvia, and Estonia.
The announcement brings donations pledged by Taiwan to these European countries to US$20 million in total.
Realted: Slovak company issues NFT artworks for Taiwan donation drive
Regarding the remaining US$12.66 million funding raised through the campaign, Wu said the government was in talks with foreign governments and international organizations in order to find ways to better make use of it.
At the same time, the government has collected 650 metric tons of regular and medical supplies from Taiwanese people that are to be allocated to those remaining in Ukraine, Wu said.
Since March 17, 12 shipments containing these supplies have been made to Ukraine via Slovakia, Wu said, adding that more deliveries of supplies will be made soon through Poland.
He said the government would not rule out the possibility of raising or providing more aid in support of those who have been affected by the ongoing Russian aggression against Ukraine after the fundraising campaign ends on Friday.
In addition, the minister said that the government had received "from different channels the appreciation of the Ukrainian government" for Taiwan's relief, without elaborating.
Asked if the two countries were looking to deepen bilateral ties, Wu said "there might be opportunities for Taiwan and Ukraine to develop closer ties."
"We would like to develop mutually beneficial relations [with Ukraine], but at this time, we are focusing on how to help the Ukrainian people."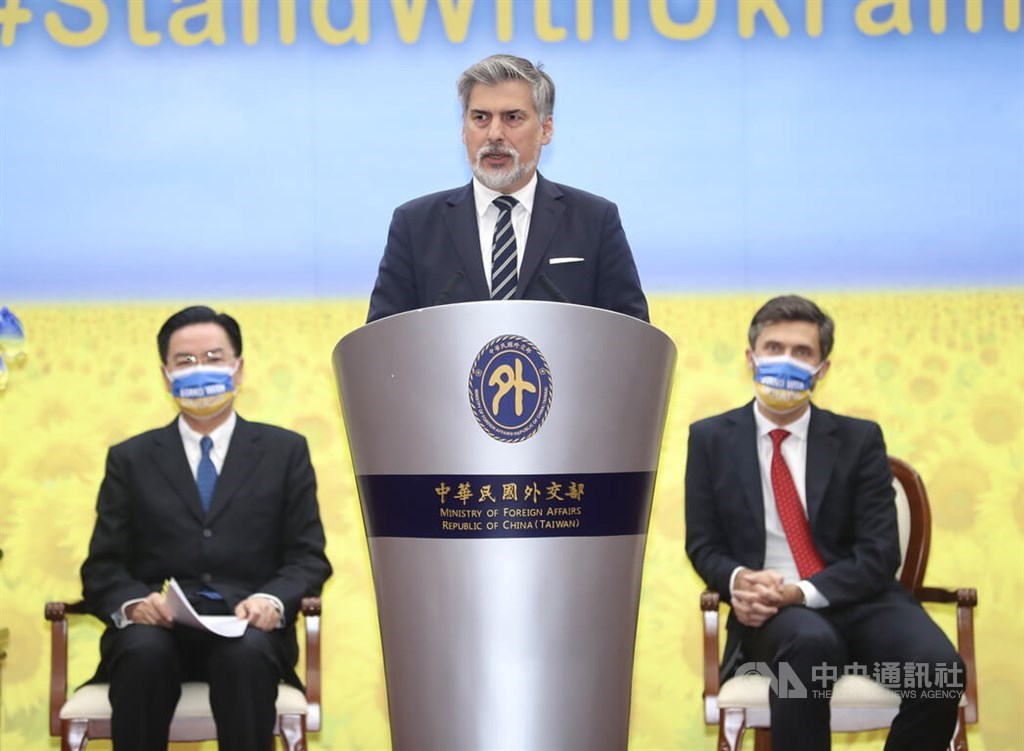 Meanwhile, Cyryl Kozaczewski, Poland's top envoy to Taiwan, said at the press conference that Taiwan's support had been "timely" and "very much appreciated."
Around 2.5 million Ukrainian refugees have reached Poland since the start of the war on Feb. 24, and Warsaw alone has taken in around 300,000 people, he said, adding that his country was bracing for more displaced people as the war continues.
Meanwhile, Filip Grzegorzewski, the EU representative to Taiwan, said his native country Poland had shown solidarity with the Ukrainian people by housing them and providing aid to them. "Now Taiwan, being far away from Ukraine, is doing exactly the same."
What Taiwan has done showed its support of democracy, human rights, and the rule of law, he said. "They are not empty words, and Taiwan is proving that these values matter for Taiwan."