Government decides to build MRT instead of light rail system in Keelung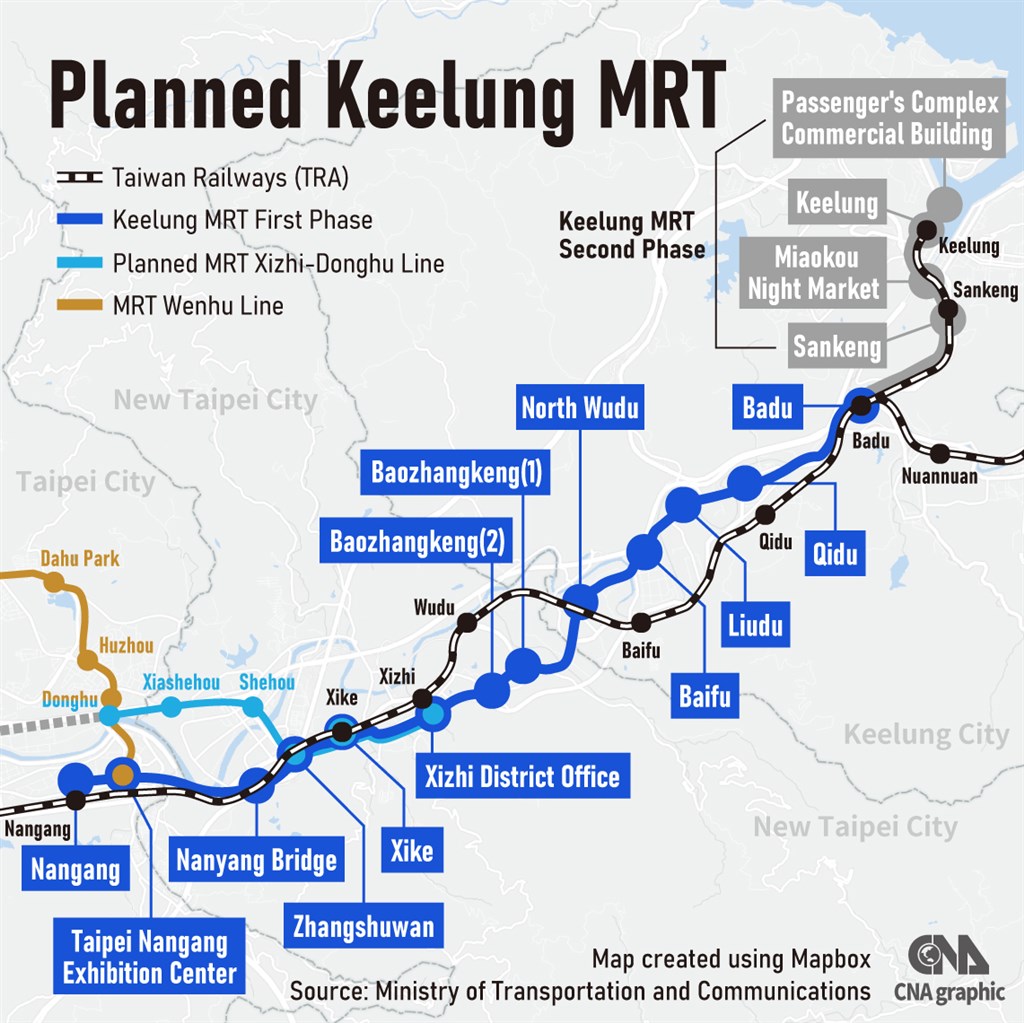 Taipei, Feb. 22 (CNA) The Taiwan government said Tuesday that it has decided to construct a new mass rapid transit (MRT) line in Keelung City, which will connect with Taipei and New Taipei, instead of the light rail system that was planned for the northern city.
The NT$42.5 billion (US$1.52 billion) MRT project will be 77 percent funded by the central government, and the three cities will share the rest of the cost, according to Premier Su Tseng-chang (蘇貞昌).
Initially conceived as a light rail system that would have cost an estimated NT$8 billion, the plan has been upgraded to an MRT line that will run though 13 stations, with the capability to transport 15,000 passengers an hour, compared with a projected 5,000 an hour on a light rail system, Su said.
According to the Ministry of Transportation and Communications (MOTC), the 16-kilometer MRT line will be built over a 10-year period, with the launch date set as April 2032.
The Keelung MRT Nangang-Badu line, as will be called, will allow passengers to transfer at Nangang Station to the railway and high speed rail systems, while connection to the Taipei MRT will be at Nangang Exhibition Center station, the MOTC said.
The new line will serve the 100,000 workers who commute daily between Keelung and Taipei and the 200,000 who travel daily between Keelung and Xizhi in New Taipei, according to Transportation Minister Wang Kuo-tsai (王國財).
The project, which was submitted to the MOTC last December, is currently in the environmental assessment stage, after which it will require Cabinet approval, the ministry said.
The construction work is expected to take nine years, and if all goes well, the line will go into operation in April 2032, it said.
The 13 stations planned on the Keelung MRT line are Badu, Qidu, Liudu, Baifu, North Wudu, Baozhangkeng (1), Baozhangkeng (2), Xizhi District Office, Xike, Zhangshuwan, Nanyang Bridge, Taipei Nangang Exhibition Center, and Nangang, according to a map released by the MOTC.