OLYMPICS
/
Taiwan to punish Olympian skater over 'repeated inappropriate remarks'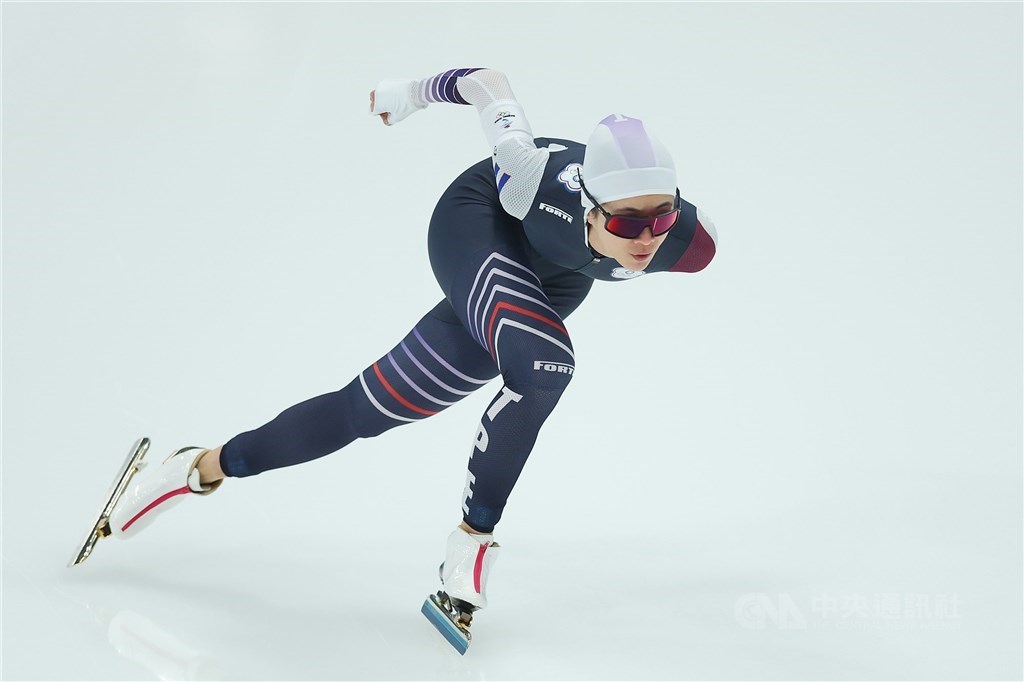 Taipei, Feb. 21 (CNA) The Taiwan government will soon discipline Olympian speed skater Huang Yu-ting (黃郁婷) for her "repeated inappropriate remarks" during the recent Beijing Winter Olympics, Education Minister Pan Wen-chung (潘文忠) said Monday.
"Athletes representing Taiwan at international events receive subsidies from taxpayers' money," Pan said. "They need to realize that they are representing the country and should act and speak in accordance with the people's expectations instead of hurting their feelings."
The controversy over Huang's actions and comments at the Winter Olympics has escalated since Jan. 23 when she posted a training video on Instagram, in which she was seen wearing a Chinese national team skinsuit.
The post began attracting wide attention on Feb. 3, after which Huang, one of four athletes on the Taiwan Olympic team, removed it.
The 33-year-old skater later apologized, and while the national Sports Administration (SA) chided her for being insensitive to the subtleties of cross-Taiwan Strait politics, it did not penalize her. Huang served as one of her country's two flag-bearers at the Olympics' opening ceremony and was allowed to compete as planned.
During the Games, however, some of Huang's comments again gave rise to controversy in Taiwan.
After finishing 26th in the women's 1,500-meter race on Feb. 19, Huang was quoted in the Beijing Daily as saying that she felt warmly welcomed by the crowds in Beijing and was deeply moved by such strong support.
"I felt as if I was competing on home turf," she was quoted as saying in the news report.
When asked in another interview whether she was competing for China or Taiwan at the Beijing Games, Huang told DW News that she was representing "Chinese Taipei," the name Taiwan uses in the Olympics due to pressure from China.
After the Games ended, Huang on Feb. 17 thanked her supporters in a Facebook post, in which she also invited all "haters, internet trolls" to leave her a message. The post drew a wave of online attacks, after which Huang close down the page.
On Feb. 19, Premier Su Tseng-chang (蘇貞昌) called for investigation into Huang's behavior, which he said was unbecoming of a national team member.
Meanwhile, the opposition Kuomintang (KMT) has accused the Democratic Progressive Party (DPP) government of overreacting to Huang's remarks, due to its anti-China stance.
Asked to comment, Pan said Monday that the government did not discipline Huang when she was seen posing in a Chinese skinsuit, because the ministry believed it was an honest mistake.
After apologizing to the public, however, Huang proceeded to make controversial comments at the Olympics and intentionally antagonize Taiwanese netizens, when she completed her event, Pan said.
"This is no longer a one-time thing," he added.
Pan said the Sports Administration will meet with members of Taiwan's Olympics committee and skating association in two weeks time to discuss how Huang should be disciplined.
The Olympics committee had said earlier that Huang, who announced her retirement after the Beijing Games, would not be returning to Taiwan anytime soon and instead would be heading to the United States to prepare for upcoming skating events.
View All