Independent Legislator Freddy Lim survives recall vote (update)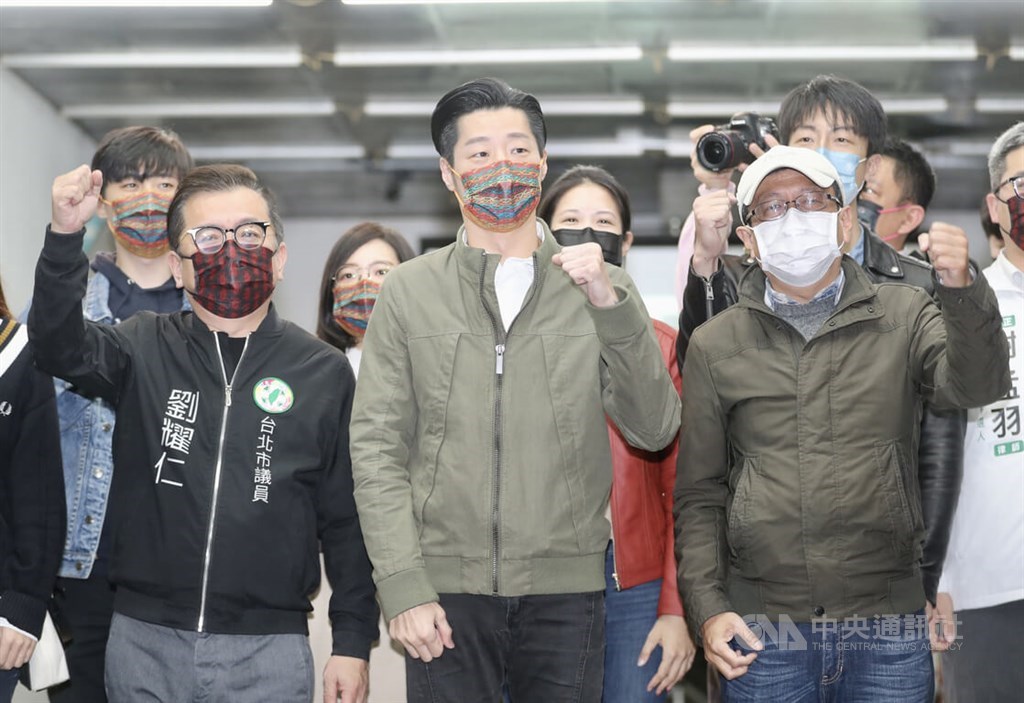 Taipei, Jan. 9 (CNA) Independent Legislator Freddy Lim (林昶佐) survived a recall election in Taipei's fifth electoral district Sunday after the number of votes in favor of the recall fell just short of the required threshold.
There were 235,024 eligible voters in Sunday's vote, meaning Lim would have been ousted if more than a quarter of them, or 58,756, backed the recall motion, and those in favor of the recall exceeded those against it.
In the end, 54,813 voters supported the recall initiative, or about 56 percent of the total, against 43,340 who opposed it, according to the Taipei City Election Commission's final vote count.
Turnout, including invalid votes case, was 41.93 percent, not high enough to get the number of votes needed to end Lim's stint as a legislator.
Lim expressed his gratitude to his supporters, thanking them for their efforts in helping him retain his legislative seat.
He said Taiwan has seen a large number of recall initiatives over the past year, which he contended was not a good thing for the nation's democratic development.
"Hopefully, I will be the last one facing a recall vote," he said.
Meanwhile, the initiators of the recall vote said they were proud to see that a majority of people who voted Sunday supported their proposal, indicating that Lim did not have widespread support among his constituents.
They called on Lim to see the failed recall attempt as a warning and work harder for the people in Taipei's fifth electoral district, which consists of Wanhua District and parts of Zhongzheng District.
Political science professors attributed the failed recall attempt to the failure of the nation's main opposition party, the Kuomintang (KMT), to mobilize its political assets in support of the recall campaign.
In contrast, the ruling Democratic Progressive Party (DPP) showed unified support to Lim, who is not affiliated with a political party but strongly supports the DPP, they said, pointing to President Tsai Ing-wen (蔡英文) stumping for Lim the night before the vote.
The push for a recall came following a domestic COVID-19 outbreak that began in May, with Wanhua at the center of the surge.
Lim was criticized for siding with the central government rather than standing up for his constituents when a government official tried to absolve the central health authorities of responsibility for the outbreak by saying it originated in Wanhua, in effect blaming Wanhua for the surge.
He also took heat when he appeared at a Huannan Market press event in early June with central government officials after an outbreak occurred there and was accused of showing little concern for the market except at election time or for a photo op.
Lim, 45, was re-elected with 81,853 votes in 2020 to a second legislative term as an independent, after taking the seat for the opposition New Power Party with 82,650 votes in 2016. His margins of victory were 3 and 4 percentage points, respectively.
Before becoming a politician, he gained international fame as the lead vocalist of the heavy-metal band Chthonic and was known as an activist for Taiwan independence.
Taiwan has seen several efforts to recall high-profile, controversial politicians in recent years, including a successful months-long campaign backed by the DPP that resulted in then Kaohsiung Mayor Han Kuo-yu (韓國瑜) of the KMT being recalled in June 2020.
Two individuals closely associated with the effort to recall Han, Taoyuan City Councilor Wang Hao-yu (王浩宇) of the DPP and independent Kaohsiung City Councilor Huang Jie (黃捷), both faced recall initiatives earlier this year.
Wang was removed from office in January 2021 while Huang survived a vote in February 2021.
Legislator Chen Po-wei (陳柏惟) of the pro-independence Taiwan Statebuilding Party, then lost a recall vote on Oct. 23, making him the first lawmaker to be recalled in Taiwan's election history.
Those who oppose such recall initiatives argue that they were mostly launched by pan-blue or pro-KMT forces as a form of revenge against those who oppose them, and that they are now actively targeting young politicians with recalls, after the successful recall of Han.