Migrant fishermen rights industry's leading issue: watchdog head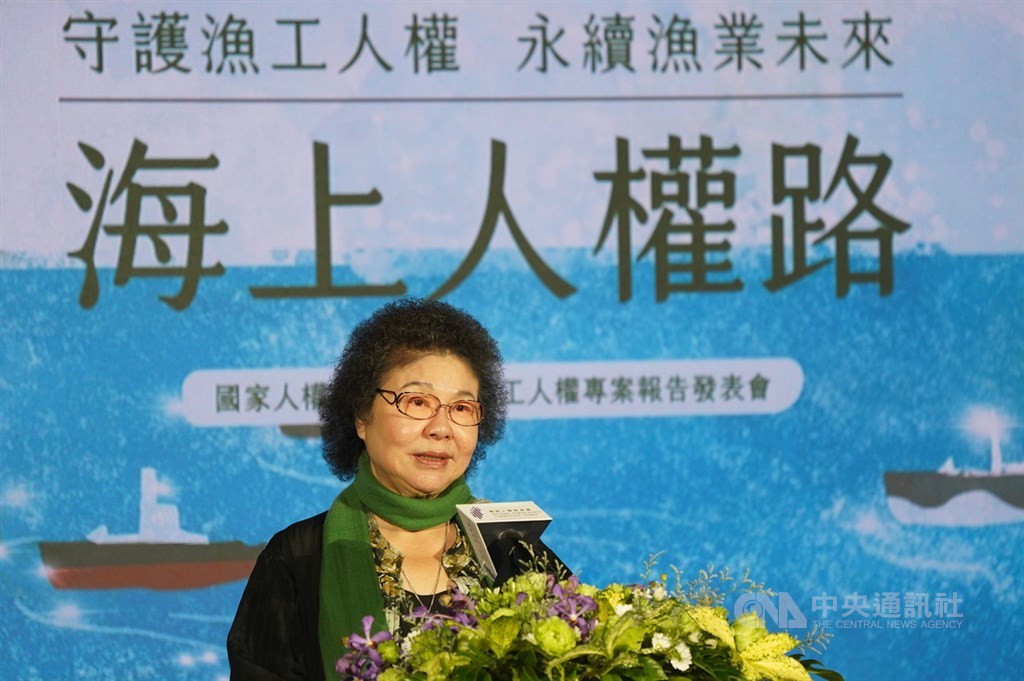 Taipei, Nov. 30 (CNA) Securing the rights of migrant fishermen, described as the backbone of Taiwan's distant-water fishing fleet, is the most pressing issue facing the country's fisheries industry, the head of the government's top oversight body said Tuesday.
Control Yuan President Chen Chu (陳菊), speaking in her capacity as head of the body's National Human Rights Commission, said the extent to which the rights of migrant fishermen were valued affected the industry as a whole, including fisheries exports to other countries.
According to Fisheries Agency data, Taiwan's distant-water fishing (DWF) fleet employs nearly 20,000 migrant fishermen, mostly from Indonesia and the Philippines, with an additional 10,000 migrant fishermen employed in coastal and offshore fishing.
In recent years, however, multiple groups have pointed out that migrant fishermen are often exploited by the Taiwanese owners of vessels.
Concerns over the lack of protections afforded to migrant fishermen reached a point where the U.S. government classified fish caught by Taiwan-flagged vessels as products of forced labor in 2020.
Chen said that the National Human Rights Commission had formed a task force in February to further investigate six major cases involving the rights of migrant fishermen.
She added that the commission hoped to continue its work with the government and NGOs to improve the situation.
Chen made the comments at an event in Taipei at which the aforementioned task force reported their findings and recommendations to the government.
On the issue of salaries, task force member Wang Yu-ling (王幼玲) said that in Taiwan the minimum wage for migrant fishermen on DWF vessels was only US$450 -- nearly half the NT$25,250 (US$899) minimum for workers covered under the Labor Standards Act, which migrant fishermen are not currently covered by.
While several NGOs have called for migrant workers on DWF vessels to be afforded the same legal protections, Wang, however, suggested this would prove too difficult due to rules related to work hours and rest days.
Instead, Wang proposed that the Executive Yuan, Taiwan's highest administrative body, make changes to the current regulations governing the employment of migrant fishermen on DWF vessels so that the rights they enjoy are more in line with those covered by the Labor Standards Act.
When changing Taiwan's laws, the Executive Yuan should also refer to the Work in Fishing Convention C188, which entitles fishermen to written terms and conditions of employment, decent accommodation and food, medical care, regulated working time, repatriation, social protection, and health and safety aboard fishing vessels.
These changes should incorporate gradual salary increases and the use of digital systems to monitor working hours, Wang said.
Another member of the task force, Wang Mei-yu (王美玉), said that the Taiwanese government should work with other countries to ensure that the rights of migrant fishermen on Taiwanese vessels sailing under a flag of convenience are protected.
The issue of labor inspections was also highlighted by the task force.
Currently, when a ship sailing under a flag of convenience docks at Taiwan's ports, authorities are allowed to conduct inspections on cargo, safety, and passengers, but cannot conduct labor inspections, Wang said, going on to suggest the Executive Yuan push for relevant amendments to the law.
Fellow task force member Chi Hui-jung (紀惠容) said that the Coast Guard Administration, Fisheries Agency, and the Ministry of Labor should set up a joint platform to investigate allegations of forced labor allegations.
Those conducting investigations must be able to differentiate between claims of exploitation and employer-worker disputes, she added.