Australia, U.S. should not allow China to engulf Taiwan: Tony Abbott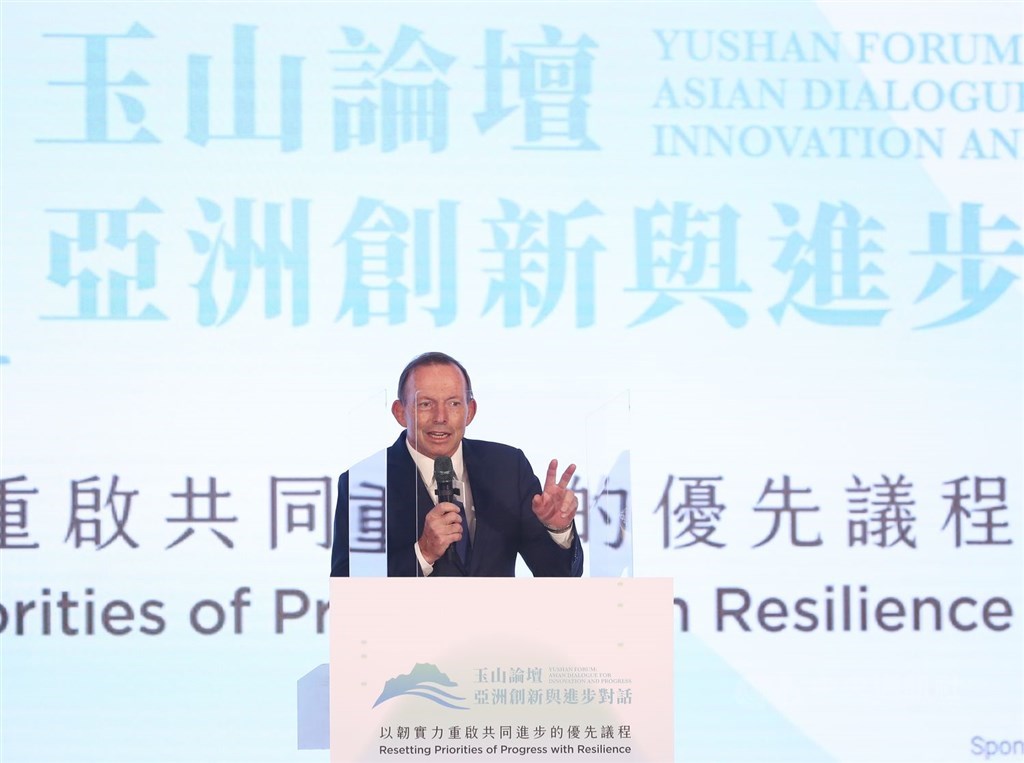 Taipei, Oct. 8 (CNA) Australia and the United States should not stand by and watch Taiwan being "swallowed up" by China, visiting former Australian Prime Minister Tony Abbott said Friday in Taipei.
Speaking at an international forum, Abbott noted that China's belligerence towards Taiwan has been growing over the past years.
"Sensing that its relative power might have peaked, with its population aging, its economy slowing, and its finances creaking, it's quite possible that Beijing could lash out disastrously very soon," he said in his keynote address at the annual Yushan Forum in Taipei.
Abbott said that democratic partners around the globe, as friends of Taiwan's, should let Beijing know that any coercion attempts would have "incalculable consequences."
The Australian and American governments have clearly stated their intent to strengthen ties with Taiwan, which they see as a "leading democracy and critical partner for both countries," he said, citing a joint statement issued after the annual Australia-United States Ministerial Consultations (AUSMIN) in Washington last month.
The U.S. State Department has also reaffirmed the U.S.' "rock-solid" commitment to Taiwan, after China recently sent a record number of warplanes into Taiwan's air defense identification zone, Abbott noted.
Based on those facts, Abbott said, he does not believe that Washington and Canberra should sit idly by if China invades Taiwan.
"I don't think America could stand by and watch Taiwan swallowed up," he said. "I don't think Australia should be indifferent to the fate of a fellow democracy of almost 25 million people."
Abbott, who served as Australia's prime minister from 2013-2015, said his country had no issues with China, as it welcomed trade and investment, but over the past few years, that has changed, as Australia has taken note of China's aggressive actions in several spheres.
For example, he said, Australia has seen China tear up the "one country, two systems" treaty on Hong Kong, put a million Uighurs into concentration camps, send out more intimidatory sorties against Taiwan, and weaponize trade, targeting Australia in particular.
On the issue of trade, Abbott called on the democratic world to support Taiwan's bid to join the Comprehensive and Progressive Agreement for Trans-Pacific Partnership (CPTPP), a regional trade bloc that currently comprises 11 countries.
Also addressing the forum, President Tsai Ing-wen (蔡英文) said Taiwan's evolution as an economic powerhouse and a modern democracy was a response to emerging global challenges.
Despite its exclusion from most international organizations, Taiwan strives to adhere to international order and has been working closely with like- minded partners, she said.
As part of that approach, Tsai said, her administration launched the New Southbound Policy in 2016 to facilitate regional prosperity through trade and investment partnerships, educational and people-to-people exchanges, and medical cooperation with South and Southeast Asian countries, New Zealand, and Australia.
Now in its fifth year, the Yushan Forum seeks to strengthen Taiwan's relationship with those countries.
This year's forum is themed "Resetting Priorities of Progress with Resilience," placing emphasis on collaboration in areas such as economy, public health, talent cultivation, and smart agriculture, amid the COVID-19 pandemic.