Former New Taipei Mayor Eric Chu elected KMT chairman
Update: Newly elected KMT chief Eric Chu calls for unity, aims to open U.S. office
Taipei, Sept. 25 (CNA) Former New Taipei Mayor Eric Chu (朱立倫) won the chairmanship election of Taiwan's main opposition Kuomintang (KMT) Saturday, defeating three other contenders including the incumbent Johnny Chiang (江啟臣).
Chu, 60, garnered 85,164 votes, or 46 percent of the 187,999 KMT members who cast ballots. NGO Sun Yat-sen School President Chang Ya-chung (張亞中) trailed behind with 60,632 votes, followed by Chiang with 35,090 votes and former Changhua County Magistrate Cho Po-yuan (卓伯源) with 5,133 votes.
Voter turnout was 50.71 percent.
"The majority of KMT party members have given me the opportunity to be head coach of the party, and I will strive to help every player in our team achieve his or her best performance in their positions," Chu said in his victory speech during a press conference held at KMT headquarters in Taipei. 

Chu pledged to restore confidence in the KMT and called for unity within the party in order to defeat the ruling Democratic Progressive Party (DPP) in the upcoming national referendums and elections.
Chu, who served as New Taipei mayor from 2010-2018 and KMT chairman from 2015-2016, pledged change for the political party when he announced his candidacy on Aug. 2.
He later brought up the goals he would strive to achieve if elected, including the KMT's victory in the local government and presidential elections in 2022 and 2024, respectively, and a more powerful KMT legislative caucus.
The main initiatives he would pursue include striving to build a stronger international outreach, resume exchanges between Taiwan and China, give greater priority to young KMT members, and initiate party reforms, Chu said when he registered on Aug. 16 to run in the election.
The KMT was beaten badly by the Democratic Progressive Party in both the presidential and legislative elections in 2016 with Chu as the party's presidential nominee.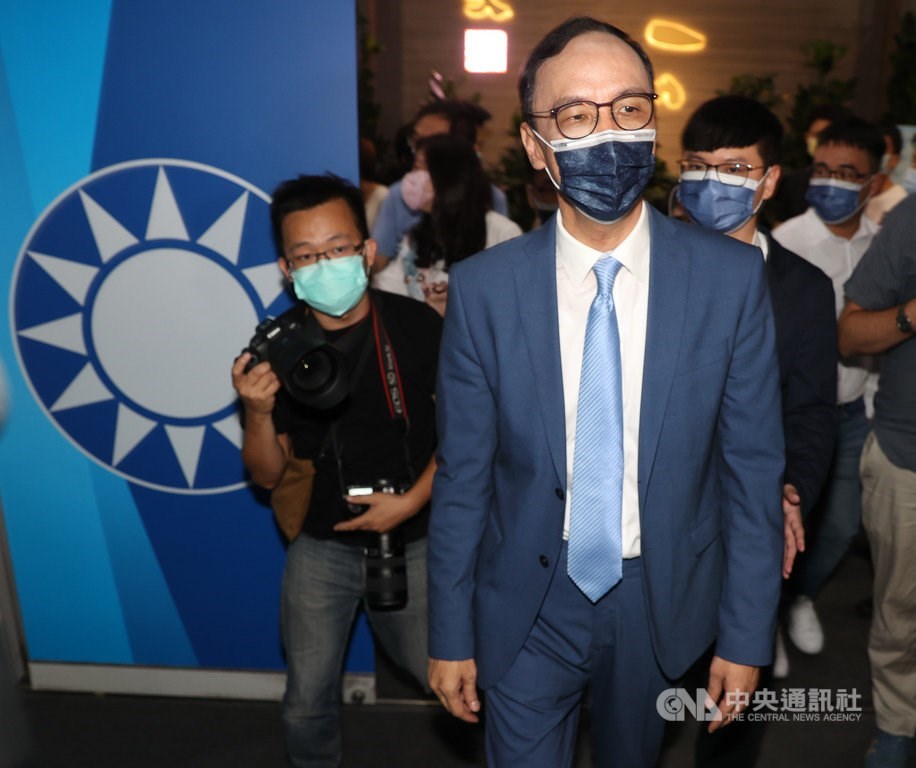 It was the first time in Taiwan's history the KMT had lost its grip on both the executive and legislative branches.
The KMT again suffered defeat in the 2020 presidential and legislative elections, unable to overcome its longtime support of better relations with China at a time when Beijing was cracking down on Hong Kong and accused of major human rights violations in Xinjiang.
The party's past reputation as being better at managing relations with China is now a burden, given that most younger Taiwanese identify themselves as Taiwanese, and Beijing's suppression of Taiwan's international participation has turned many people against it.
During a debate in Taipei on Sept. 18, Chu and Chang, an outspoken supporter for unification with China, clashed over relations with China.
Chu argued that Chang can embrace his political views, but he has to take into consideration the mainstream of Taiwanese society if he wants to lead the KMT.
Polls conducted in March and September by the Mainland Affairs Council show support in Taiwan for unification with China in the single digits at below 8 percent, making it a difficult sell at the ballot box for any political party or politician.
The principle for cross-strait relations should be to seek common ground while setting aside differences, Chu said, adding that he would facilitate cultural and social exchanges between Taiwanese and Chinese if elected party chief.
Chu denounced Chang's proposal for a peace "memorandum" between the KMT and the Chinese government and said he would instead try to balance Taiwan's ties with the United States with its ties with China if elected.
Saturday's election results represent a rejection of incumbent KMT chairman Chiang's vision for the KMT, after he vowed to push for reforms within the party and a new approach to the KMT's cross-strait policies.
Chiang had pledged not to run for president and instead to help find the candidate best positioned to secure victory for the party.
Chu, however, never explicitly discussed whether he intends to run for president again in 2024, saying only that the party under his leadership will select the best presidential candidate.
The results of the chairmanship election will be delivered to the party's decision-making Central Standing Committee for confirmation on Sept. 29. The new chairman will assume the office at the KMT National Congress on Oct. 30.