Premier's policy address delayed by opposition lawmaker boycott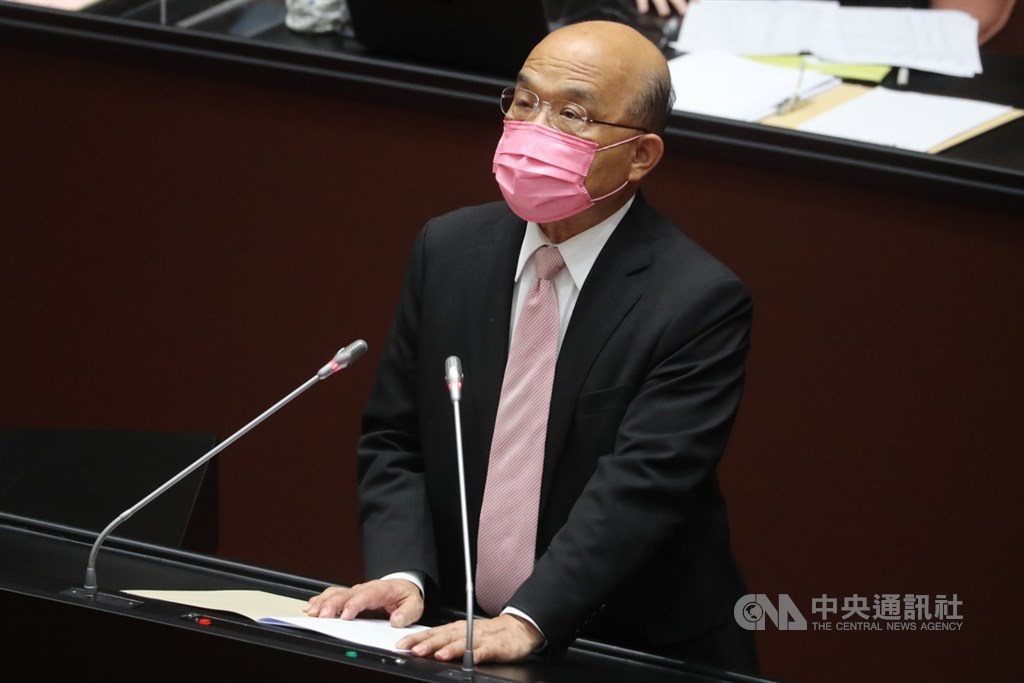 Taipei, Sept. 24 (CNA) Opposition Kuomintang (KMT) lawmakers on Friday once again thwarted a Legislative Yuan meeting, in which Premier Su Tseng-chang (蘇貞昌) was scheduled to deliver his first policy address in the new session that started last Friday.
Accompanied by other Cabinet officials, Su arrived at the Legislature shortly before the meeting commenced at 9 a.m., but a group of KMT legislators was occupying the podium and seats reserved for officials.
They held cardboards printed with protest slogans demanding that the premier apologize for the Democratic Progressive Party (DPP) government's COVID-19 policy.
A number of DPP legislators then surrounded the speaker's seat and nearby areas, but did not come into conflict with their opposition colleagues.
The stalemate lasted until Legislative Yuan Speaker You Si-kun (游錫堃) called a recess at midday and announced that the meeting would resume at 5:20 p.m., less than one hour before the meeting ended.
The announcement meant that Su had to delay his address until next Tuesday, when all the legislators convene again at the Legislature.
A week ago, the KMT also boycotted a Legislative meeting, in which the premier and other Cabinet officials were supposed to report on policy changes made in mid-April that allowed cabin crew members of national airlines to only quarantine for three days after flying back to Taiwan.
All other arrivals have been required to quarantine for 14 days after entering Taiwan.
Shortly after the three-day quarantine policy was introduced, two China Airline pilots who had just returned to Taiwan tested positive for the virus on April 20. Infections involving airline employees and their families then surged.
The airline cluster soon expanded in late April to include employees of the Novotel Taipei Taoyuan International Airport hotel, which is owned by the airline and had served as a quarantine hotel for its crews.
Beginning on May 11, domestic infections emerged in northern Taiwan and especially in Wanhua District of Taipei, which eventually led to more than 10,000 COVID-19 cases and 800 deaths across the country in two months.
Many have linked those cases to the smaller China Airlines and Novotel cluster infection in late April, as did KMT lawmakers again Friday, and they criticized the DPP government's lack of remorse for its COVID-19 missteps.
They demanded that Su apologize, both verbally at the Legislature and in the Cabinet's report.
The government has said the China Airlines/Novotel cluster and the surge are unrelated, but it has never explained how the mid-May infections originated.
The Cabinet produced the first report at lawmakers' request on Sept. 17, in which Su said the three-day quarantine policy was made because there had not been a domestic infection for 60 days and the country's airlines had implemented measures to supervise their employees.
KMT legislators were unhappy with that report because it did not include an examination of the policy or an apology for its consequences.
In the Cabinet's second report submitted to the Legislature on Friday, Su expressed regret at the loss of life due to the domestic COVID-19 outbreak, but maintained that there was no evidence showing a connection between the China Airlines cases and the mid-May surge.