Taiwan's former VP speaks at U.S.-hosted global COVID-19 summit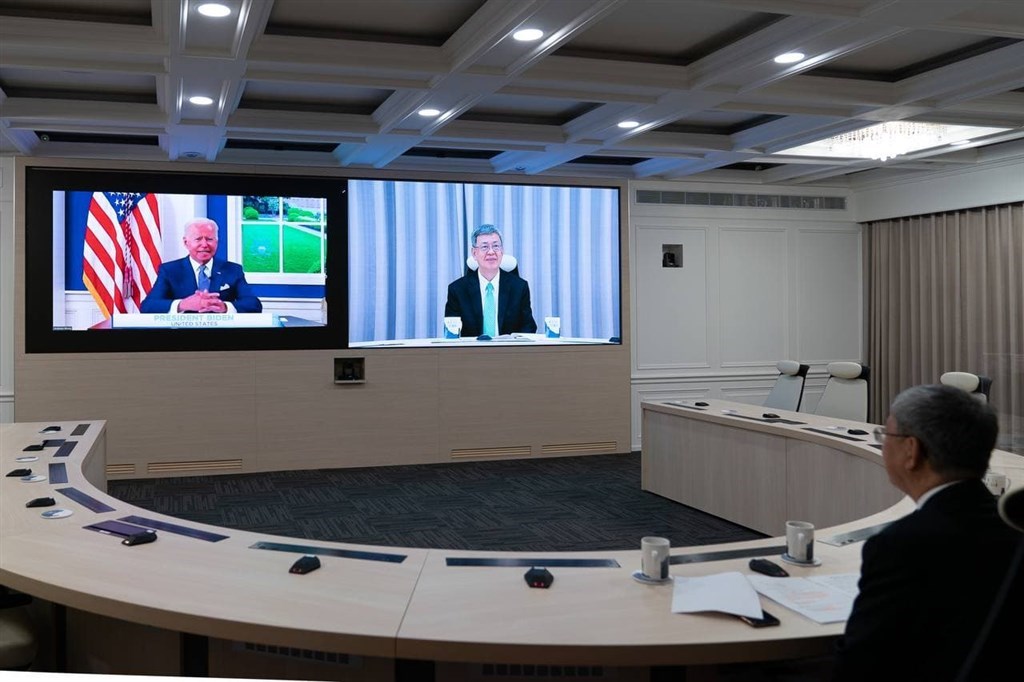 Taipei, Sept. 23 (CNA) Taiwan's former Vice President Chen Chien-jen (陳建仁) said at a virtual global COVID-19 summit convened by U.S. President Joe Biden on Wednesday (U.S. Time) that Taiwan has and will continue to donate medical supplies to help fight against the spread of COVID-19 and will contribute to a global health fund that the United States plans to establish.
Biden hosted the virtual summit on the sidelines of the United Nations General Assembly to find ways to end the COVID-19 pandemic and build back better health security. The summit brought together representatives from 180 countries, international groups and non-governmental organizations, and included Chen, Taiwan's Ministry of Foreign Affairs said in a statement issued on Thursday (Taipei Time).
In a speech he gave at the summit, Chen said that in response to COVID-19, Taiwan has launched four waves of international humanitarian assistance.
"Thanks to public-private partnerships, we have donated over 54 million medical masks and other supplies to more than 80 countries," Chen said, adding that the Taiwan Model shows how a modern democracy can work transparently and use technology to fight the pandemic.
"To save lives now, we will continue to donate masks, PPE, and other supplies to countries in need," Chen emphasized in his remarks.
He added: "For our common vision of building back better, we will seek to contribute to the global health security financial intermediary fund that the United States plans to establish."
Chen's participation in the summit is a rare opportunity for Taiwan to be seen on the global health stage.
Taiwan has been excluded in the World Health Organization's annual World Health Assembly (WHA) and other meetings in recent years, due to opposition from Beijing, which sees the island and mainland China as a part of one country and opposes treating Taiwan as a nation, including by allowing it to participate in international groups reserved for nations.
When ties between the two sides were good under the previous Taiwanese administration, Taiwan was able to attend the WHA as an observer, but that has not been the case amid tense relations in the past few years.
As COVID-19 is continuing to spread around the world, the invitation extended to Chen to attend the U.S.-hosted leadership conference highlights the close partnership between Taiwan and the U.S. in the areas of global epidemic prevention and public health, MOFA said.
In the prerecorded video, Chen expressed gratitude to the United States, Japan, Lithuania, the Slovak Republic, the Czech Republic and Poland for sharing COVID-19 vaccines with Taiwan at a time when it faces a vaccine supply shortage.
Only around 7 percent of Taiwan's population is fully vaccinated.
"Those vaccines not only save lives but also help safeguard our democratic values," Chen said.
Throughout the summit, the U.S. called on participants to embrace a set of ambitious global targets across four themes, including Vaccinate the World by enhancing equitable access to vaccines and getting shots in arms and Save Lives Now by solving the oxygen crisis and making tests, therapeutics, and personal protective equipment (PPE) widely available, according to MOFA.
The two other themes are Build Back Better by preparing in all countries, establishing a sustainable health security financing mechanism, and demonstrating political leadership for emerging threats to prepare for and prevent future pandemics; and Calling the World to Account by aligning around common global targets, tracking progress, and supporting one another in fulfilling our commitments.
Several high-ranking U.S. officials, including Vice President Kamala Harris and Secretary of State Antony Blinken, also made remarks at the virtual summit, while Japanese Prime Minister Yoshihide Suga and South Korea President Moon Jae-in were among a number of heads of state and government who also delivered brief speeches during the online meeting.
Following the summit, U.S. Senator Jim Risch wrote in a tweet: "It's good that the U.S. summit on #COVID19 included #Taiwan. Taiwan has been a leader in tackling the global pandemic and should be able to participate fully in #UNGA events on global health."