President Tsai remembers Lee Teng-hui on anniversary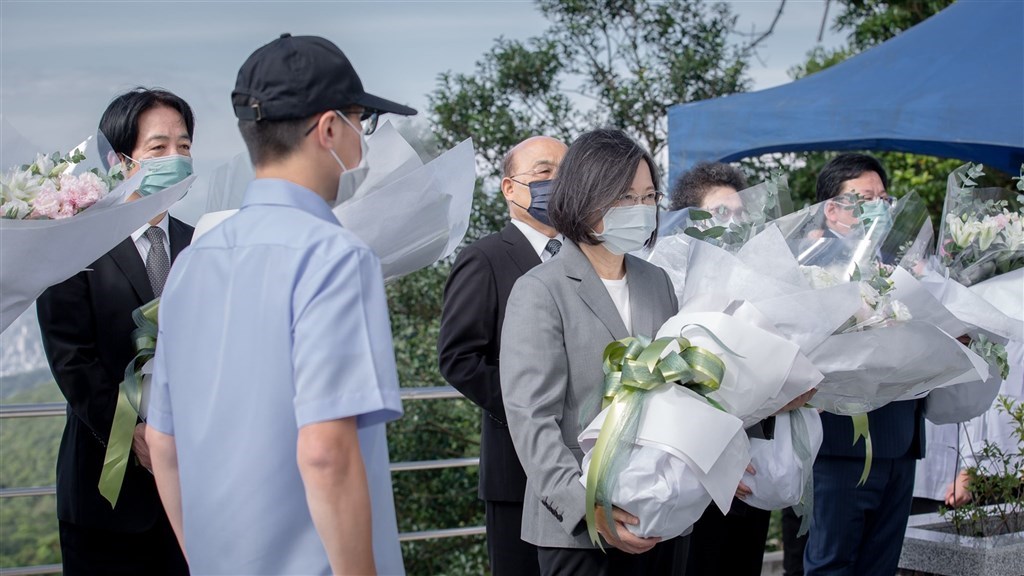 Taipei, July 30 (CNA) President Tsai Ing-wen (蔡英文) visited a military cemetery in New Taipei Friday to pay tribute to late President Lee Teng-hui (李登輝), who passed away one year ago at the age of 97.
"We will determinedly follow the path of democracy in Taiwan," Tsai said in a Facebook post after her visit to the Wuzhi Mountain Military Cemetery, where some of the country's late top leaders and military personnel were buried.
Tsai added that the challenge and responsibility of the present generation is to deepen Taiwan's democracy and work with international partners to preserve democratic values.
Lee, dubbed by some media as Taiwan's "father of democracy," died on July 30, 2020 of septic shock and multiple organ failure after he was hospitalized for nearly six months.
Lee was known for bringing about direct elections for president and vice president in Taiwan through constitutional reforms, which had been sought for by democracy activists in the early 1990s.
He became Taiwan's first democratically-elected president in 1996.
Lee also played a role in promoting Taiwan's ties with Japan because of his connection with Japanese politicians and society at large. As a result, however, he was also accused by critics of having a pro-Japan bias, including by claiming the disputed Tiaoyutai or Senkaku islands belonged to Japan.
Apart from Tsai, several top government officials also attended the tribute Friday morning, including Vice President Lai Ching-te (賴清德), Premier Su Tseng-chang (蘇貞昌), and Legislative Yuan speaker You Si-kun (游錫堃), among others.
Meanwhile, several events were launched in commemoration of Lee, including an exhibition about Lee's achievements at the Academia Historica.
In addition, the Japan-Taiwan Exchange Association opened a section dedicated to Lee at the library of its Taipei office, selecting more than 100 books that are either about the former long-time friend of Japan or considered to have had influence on him.
By sharing those books with the public, the association hoped that the connection between Japan and Taiwan would continue to be strong, it said in a separate Facebook post.
People wishing to visit the Academia Historica or the association are advised to make a reservation in advance, as part of the country's COVID-19 prevention protocols.