Taiwan Navy receives new locally-made stealth corvette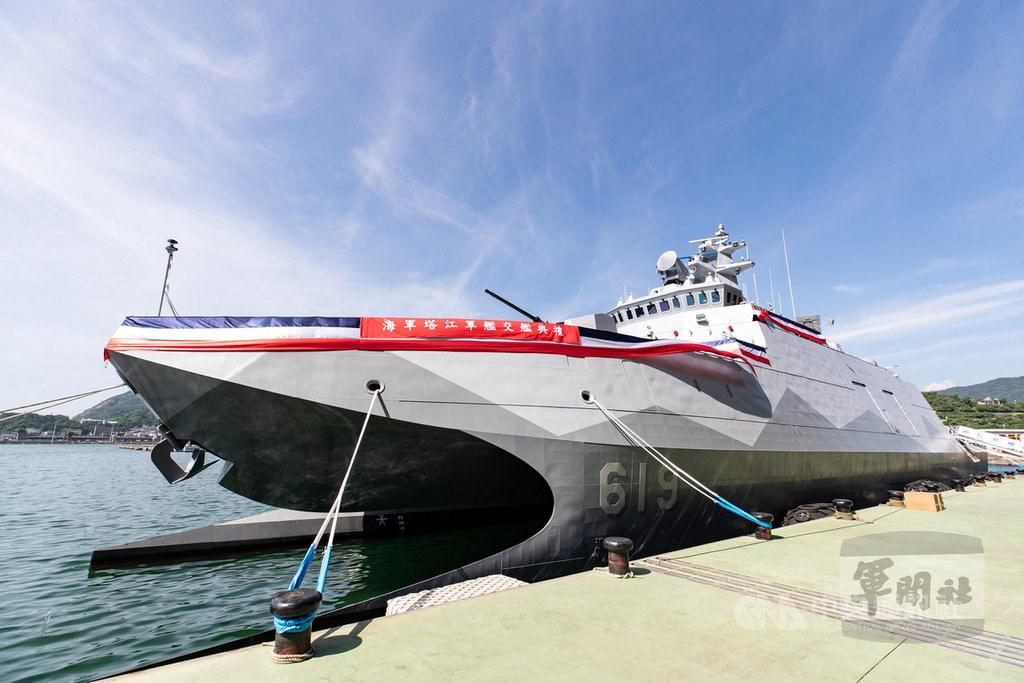 Taipei, July 27 (CNA) Taiwan's Navy took delivery of its second Tuo Chiang-class stealth multi-mission corvette, the Ta Chiang (PGG-619), on Tuesday, as part of an ongoing effort to beef up the capability of Taiwan's military to deter external threats.
The handover ceremony was held in a shipyard in Yilan County, eastern Taiwan and was attended by Defense Minister Chiu Kuo-cheng (邱國正), Yilan County Magistrate Lin Zi-miao (林姿妙) and other military officials, according to a report from the Military News Agency.
Chiu, in his remarks during the ceremony, said the name Ta Chiang was chosen by President Tsai Ing-wen (蔡英文) and inspired by the Tawa River, which runs through the ancestral hunting grounds of the Paiwan indigenous people in Taitung County, the report said.
The president hopes all men and women in uniform on the Ta Chiang can emulate the bravery of the Paiwan people, Chiu said, according to the report.
Also, by naming Naval vessels after places in Taiwan the president wishes to remind everyone living in Taiwan of their duty to protect the country's maritime domain, the report quoted Chiu as saying.
The Ta Chiang is the upgraded version of its prototype, the Tuo Chiang, with better stability and improved stealth capabilities, according to the Navy Command.
It is Taiwan's first small size warship that has area air defense capabilities and is therefore effective at asymmetric warfare, the Navy Command added.
The Ta Chiang, which was launched last December in Yilan, has a maximum speed of 30 knots, displacement of 685 tonnes and an operational range of 1,800 nautical miles.
It is the first series-produced vessel of the class and has been dubbed by Taiwan's military experts an "aircraft-carrier killer," as its arsenal includes the Hsiung Feng II and III anti-ship missiles, a 76 mm cannon and Sea Sword II medium-range missiles.
The Navy is hoping to obtain another five improved-variant of Tuo Chiang-class corvettes before 2023.