Taiwan condemns forced closure of Hong Kong's Apple Daily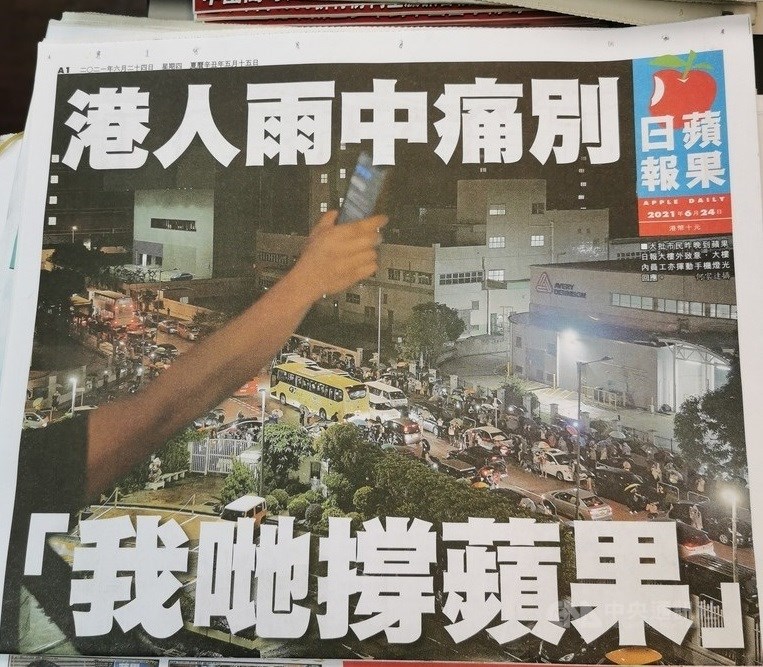 Taipei, June 24 (CNA) President Tsai Ing-wen (蔡英文), Taiwan's top government agency handling relations with China, and legislators across party lines on Thursday condemned the forced closure of Apple Daily, a pro-democracy newspaper in Hong Kong, slamming the move as oppression of press freedom.
Apple Daily ran its last print edition Thursday after its newsroom was raided and assets were frozen last week.
The newspapers' editor-in-chief and four executives were arrested during the raid, on suspicion of conspiracy to collude with foreign forces, while its publisher Jimmy Lai (黎智英) has been jailed on charges including unauthorized assembly.
In a Tweeter post on Thursday, Tsai said she was "deeply saddened" by the forced shutdown of Apple Daily in Hong Kong.
"But despite this setback, I want to tell the people of #HongKong that #Taiwan will always stand with you in your struggle for freedom. Your dreams of democracy are the seeds of a better future for Hong Kong & the world," she tweeted.
The Mainland Affairs Council (MAC), through a statement, condemned relevant authorities for oppressing Hong Kong media using the Hong Kong National Security Law, and said such moves were regrettable.
"The unfortunate incident not only sounded the death knell of Hong Kong's press freedom and freedom of speech, but also showed the international community the Chinese Communist Party's extreme ways of oppressing dissidents," said the MAC.
Huang Shih-Chieh (黃世杰), deputy caucus whip of the ruling Democratic Progressive Party at the Legislature, urged the international community to continue to support Hong Kong's freedom of expression during a press conference.
He called on the world to keep watching Hong Kong's human rights situation, and stop Beijing from negating the "One Country, Two Systems" framework and harming democracy in Hong Kong.
Johnny Chiang (江啟臣), a legislator and chairman of Taiwan's main opposition Kuomintang (KMT), told reporters that the fate of media should be decided by readers and not by any government.
He, however, compared Apply Daily's forced closure to the failure of Taiwan's Chung Tien Television (CTi TV), a local TV channel seen as being pro-China, to have its broadcasting license renewed in late 2020, saying both moves to silent dissidents are regrettable.
Chen Jiau-hua (陳椒華), a legislator and chairwoman of New Power Party, blasted Beijing for breaching its promise of allowing Hong Kong to retain its economic and administrative systems after the handover to Chinese sovereignty in 1997.
"The fall of Apple Daily in Hong Kong again demonstrated to Taiwan and the world that the Chinese Communist Party stands against human rights and has no credibility," she said.
Taiwan People's Party lawmaker Lai Hsiang-ling (賴香伶), for her part, said the forced closure of Apple Daily should not be too surprising and she wished that Hong Kong people can enjoy freedom and democracy at the soonest possible time.