Visit by U.S. delegation shows bipartisan support: Presidential Office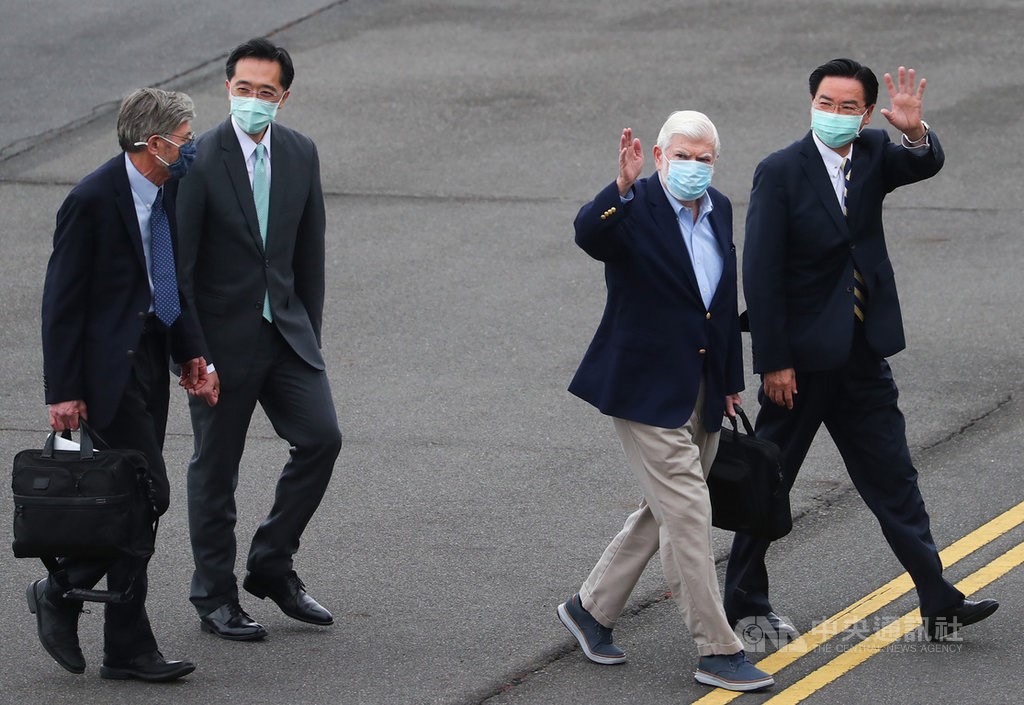 Taipei, April 14 (CNA) The arrival Wednesday of an American delegation in Taipei, led by former Senator Chris Dodd, is an indication of bipartisan support in the United States for Taiwan, the Presidential Office said.
The visit by the group, which includes former deputy secretaries of state Richard Armitage and James Steinberg, is the first by an American delegation since U.S. President Joe Biden took office in January.
Presidential Office spokesperson Xavier Chang (張惇涵) said Wednesday that the two-day visit, authorized by Biden less than three months after he took office, was a reflection of bipartisan support in the U.S. for Taiwan and a robust bilateral relationship.
President Tsai Ing-wen (蔡英文) looks forward to discussing various issues of interest to both countries, when she meets with the delegation on Thursday, Chang said, but he did not detail the issues.
Meanwhile, Democratic Progressive Party Legislator Lo Chih-cheng (羅致政) said the visit by the three former U.S. officials is of political significance.
Dodd is expected to convey messages between Biden and Tsai, which would signal unprecedented and direct interactions between the two governments, Lo said.
Opposition Kuomintang (KMT) Legislator Chen I-hsin (陳以信), however, noted that the American delegation does not include any incumbent officials, which he said cannot be seen as a breakthrough in the interactions between Taipei and Washington, despite the U.S.' new guidelines for government contact with Taiwanese authorities.
Legislator Chiu Hsien-chih (邱顯智) of the New Power Party welcomed the move as a sign of growing ties between the U.S. and Taiwan.
The intimidation tactics used by the Chinese Communist Party against Taiwan will only drive Taiwan's relationship with the U.S. closer, Chiu said.
In the U.S., an unnamed White House official said Tuesday that the visit followed "a long-standing bipartisan tradition of U.S. administrations sending high-level, unofficial delegations to Taiwan," according to a Reuters report.
During the two-day visit, the delegation is scheduled to meet with Tsai, Premier Su Tseng-chang (蘇貞昌) and Foreign Minister Joseph Wu (吳釗燮), according to the Ministry of Foreign Affairs.
The KMT on Wednesday issued a statement, welcoming the visit by the U.S. delegation and expressing the hope that the bilateral relationship, "based on pragmatism and reciprocity," would advance mutual interests.
KMT lawmaker Fai Hrong-tai (費鴻泰) said he hoped that the discussions with the U.S. delegation would include Taiwan's participation in international organizations, a potential bilateral free trade agreement, and the issue of American pork imports containing ractopamine.
In January, the Tsai administration eased restrictions on pork and beef imports, allowing products with residues of the livestock drug ractopamine.
In response, the KMT launched a referendum petition aimed at countering the decision, and if it succeeds, the national vote will be scheduled for August.