Biden to make sure Taiwan can defend itself: Blinken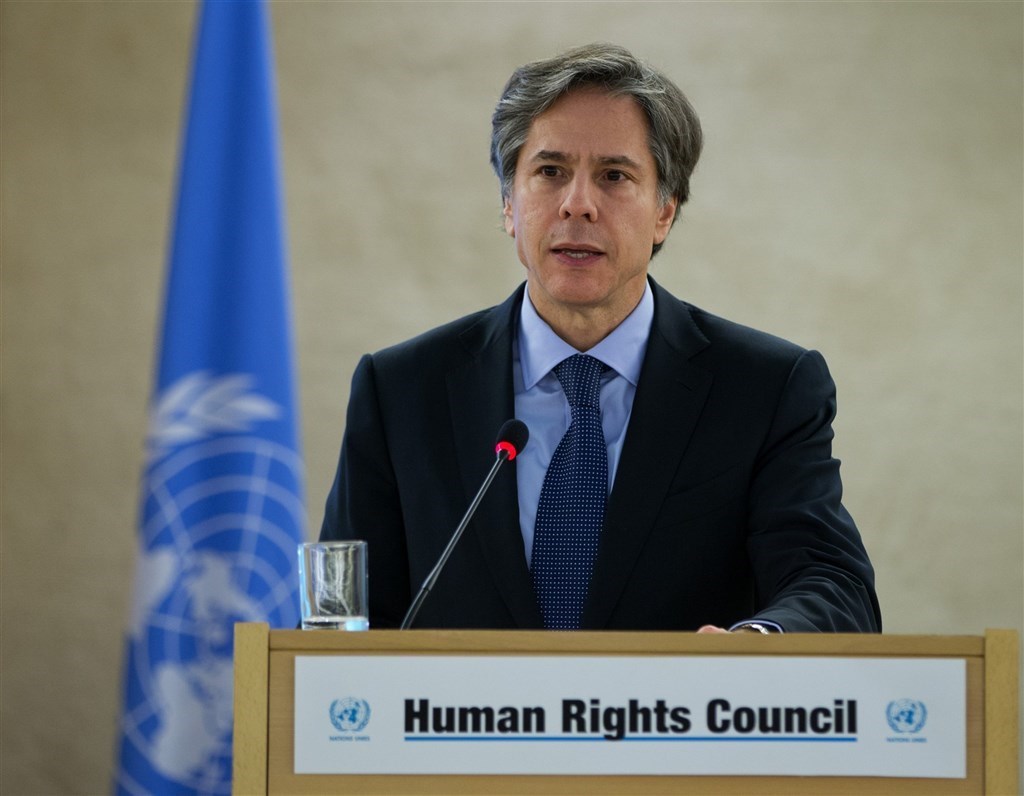 Washington, Jan. 19 (CNA) The Joe Biden administration will maintain the United States' commitment to ensure that Taiwan has the ability to defend itself against aggression, said Antony Blinken, Biden's pick to head the U.S. Department of State.
Blinken said at his confirmation hearing Tuesday that there has been "a strong and long bipartisan commitment to Taiwan" in the U.S. based on the Taiwan Relations Act (TRA) and the U.S.-China joint communiques and that part of this commitment "is making sure that Taiwan has the ability to defend itself against aggression."
"And that is a commitment that will absolutely endure in the Biden administration. We will make sure that Taiwan has the ability to do that," Blinken said.
He made the pledge in response to questions raised by senators during the hearing held by the Senate's Foreign Relations Committee on challenges posed by Beijing to Washington and the importance of Taiwan.
Senator James Risch, who chairs the committee, said he hoped the incoming Biden administration will pursue bipartisan cooperation on challenges posed by the Chinese Communist Party, including those related to Taiwan.
"The PRC's obliteration of Hong Kong's autonomy last year makes the question of Taiwan's future all the more urgent and serious," Risch said.
"China's military modernization and expansion has dramatically shifted the balance of power in the Indo-Pacific," he said.
"This is eroding conventional deterrence, putting the U.S. military as well as Indo- Pacific allies and partners at risk. Taiwan is among the strategically consequential issues and should remain a key strategic priority."
Echoing similar views, Senator Mitt Romney said China's ambition is to become the leader of the world geopolitically, economically and militarily and ultimately "to impose their authoritarian views in such a way that would put in great risk the freedom and liberty of people here and around the world."
Romney asked Blinken what he thought about U.S. commitments to Taiwan with regards to U.S. interests in the region.
Aside from reaffirming Washington's commitment to Taipei, Blinken said the Biden administration would like to see Taiwan "playing a greater role around the world, including in international organizations."
"When those organizations don't require the status of a country to be a member, they should become members. When it does, there are other ways that they can participate," he said.
Meanwhile, Bliken said the incoming administration will look into U.S. engagements with Taiwan after outgoing Secretary of State Mike Pompeo announced the lifting of restrictions on contact between American and Taiwanese officials earlier this month.
"As you know, some regulations were promulgated by the outgoing secretary of state. We're going to take a hard look at those pursuant to the Taiwan Assurance Act," according to Blinken.
Pompeo announced on Jan. 9 that the U.S. was lifting "all self-imposed" restrictions on contact between American and Taiwanese officials, which had been in place since Washington cut ties with Taipei in favor of Beijing in 1979.
The Taiwan Assurance Act, which took effect on Dec. 29, 2020, supports the deepening of U.S.-Taiwan ties on the basis of the TRA.
The act states that the U.S. secretary of state must conduct a review of the department's guidance that governs relations with Taiwan not later than 180 days after the enactment of the law.
In his remarks, Blinken also said he had met with President Tsai Ing-wen (蔡英文) at the State Department and spoke to her a number of times after she became president while he was deputy secretary of state.
"The commitment to Taiwan is something that we hold to very strongly," he said.
In 2015, while running as the Democratic Progressive Party (DPP) candidate for president, Tsai met with Blinken and became the first Taiwanese presidential candidate to enter the White House and Department of State headquarters.
Also Tuesday, U.S. secretary of defense nominee Lloyd J. Austin echoed many of the same themes on Taiwan as Blinken, and voiced his support for Taiwan when asked by Senator Rick Scott what he would do if China decided to invade Taiwan.
"Our efforts will be to ensure we do everything to make sure that China does not make that decision," Austin said during his confirmation hearing.
Saying that U.S. support for Taiwan has been "rock solid" for years, Austin said that if he is confirmed as secretary of defense, he will make sure the U.S. is living up to its commitment to support Taiwan's ability to defend itself.