President Tsai decries Taiwan's exclusion from WHO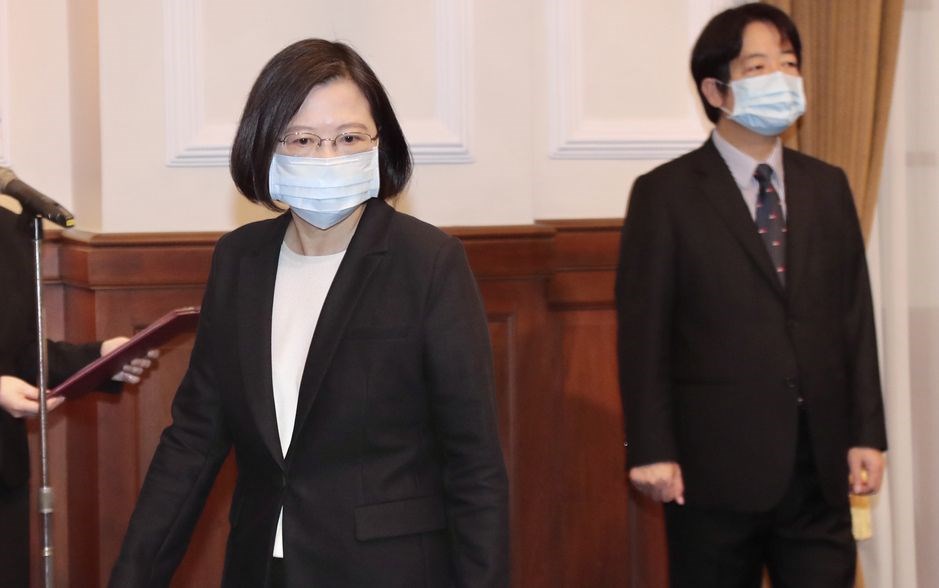 Taipei, Nov. 9 (CNA) President Tsai Ing-wen (蔡英文) on Monday reiterated Taiwan's hope to be included in the World Health Organization (WHO) at a time when the organization is resuming its annual assembly.
"Amid the threat of the COVID-19 pandemic, now is the time for the world to stand united," Tsai said on her Facebook page in response to Taiwan's exclusion from this year's World Health Assembly (WHA).
She said the world's desire to have Taiwan participate in the WHO is undeniable, evident in that more than 1,000 parliamentarians across the globe have voiced their support for Taiwan's inclusion in the world body.
"If the WHO continues to reject Taiwan's participation due to Beijing's interference, the world will lose an opportunity to fight the pandemic together and will throw a spanner into its ideal of 'health for all,'" she said.
She added that Taiwan will not stop its efforts to participate in the WHO to prove that "Taiwan can help."
Her remarks coincided with the 2020 WHA meeting being resumed virtually Nov. 9-14 in Geneva after a shortened online version in May. The WHA is the decision-making body of the WHO.
The president expressed her gratitude to a host of like-minded countries, parliamentary members of which have keenly spoken out in support of Taiwan's WHO bid.
According to Tsai, the U.S. Mission to the United Nations in Geneva and Japanese parliamentarians from the cross-party Japan-ROC Diet Members' Consultative Council have voiced support for Taiwan's WHO bid in written statements or resolutions.
Also, 791 lawmakers in 17 Latin American countries have also done so, via resolutions, joint letters, Tweets or pre-recorded video clips, she said.
In addition, she said, 644 parliamentarians from 25 European countries have written to WHO Director-General Tedros Adhanom Ghebreyesus to highlight the need for Taiwan's presence in the WHA, while another 106 parliamentarians from four central European countries and three Baltic nations have endorsed their strong backing for Taiwan's presence in the WHO in a joint letter to Tedros.
A total of 181 parliamentarians from 29 African countries who comprise the newly founded African Formosa Club also expressed support for Taiwan's participation in international organizations, including the WHO, Tsai noted.
Meanwhile, the Inter-Parliamentary Alliance on China, an international cross-party group of legislators working toward reform on how democratic countries approach China, issued a call for Taiwan's presence in the WHA and its related activities, she said.
Echoing the efforts by lawmakers of their respective countries, representative offices in Taiwan of the U.S., Japan, Canada, the United Kingdom and Australia also tweeted or issued backing for Taiwan on their websites on Monday.
On its Facebook page, the American Institute in Taiwan shared a tweet by the U.S. mission in Geneva: "The United States urges @WHO @DrTedros to invite Taiwan to participate in the upcoming WHA. During this unprecedented global health emergency, the international community is counting on a WHA that leaves no one behind."
The British Office Taipei, meanwhile, issued a response from Lord Ahmad of Wimbledon in a hearing on its Facebook page.
"The U.K. is working with likeminded countries to lobby the WHO at official level to issue an invitation to Taiwan to observe the World Health Assembly in November and allow Taiwan to participate in relevant WHO technical meetings. Lessons learnt from Taiwan's effective tackling of the COVID-19 pandemic adds significant value to the international fight against the virus."
Meanwhile, a proposal by Taiwan's 14 diplomatic allies to invite Taiwan to attend the annual WHA meeting as an observer was expected to become a hot discussion topic at the WHA meeting.
Officials of the 14 countries will speak for Taiwan's WHO bid and their proposal could be included on the meeting's agenda.
The 14 countries are Nicaragua, Palau, eSwatini, Saint Lucia, the Marshall Islands, Saint Kitts and Nevis, Belize, Haiti, Nauru, Paraguay, Tuvalu, Guatemala, Honduras and Saint Vincent and the Grenadines.