In U.S. presidential vote, Trump the clear favorite of Taiwanese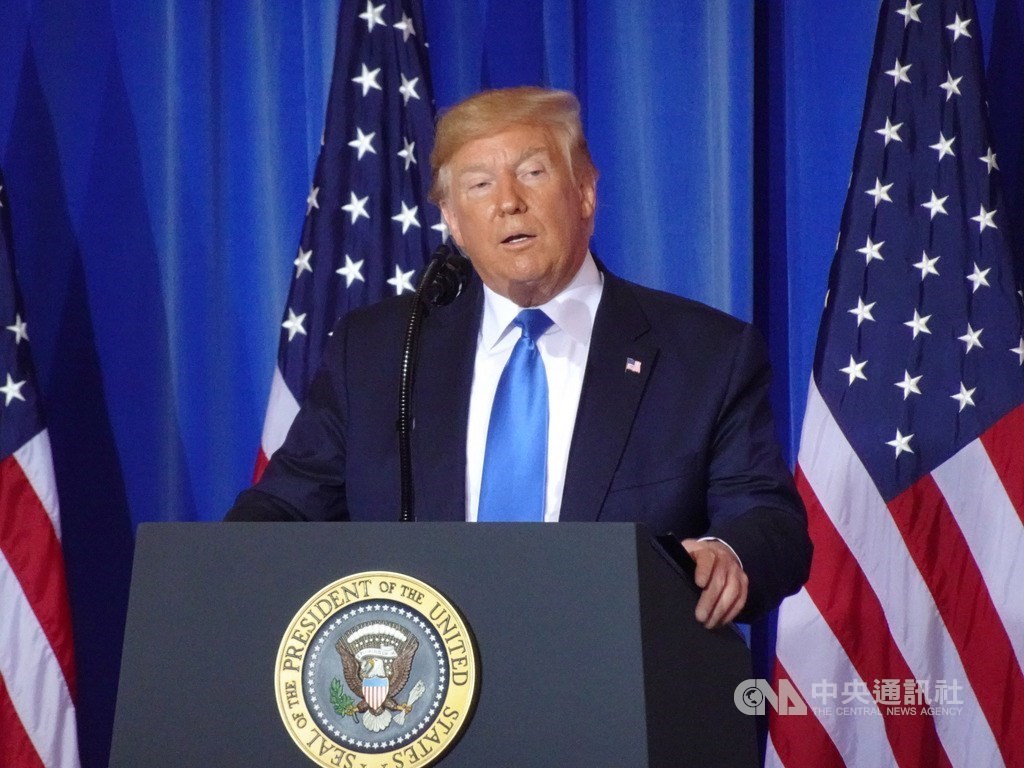 Taipei, Oct. 27 (CNA) With just a week before the United States presidential election, a poll in Taiwan has confirmed that Taiwan is one of the few hotbeds of support anywhere in the world for the incumbent, President Donald Trump.
A majority of respondents to a survey conducted by the Taiwan Public Opinion Foundation (TPOF) on Oct. 19 and 20 -- the results of which were released Tuesday -- said they hoped Trump would be re-elected in his battle with former U.S. Vice-President Joe Biden.
Just over half (53.0%) said they wanted Trump to win while 31.5% hoped that Trump will lose, and 11.5% had no opinion.
The margin was wider than in the same poll in August, when 48.1% of respondents backed Trump and 39.6% percent did not.
The result was not a surprise, given that a YouGov poll in mid-October found Taiwan to be the only market among eight in the Asia-Pacific region (including Indonesia, the Philippines, Thailand, Australia, Malaysia, Singapore and Hong Kong) to favor Trump, by a 42% to 30% margin.
Trump's popularity in Taiwan coincides with growing anti-China sentiment in the country and closer relations with the U.S. in recent years, including arms sales to Taiwan, visits by high-level officials, and bills passed by Congress promoting better ties.
The wider margin of support in October than in August may also reflect an escalation of military maneuvers by China in the past two months, including repeated breaches by Chinese military aircraft of the median line of the Taiwan Strait in September and early October.
"The position of Taiwanese is affected by the relations between the U.S., China and Taiwan, and especially Trump's tough measures against China," said Tunghai University political science professor Shen Yu-chung earlier this month when commenting on the results of the YouGov poll.
"The poll results reflect how Taiwanese feel after facing Chinese suppression for many years," he said.
"Also, the perception of the Taiwanese has been influenced by mainstream media, to believe that Trump is anti-China and Biden is more pro-China, so they have an emotional attachment with Trump."
The TPOF poll clearly reflected the correlation between support for Trump and antipathy toward China, with respondents more likely to back Taiwan independence based on age or political party affiliation generally lining up behind Trump.
Supporters of the ruling pro-independence Democratic Progressive Party backed Trump by an 80% to 20% margin, but supporters of the main opposition Kuomintang, which is more conciliatory toward China, opposed Trump by a 70%-19% margin.
Independents were split, supporting Trump by a narrow 36% to 32% margin.
By age, younger respondents considered to be more anti-China and pro-Taiwan were Trump's biggest fans. Those aged 20-24 supported Trump by a 70%-30% margin and 25-34-year-olds gave him a 55%-28% edge.
At the same time, however, a majority of respondents were not concerned that a Biden victory would hurt relations between the United States and Taiwan, the survey found.
When asked if they feared for the future of U.S.-Taiwan relations if Biden were to be elected, 53.6% said they were not worried while 38.2% said they were.
Wang Hao (汪浩), a political pundit who was born in China, lived in Europe for much of his adult life, and has now settled in Taiwan, has openly supported Trump in local TV appearances.
In an interview with CNA, Wang said he hoped Trump would win because he clearly identified communist China as the greatest threat to the United States and the world and his desire to decouple the American and Chinese economies would benefit Taiwan.
That may be in line with what many Taiwanese on Trump's side feel, but another supporter, Fuca (富察), a well-known editor in chief of a local publishing company who described himself as a true "conservative," had more ideological reasons for his stance.
He said Trump stood for the traditional meaning of liberty -- balancing freedom and responsibility -- rather than unbridled freedom, and called Trump "a symbol of the high esteem for the spirit of 'common sense' held when America was founded."
The TPOF poll of Taiwanese 20 years old or older interviewed 1,080 people and had a margin of error of 2.98%.
(By Luke Sabatier)
Enditem