Legislature passes citizen judge bill (update)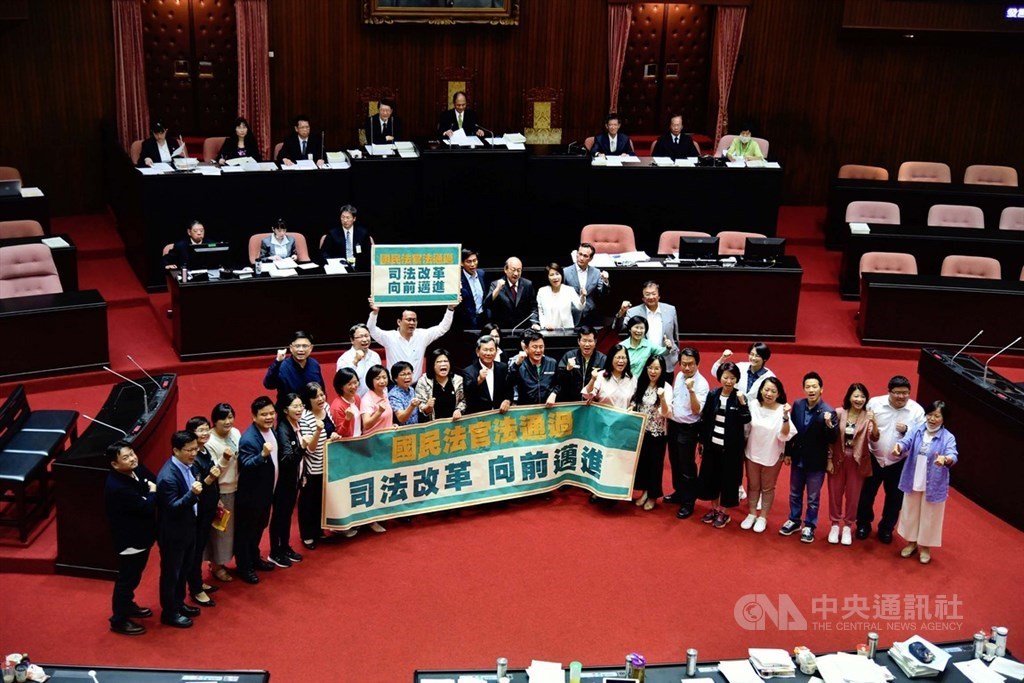 Taipei, July 22 (CNA) The Legislative Yuan on Wednesday passed the Citizen Judges Act, a new law that mandates the participation of ordinary citizens in criminal trials, working in concert with professional judges to hand down verdicts.
Under the controversial 113-article act, criminal trials at district courts that involve offenses subject to a minimum of 10 years in prison, will involve a panel of judges made up of three professional judges and six citizen judges.
Citizen judges have to be at least 23-years-old, have graduated from high school, or the equivalent, and have lived in the area under the jurisdiction of the district court for a minimum of four months.
Anyone with a criminal record cannot serve as a citizen judge or standby citizen judge.
In addition, the Republic of China (Taiwan) president and vice president, on-duty military servicemen, police officers, certified law officers and lawyers are exempted from serving under the new act.
It is because "the citizen judge system is aimed at allowing ordinary citizens the chance to serve as judges," according to the Legislative Yuan.
Moreover, citizens who are 70 years-old or older, whose mental and physical health could be impacted by a trial, who have difficulty leaving home or work obligations, as well as public and private school teachers and students have the right to appeal any call to serve as a citizen judge or standby citizen judge.
The new law stipulates that citizen judges will work on cases involving homicides and offenses carrying a penalty of at least 10 years in jail at district courts, but will also be limited to non-juvenile or non-drug related criminal trials.
In such cases, the nine-person panel of judges will be made up of three professional judges and six citizen judges, with the trial led by the head of the citizen judge court.
Under the Citizen Judges Act, at least two-thirds of the nine judges, including at least one professional judge, must find the defendant guilty for a guilty verdict to be handed down, and the same two-thirds majority including a professional judge is needed to hand down the death penalty.
All other sentences must be determined by a majority of at least five of the nine judges, including one professional judge.
The act also rules that anyone selected to serve as a citizen judge is obligated to participate in trial proceedings, or face a fine of at least NT$60,000 (US$2,039) if failing to show up without sufficient reason.
If a citizen judge is unable to continue to serve due to "a major incident," he or she will be replaced by a standby judge.
The selection of citizen judges is not made public. Local governments first compile a list of citizen judge candidates from "ordinary citizens," which is then provided to district courts and from which a slate of potential citizen judges is selected for individual cases.
Citizen judges are then randomly picked from the district court slate before being interviewed by judges, prosecutors and defense attorneys. Plaintiffs, their defense attorneys and prosecutors have the right to raise objections about candidates with the judge without having to give any reason.
Under the new law, citizen judges and standby citizen judges are entitled to a stipend of NT$3,000 for every day they are in court, as well as travel expenses and paid work leave.
If a judge reveals details of cases without "sufficient reason," he or she is subject to a maximum of one year in jail or a maximum fine of NT$100,000, the new law says.
Any citizen judge or standby citizen judge found to have solicited or arranged a bribe is subject to 1-7 years in jail and a maximum fine of NT$1 million.
The Citizen Judge Act was one of the initiatives President Tsai Ing-wen (蔡英文) mentioned during the inaugural address for her second term on May 20, 2020, and the Democratic Progressive Party (DPP) has used its legislative majority to push the proposal through despite the disagreement of opposition parties, which proposed their owned versions of the law.
Since 1987 there have been discussions and initiatives on citizen participation in criminal trials at the Judicial Yuan, the top judicial branch of Taiwan's government. However, disputes on legal principles have resulted in all bills from the government and political parties being shelved at the Legislature.
The ruling party used its 63-seat majority in the 113-seat Legislative Yuan to push through the Citizen Judges Act Wednesday, after numerous public hearings, interparty negotiations and discussions on different versions of the bill proposed by the Judicial Yuan, Executive Yuan and DPP lawmaker Chou Chun-mi (周春米), as well as opposition parties.
Supporters of the bill have argued that several decisions by judges in recent years have not met public expectations and that citizen participation in criminal trials is long overdue.
Some opponents have called for a jury system, while others have opposed any participation by citizens.
The Legislature started to screen the draft act on Monday and began its second reading Monday afternoon.
The second reading was completed at around 8:40 a.m. Wednesday after more than 30 hours of voting and the final reading passed at 9:39 a.m.
The act is scheduled to take effect on Jan. 1, 2023.
Taiwan currently uses a system where judges oversee trial proceedings and deliver verdicts.
It is estimated that more than 500 criminal cases on average each year will involve trials under the new "joint trial, joint ruling" system and citizen judges.