92 foreign dignitaries congratulate President Tsai via video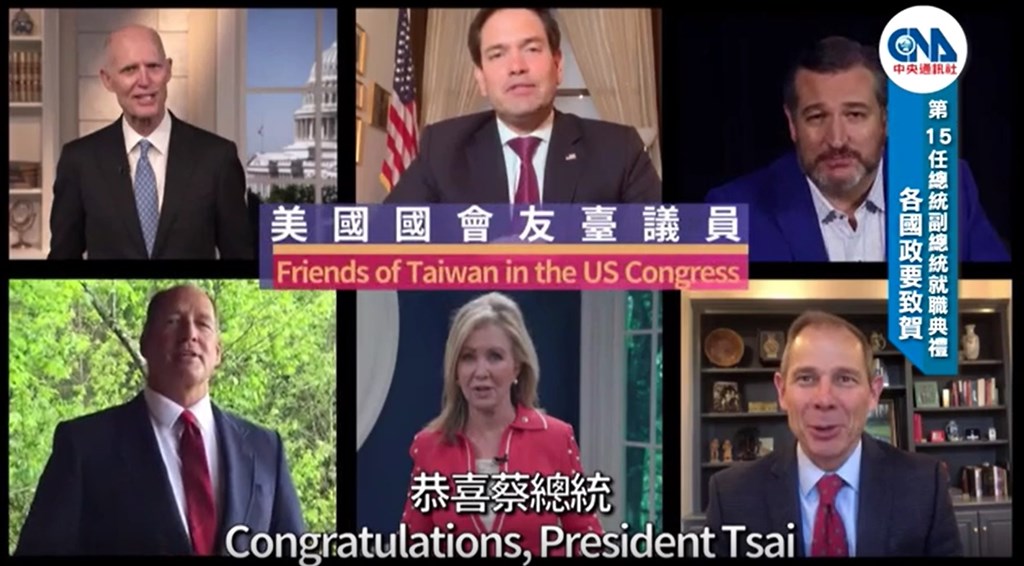 Taipei, May 20 (CNA) A total of 92 foreign dignitaries, including officials with the United States government, have congratulated President Tsai Ing-wen (蔡英文) on her inauguration for her second term through video messages, Taiwan's foreign ministry said Wednesday.
Tsai, 63, was sworn in at the Presidential Office Wednesday morning and formally began her second term as the president of the Republic of China (ROC), Taiwan's formal name.
In a statement issued after Tsai's inauguration ceremony, the Ministry of Foreign Affairs (MOFA) said 92 political figures from 41 countries relayed their well-wishes to Tsai and Taiwan in pre-recorded messages.
Only 65 of them were included in a compiled video played during the inauguration ceremony because of time constraints, the MOFA said.
The recordings were necessary because overseas guests were not invited to attend the ceremony due to the ongoing COVID-19 outbreak.
David Stilwell, assistant secretary of state for East Asian and Pacific Affairs, described Tsai's inauguration as "another milestone for Taiwan's vibrant democracy" in his video message.
He lauded the "deepened partnership" between the U.S. and Taiwan under Tsai's leadership over the past four years and pledged that the U.S. will continue to advocate Taiwan's voice in the international community.
Matt Pottinger, senior director of the U.S. National Security Council, commended Taiwan's performance in handling the COVID-19 outbreak as he congratulated Tsai on another four-year term.
"The world has much to learn from Taiwan and the U.S. will continue to engage with Taiwan. We will continue to urge other countries and organizations, such as the World Health Organization, to put human lives above politics," Pottinger said in Mandarin.
On Tuesday night, U.S. Secretary of State Mike Pompeo issued a congratulatory statement and addressed Tsai as "president," which will likely further fuel the ongoing spat between the U.S. and China.
China sees Taiwan as one of its provinces and rejects the designation of "president" for Taiwan's leader.
"As we look toward the future, I am confident that, with President Tsai at the helm, our partnership with Taiwan will continue to flourish. Best wishes for a successful second term," Pompeo said.
All heads of state of Taiwan's 15 diplomatic allies, except for the Vatican, and politicians from 19 friendly countries, such as U.S. Senator Chuck Grassley, Prague Mayor Zdenek Hrib and Japanese lawmaker Kishi Nobuo, the brother of Japanese Prime Minister Shinzo Abe, sent videos.
"I sincerely hope that President Tsai Ing-wen will continue to play an active role in Taiwan. May peace be with Taiwan," Kishi said.