NSB declassifies political files for public scrutiny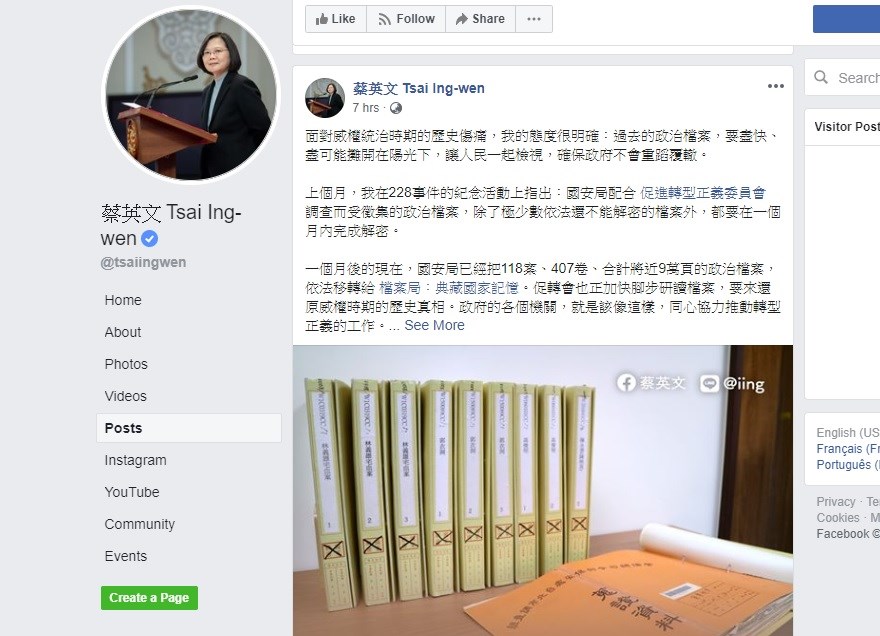 Taipei, March 28 (CNA) A total of 407 declassified files on 118 political cases that occurred during the white terror era has been transferred by the National Security Bureau (NSB) to the National Archives Administration (NAA), where they will be made available for public view, President Tsai Ing-wen (蔡英文) said Saturday.
Tsai made the announcement on her Facebook page, exactly one month after she said the NSB will declassify political files as requested by the Transitional Justice Commission (TJC), during an address delivered at a commemoration ceremony held Feb. 28 in Taipei for the 228 Incident.
The 228 Incident was a civil uprising 73 years ago that subsequently led to a bloody government crackdown.
"Past political files must be made accessible to the public, the sooner the better, to ensure that the government will not repeat the same mistakes in future," she wrote.
The president assured the public that the TJC will expedite the review process and help expose the historical truth behind Taiwan's past authoritarian rule.
According to Tsai, the declassified files, containing roughly 90,000 pages, include information on the deaths of former Democratic Progressive Party Chairman Lin Yi-hsiung's (林義雄) family members, who were stabbed to death Feb. 28, 1980, shortly after Lin led a pro-democracy protest against the authoritarian Kuomintang (KMT) regime of that era.
Another one pertains to the death of late democracy activist Chen Wen-chen (陳文成), who died under mysterious circumstances in 1981 during Taiwan's martial law period.