President Tsai leads 228 Incident commemoration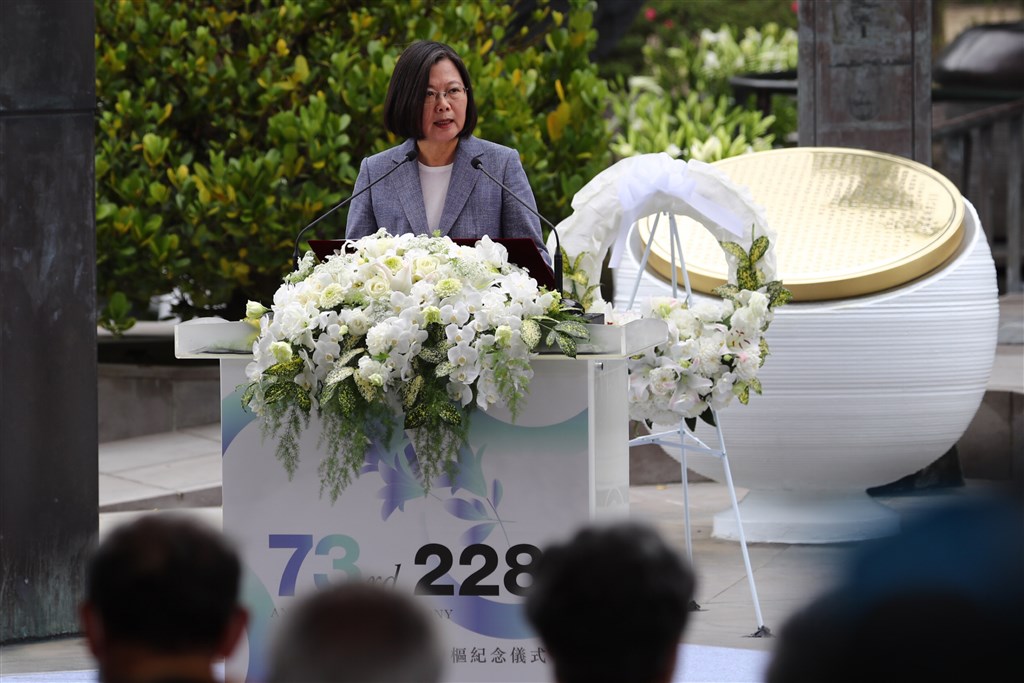 Taipei, Feb. 28 (CNA) President Tsai Ing-wen (蔡英文) on Friday vowed to continue to push for transitional justice as she presided over a ceremony in Taipei that day to commemorate the 228 Incident, a civil uprising that took place 73 years ago and led to a bloody government crackdown.
"We believe that by remembering history and reflecting on the past, we can make our society more united, make democracy more consolidated and move Taiwan forward," Tsai said at the ceremony held at 228 Peace Memorial Park.
She announced that efforts to advance transitional justice for the victims will continue by declassifying sensitive political files and promoting human rights education.
Tsai also said she has instructed the National Security Bureau (NSB) to declassify political files as requested by the Transitional Justice Commission (TJC) within one month.
Top government officials and surviving victims of the incident and their descendants gathered at the park on Friday for the event focused on "transitional justice, moving forward."
Among those present were Premier Su Tseng-chang (蘇貞昌), speaker of the Legislative Yuan You Si-kun (游錫堃), Minister of the Interior Hsu Kuo-yung (徐國勇) and Taipei Mayor Ko Wen-je (柯文哲).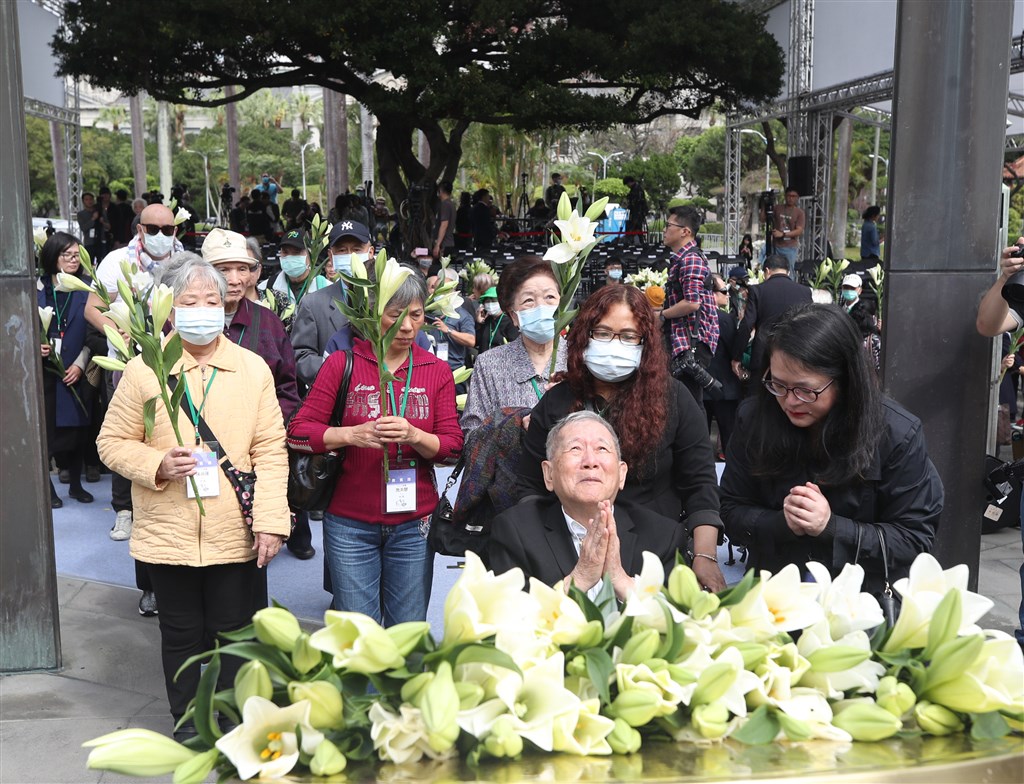 Tsai laid a wreath at the monument to the victims, and awarded certificates that "restored the reputation" of the victims and their families, overturning their designation as rioters, rebels or communist sympathizers at that time.
Hsueh Hua-yuan (薛化元), chairman of the Memorial Foundation of 228, said during his remarks that a Chinese language report on the 228 Incident will be published on March 8, with English and Japanese versions also nearing completion.
Citing newly-obtained information from the long since defunct Counterintelligence Bureau, Hsueh said 4,161 more people have been identified as potentially killed during the incident in addition to the currently known numbers, adding that more has to be done to discover the truth.
Due to the global COVID-19 coronavirus outbreak, this year's commemoration was scaled down as many victims and their descendants live abroad, in places such as Japan and Korea and were not able to attend the activity.
Meanwhile, former President Ma Ying-jeou (馬英九) of the opposition Kuomintang also apologized to the victims and their families at a separate event on Friday.
Ma said most of the goals of the February 28 Incident Disposition and Compensation Act, which was passed into law in 1995 when he was minister of justice, have been achieved. These include compensation, restoration of victims reputations, establishment of related foundations and museums and the continued search for truth.
He revealed that NT$7.2 billion (US$236 million) in compensation has been paid by the government to the victims and their families.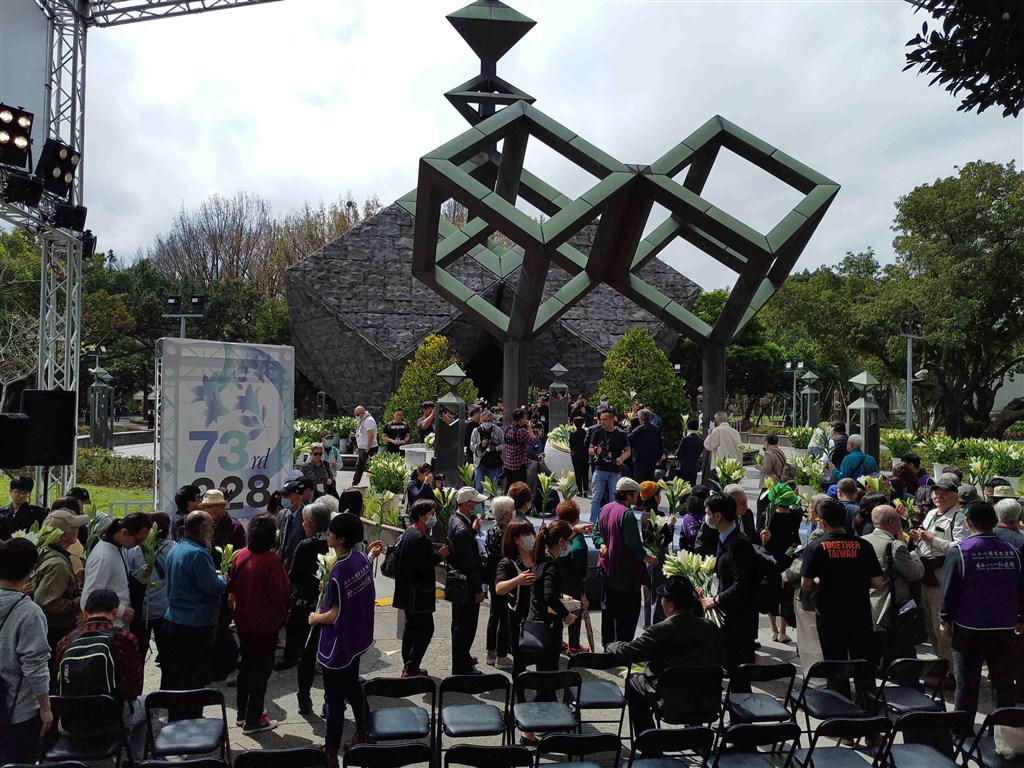 The 228 Incident was triggered by a clash between six inspectors from the Provincial Monopoly Bureau and an elderly female cigarette vendor in Taipei on Feb. 27, 1947.
The inspectors pistol-whipped the vendor as they tried to confiscate her smuggled cigarettes. A crowd gathered and a bystander was shot dead by one of the officials, leading to violent clashes between security forces and civilians the following days.
According to an Executive Yuan report issued in 1992, 18,000-28,000 people, many of them members of the intellectual elite, were killed during the subsequent government crackdown, which lasted into early May 1947.
The period after the 228 Incident became known as the "White Terror" era, as it was a time when political dissidents were suppressed, imprisoned or killed, while the country remained under martial law until 1987.