U.S. State Department official attends first Pacific Islands Dialogue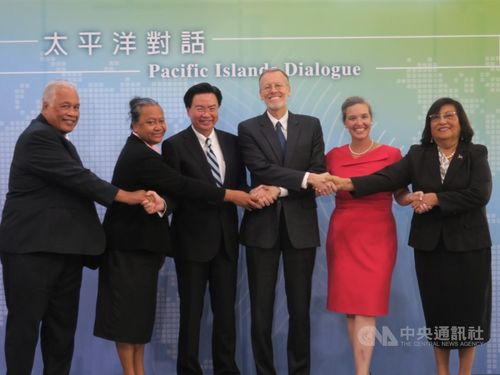 Taipei, Oct. 7 (CNA) The inaugural Pacific Islands Dialogue, a mechanism for the United States, Taiwan, and like-minded partners to help Taiwan's Pacific allies started in Taipei Monday, with a high-level U.S. State Department official representing the U.S. government.
The opening ceremony of the one-day meeting was held at the Institute of Diplomacy and International Affairs of the Ministry of Foreign Affairs (MOFA), with Sandra Oudkirk, the U.S. Senior Official for APEC and Deputy Assistant Secretary for Australia, New Zealand, and the Pacific Islands, in attendance.
"(And) I am here today representing President Trump and (U.S. State) Secretary Pompeo to kick off this inaugural dialogue. We have been partners with the Pacific since World War II, and we are in the Pacific to stay," Oudkirk said in her opening remarks.
The rare appearance of a U.S. State Department official has been interpreted by many as a show of U.S. support for Taiwan. China frowns on visits of political, diplomatic and defense officials from its diplomatic allies to Taiwan and such moves often lead to diplomatic protests by Beijing, invoking its One China Principle.
"We want to see our partners in the Pacific benefit from development activities. Development financing should not result in unsustainable debt," Oudkirk said, a statement that alluded to suggestions Taiwan's former diplomatic allies have been lured away by promised Chinese aid.
The Pacific Islands Dialogue will be held annually and is intended to serve as a mechanism for the U.S., Taiwan, and like-minded partners to explore ways to increase cooperation to meet the development needs of Taiwan's diplomatic partners in the Pacific.
The dialogue is also meant to help Taiwan solidify diplomatic ties with its remaining diplomatic allies in the Pacific region, the Marshall Islands, Nauru, Palau and Tuvalu, a few weeks after China poached the Solomon Islands and Kiribati from Taiwan.
Meanwhile, American Institute in Taiwan (AIT) Director William Brent Christensen, Taiwan's Foreign Minister Joseph Wu (吳釗燮) and representatives from relevant dialogue partners also attended the ceremony.
"Today's discussions are the beginning of what we hope will be a longer conversation about how to better leverage resources to deliver critical improvements to health, infrastructure, and economic opportunity," Christensen said.
He lauded Taiwan's proactive role in the Indo-Pacific region as seen in its contribution to the Global Cooperation and Training Framework (GCTF), Pacific Island Leadership Program and other initiatives.
"Taiwan does not have to spend its government and private sector resources to help others. But it does so willingly and it has much to contribute." Christensen said.
He noted that Taiwan's development assistance, in contrast to China's debt-trap development model, focuses on sustainable, cost-effective projects that deliver tangible improvements to individuals and their communities.
On the other hand, Foreign Minister Joseph Wu expressed concern over the possibility that the Taiwan model of foreign aid will be gradually replaced by the "China model," which he said represents corruption, deception, and debt.
Wu also said China's poaching of Taiwan's diplomatic allies was strategic and a cause for concern.
"The Solomon Islands are right at the doorstep of Australia, our most important friend and partner down under and Kiribati occupies an enormous expanse of water, where previously China built a modern space tracking station that can monitor US satellite and missile activities," he said.
Wu warned that the militarization of the South China Sea could happen in the Pacific region.
"We have seen reports that China is interested in reopening this radar station in Kiribati, and building a naval base in Western Province of the Solomon Islands." Wu said.
"From a long-term strategic perspective, like-minded friends and partners should really be worried whether the Pacific will remain free and open, and whether the key actors follow the rules-based international order." He further said.