KMT decries Gou's decision to break away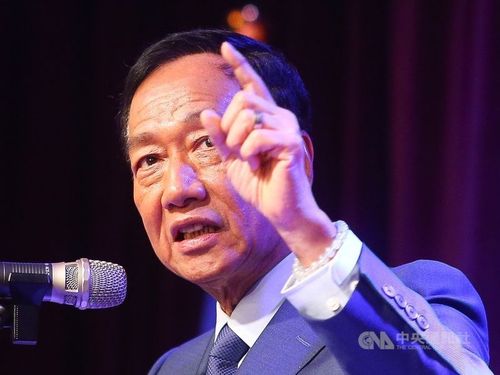 Taipei, Sept. 12 (CNA) The main opposition Kuomintang (KMT) and several of its prominent lawmakers on Thursday denounced a decision by Terry Gou, founder of Hon Hai Precision Co., to quit the party, reportedly to run as an independent in the 2020 presidential election.
"What have we done to warrant this?" said KMT Organizational Development Committee Director Lee Che-hua (李哲華), in phone interview with CNA.
It was Gou who sought to represent the KMT in the 2020 January presidential election, and the party granted him an honorary membership so he could take part in its primary earlier this year, Lee said.
The KMT did Gou a special favor and has not wronged him in any way, Lee said.
Withdrawal from the KMT must be done in line with party regulations, even if one has expressed such a wish verbally or in writing, according to Lee.
He said Gou was taking such actions to avoid being reprimanded by the KMT, to make people think that was running as an independent.
"The KMT is not foolish and won't let him get away with it," Lee added.
According to Lee, Gou has not accepted that he lost the KMT primary and has not considered what he would do if he is defeated in the presidential election.
KMT Disciplinary Committee Director Wei Ping-cheng (魏平政) said Gou's withdrawal from the party will be dealt with in keeping with the party's regulations and due process.
Tang Te-ming (唐德明), an advisor to the KMT's Culture and Communications Committee, said Gou has no sense of honor or respect for the democratic process.
Gou, who joined the KMT as an honorary member in April, announced through an aide earlier Thursday that he was withdrawing from the party with immediate effect.
"The party prioritizes partisan gains over of national interests, which runs counter to my desire to be part of the KMT," Gou was quoted as saying.
His decision was widely seen as paving the way for his entry into the 2020 presidential race as an independent. It has also given rise to worry within the KMT about internal divisions, after Kaohsiung Mayor Han Kuo-yu (韓國瑜) defeated Gou in the primary to emerge as the KMT presidential candidate.
Prior to the primary, Gou had given the assurance that he would fully support whoever won.
Terry Gou pens his breakaway announcement/photo courtesy of Gou's office
Over the past two months, however, there had been indications that Gou intended to quit the party, as he had been saying that he was determined to create a third choice to the KMT and the ruling Democratic Progressive Party (DPP).
If Gou enters the presidential race, he will be neck and neck with President Tsai Ing-wen (蔡英文) of the DPP and Han, according to several recent public opinion polls.
Following Gou's decision to withdraw from the party, KMT caucus whip William Tseng (曾銘宗) said Gou was breaking his promise to support Han, and that Gou had no legal grounds on which to launch an independent run.
According to KMT Legislator Apollo Chen (陳學聖), however, Gou's break with the KMT was widely expected.
Gou is trying now to avoid a backlash from KMT supporters, while seeking to establish a legal basis for entry into the presidential race, Chen said.
KMT Legislator Lin Wei-chou (林為洲) said Gou has already withdrawn from the KMT, and the party should focus now on winning over swing voters and young people.
"The issue of cooperating with Gou is out of the question now," Lin said.
He suggested that the party choose former New Taipei City Mayor Eric Chu (朱立倫) as Han's running mate to gain a boost in the polls.
Gou's decision to leave the KMT came after weeks of speculation that he was planning to team up with former Legislative Speaker Wang Jin-pyng (王金平), also of the KMT, and independent Taipei Mayor Ko Wen-je (柯文哲)) to launch a third force in the 2020 presidential and legislative elections.
On Thursday, Ko's aides said his fans were positioned at 2,000 locations across the country to help collect signatures to back Gou's presidential run.
The endorsement drive will kick off as soon as Gou announces his presidential bid, with the goal of collecting 500,000 signatures, Ko's aides said.