Terry Gou quits KMT, paving way for possible independent run (update)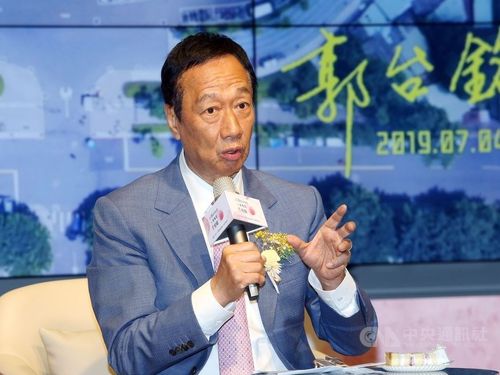 Taipei, Sept. 12 (CNA) Terry Gou (郭台銘), founder of Hon Hai Precision Industry Co. and an honorary member of the major opposition party, the Kuomintang (KMT), has decided to withdraw from the KMT, effective immediately, his aide said Thursday.
"Gou made the decision because the KMT prioritizes partisan gains ahead of national interests, which runs counter to his original desire to join the party," Tsai Chin-yu (蔡沁瑜), Gou's aide, told reporters.
Tsai's remarks followed an advertisement run by former KMT chairman Lien Chan (連戰) in Taiwan's major newspapers earlier in the day that was endorsed by former President Ma Ying-jeou (馬英九) and KMT Chairman Wu Den-yih (吳敦義), calling for "unity, fight and saving the Republic of China" prior to the 2020 January presidential race.
After reading through the statement of the KMT stalwarts, Gou is aware of their concerns, but he is more concerned that "Taiwan's people will not agree with such a pedantic party, if these same people who have governed Taiwan for the past 30 years are still guarding the gates for Taiwan and the many Central Standing Committee members who have inherited their positions from previous generations are still controlling the party," Tsai read out in a statement to reporters.
"This group of pedantic Central Standing Committee members of the KMT have put partisan gains ahead of national interests, which goes against Gou's decision to join the KMT, so he has no intention of remaining in it," Tsai went on, stressing that "Gou is leaving the KMT immediately."
Gou's move was widely seen as an apparent bid to pave the way for an independent run in the next presidential race, provoking worry in the KMT that his departure will foment a split in the party, which is seeking to regain power and has through a primary nominated Kaohsiung Mayor Han Kuo-yu (韓國瑜) to run for president.
Before the KMT held its primary in July, in which he took part as an honorary party member, Gou had said that he would fully support the candidate fielded by the party if he lost the race.
Over the past few months, however, Gou has shown signs of quitting the party, reiterating that he is determined to build a third force for the people in addition to the ruling Democratic Progressive Party (DPP) and the KMT.
Gou's aides have previously said that the business tycoon will make a decision on whether to run by Sept. 17, the deadline for registration as a presidential candidate.
President Tsai Ing-wen (蔡英文), the DPP's presidential candidate, Han and Gou are neck-and-neck in a potential three-way election, according to the results of multiple surveys.
Han's campaign office, meanwhile, expressed "regret and disappointment" about Gou's departure from the KMT in a press release.
It stressed that Han is poised to team up with KMT members to carry out the party's transformation and build a new future for Taiwan.
Cheng Shih-wei (鄭世維), Han's Taipei campaign office director, said the KMT had hoped for solidarity with Gou before Friday's Mid-Autumn festival.
He suggested holding talks between aides of Han and Gou so that Gou can make a wise decision.
Asked how the Han camp will respond if Gou sticks to his resolve to leave the KMT, Cheng said that no matter what, they will move forward to secure final victory.