Mayors of Taipei, Taichung, Kaohsiung ranked bottom for performance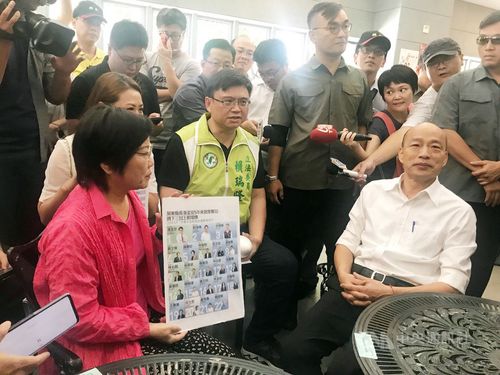 Taipei, Sept. 11 (CNA) The mayors of Kaohsiung, Taichung and Taipei, the three major cities in Taiwan, came bottom in a list of performance rankings, according to a survey released by Common Wealth Magazine Tuesday.
In the survey, which ranked 22 mayors and magistrates, Kaohsiung Mayor Han Kuo-yu (韓國瑜), who will represent the opposition Kuomintang (KMT) in the 2020 presidential election, ranked at the very bottom, followed by Taichung Mayor Lu Shiow-yen (盧秀燕) of the KMT and independent Taipei Mayor Ko Wen-je (柯文哲).
Pingtung Magistrate Pan Men-an (潘孟安) of the ruling Democratic Progressive Party (DPP), meanwhile, received the highest approval rating among the 22 government heads, followed by Lienchiang Magistrate Liu Cheng-ying (劉增應) of the KMT, Hualien Magistrate Hsu Chen-wei (徐榛蔚) of the KMT, Taoyuan Mayor Cheng Wen-tsan (鄭文燦) of the DPP and Taitung Magistrate Yao Ching-ling (饒慶鈴) of the KMT.
Liu received the highest performance satisfaction rating in 2016, 2017 and 2018.
In defense of his performance, Han said Wednesday that Kaohsiung's visibility and profile has been significantly enhanced since he took office in December 2018.
He also highlighted his efforts to adopt bilingual education practices and to install air conditioning in all classrooms in the city.
Taipei City government spokesperson Chou Tai-chu (周台竹), meanwhile, attributed Ko's low ranking to the increasing scrutiny he has been under, as the outspoken mayor is widely regarded as a wild card in the 2020 presidential election.
According to Chou, Ko, who was ranked 12th in the same poll in 2018, saw his approval rating drop this year because of his often-criticized cross-Taiwan Strait policy.
Ko's cross-strait policy is regarded as mild, although it is pragmatic, Chou argued, without elaborating.
Pan, on the other hand, said Tuesday that the survey came as an encouragement to his team and that he will do his utmost to continue serving the public.
The survey was conducted July 18-Aug. 22 through random sampling. A total of 14,818 valid responses were collected from people aged 20 or over.